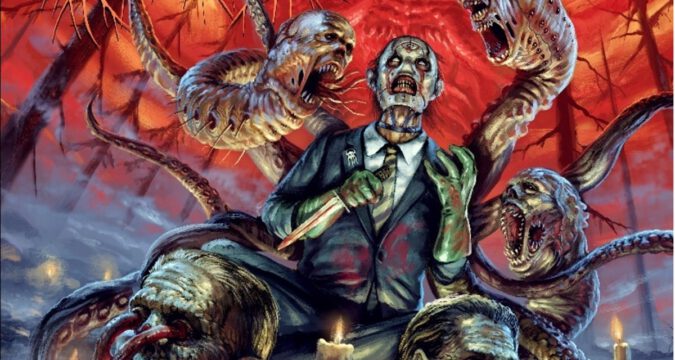 Endlich ist es soweit Leute! Die legendären Death Metal-Maniacs ABORTED unter der charismatischen Führung von Sven Caluwe sind zurückgekehrt, um mit ihrem mit Spannung erwarteten 11. Studioalbum namens "ManiaCult" die Erde zu erobern. In Kooperation mit G13 Production House (Behemoth, Accept, Kreator) präsentiert die Band ihr bisher erschreckendstes und verstörendstes Video zu ihrer ersten Single "Impetus Odi".
Verpassen Sie nicht die Premiere auf YouTube heute um 18:00 Uhr MESZ! Diskretion des Betrachters wird empfohlen – Sie wurden gewarnt! Folgen Sie diesem Link zur Premiere: https://youtu.be/MxES2ziBy2E "ManiaCult" erscheint offiziell am 10. September und wird in folgenden Formaten erhältlich sein:
• CD Jewelcase – alle Verkaufsstellen • Gatefold schwarze LP+CD & Poster – alle Verkaufsstellen
• Gatefold Ultra Clear LP+CD & Poster – Bandshop • Gatefold neongrüne LP+CD & Poster – Bandshop (200 Einheiten)
• Gatefold neongelbe LP+CD & Poster – EMP (300 Einheiten) • Gatefold undurchsichtig hot pinkLP+CD & Poster – Nuclear Blast (300 Einheiten)
HAFTUNGSAUSSCHLUSS: Aufgrund der hohen Nachfrage nach Vinylherstellung können sich die Produktionszeiten möglicherweise verzögern. Es wird alles getan, um sicherzustellen, dass wir die ursprünglichen Fristen einhalten und das Produkt wie versprochen geliefert wird. Kunden werden jedoch darauf hingewiesen, dass das Potenzial für Verzögerungen außerhalb unserer Kontrolle besteht. Der Vorverkauf hat offiziell begonnen – also schnell sein und HIER schnappen Die Band wird auch eine streng limitierte Menge an flüssigkeitsgefülltem Vinyl und eine eigene exklusive Actionfigur in ihrem Bandshop anbieten.
Schaut euch HIER ihren Bandshop an
TRACKLIST
1. Verderf (02:58)
2. ManiaCult (03:38)
3. Impetus Odi (03:46)
4. Portal to Vacuity (04:41)
5. Dementophobia (03:01)
6. A Vulgar Quagmire (03:18)
7. Verbolgen (01:39)
8. Ceremonial Ineptitude (03:54)
9. Drag me to Hell (05:04)
10. Grotesque (03:53)
11. I Prediletti: The Folly of the Gods (05:04)
Über Aborted:
Treten Sie dem ManiaCult bei und Sie können ihn nie verlassen – zumindest nicht mit intaktem Leben.
Aborted haben den perfekten Soundtrack für diese kranke Sekte geschaffen, die Menschenopfer fordert, um Lovecraft-Dämonen zu beschwören. Das unheimliche Geräusch knurrt und schlängelt sich treffend wie die Köpfe, die sich aus dem Rücken des Sektenführers herauswinden. Es ist die gleiche Art von Autorität, die Aborted in den 26 Jahren, seit Sänger Sven de Caluwé die Band in Belgien gründete, über die Death Metal-Massen hatten.
Als einziges Gründungsmitglied leitet er die Band wie ein wahnsinniger Dirigent: Jeder Musiker, der eine Ranke durch die Reihen filtert, wedelt er wie ein Taktstock herum. Aborted sind Gestaltwandler, die sich von flammendem Deathgrind zu groovigerer Kost entwickeln, bevor sie sich auf einen technischen Ansatz im Death Metal einlassen.
Auf dem elften Album ManiaCult teilen sie den Unterschied zwischen dem übertriebenen Fetzen von TerrorVision und der triefenden dunklen Atmosphäre des Nachfolgers La Grande Mascarade. Diese EP war ihre erste als aktuelle vierköpfige Besetzung, abgerundet durch Schlagzeuger Ken Bedene, Gitarrist Ian Jekelis und Bassist Stefano Franceschini.
TOURDATES
17/02/2022 De Kreun – Kortrijk, BE
18/02/2022 Dynamo – Eindhoven, NL
19/02/2022 Tivoli Vredenburg – Utrecht, NL
20/02/2022 MS Connexion Complex – Mannheim, DE
22/02/2022 Academy 3 – Manchester, UK
23/02/2022 The Dome – London, UK
24/02/2022 Trabendo – Paris, FR
25/02/2022 John Lennon – Limoges, FR
26/02/2022 Grillen – Colmar, FR
27/02/2022 CCO Villeurbanne – Lyon, FR
01/03/2022 Totem – Pamplona, SP
02/03/2022 Hard Club – Porto, PT
03/03/2022 AO Vivo – Lisbon, PT
04/03/2022 Shoko – Madrid, SP
05/03/2022 Apolo 2 – Barcelona, SP
06/03/2022 Le Rex – Toulouse, FR
07/03/2022 Kiff – Aarau, CH
08/03/2022 Slaughter Club – Milano IT
09/03/2022 Orto Bar – Ljubljana, SL
10/03/2022 Szene – Vienna, AT
11/03/2022 Dürer Kert – Budapest, HU
12/03/2022 Randal Club – Bratislava, SK
13/03/2022 Meet Factory – Prague, CZ
14/03/2022 Feierwerk – Munich
16/03/2022 ZBau – Nuremberg, De
17/03/2022 Kulttempel – Oberhausen, DE
18/03/2022 Béi Chéz Heinz – Hanover, DE
19/03/2022 Voxhall – Aarhus, DK
20/03/2022 Slaktkyrkan – Stockholm, SE
21/03/2022 Valand – Gothenburg, SE
22/03/2022 Bla – Oslo, NO
23/03/2022 Amager Bio – Copenhagen, DK
24/03/2022 Metropool – Enschede, NL
25/03/2022 Gruenspan – Hamburg, DE
26/03/2022 Proxima – Warsaw, PL
27/03/2022 Columbia Theater – Berlin, DE