U.D.O. am 21.02.2019 in der Essigfabrik Köln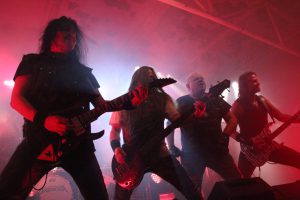 My first glance at the world was on April the 6.th of 1952, exactly at 1.pm, in the beautiful town called Wuppertal. As the years were passing by, at the age of 12, I received as a gift from my parents the Beatles record "I'm Down", From then on I was obsessed with music. Then the Rolling Stones came into my life, and from that moment on the Beatles were only wimps.
I got my first portable Recordplayer for Christmas. All my teachers hated me, because I took it always with me to school, my schoolmate was the world famous producer Michael Wagener and together with him I started my music carrier.
At this time I was not interested in using my voice I was more into keyboards, and so my parents made me a gift at the age of 14. Of course a keyboard! At the same time Michael got his first electric guitar and the radio of his parents becames the amplifier. Of course they didn't liked it! From this time on the route was marked. Michael was working hard on the guitar and I was trying to play the keyboards propper. More and more I got into singing, and the result was, that I liked it more then playing .
I created the first Band BAND X, when I was sixteen. We played 3 years in Clubs and in the year 1971 Michael and I changed the name of this Band. From this time on we were ACCEPT. At the same time Michael faced himself with the fact that he was not a good guitarplayer, and he changed to studio work. It needed 4 years to find the right Line up which gets the break through under the name ACCEPT.
On a competition in Düsseldorf we reached the third place, and we got our first record deal. 1978 was the year of our first Album called "Accept", and at this time our music was a revolution. In the end of 1979 the second album was out under the title "I`m A Rebel", it was a work of research for a style. In 1980 with the release of "Breaker" the music scene was shocked by the sound of this album, surprised with this kind of agressive music from Germany, and this was also a breakthrough for the band all over Europe, and also it was the first time that we did a big headline tour in Germany and the european tour with JUDAS PRIEST, and so we decided this would be our profession.
With the next album "Restless And Wild" for the first time America was interested in us, but in our opinion it was to early. During this time together with Michael Wagner I made a production company, called "DOUBLE TROUBLE" and produced bands like RAVEN, FAITHFULL BREATH, STREET FIGHTER etc.
At this time there were rumors that I would quit ACCEPT, but it was not true. Then in 1983 with the release of "Balls To The Wall" we had world wide success and than the time for America was right.
………… the rest of my carrier, fans know it !
Tickets klickt hier: https://www.adticket.de/Matrix-Bochum-Shop.html?format=raw
Kamelot am 15.03.2019 in der Matrix Bochum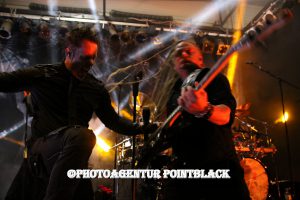 Kamelot have long been among the most prestigious and innovative acts in the history of the rock and metal genre. Their blend of melodic metal, progressive influences and doom/gothic metal references has ensured that albums such as The Fourth Legacy (1999), Karma (2001) and The Black Halo (2005) turned into absolute masterpieces. Their 2015 release Haven not only established a new generation of fans for the band, but also took the group to more countries and cities than ever. Thanks to lots of sold-out shows, most successful tour of their career to date.
In late 2016 the band entered the studio to begin recording their follow-up to the highly acclaimed chart topping album Haven. Haven debut #1 on the Billboard Music charts and was the highest overall charting release for the band in nearly all countries. The new album titled THE SHADOW THEORY will make Kamelot history as it will be released worldwide (excl. Asia) on Napalm Records/Universal and Napalm Records/ADA/Warner as an exclusive licensing deal through the band's KAMELOT MUSIC LLC and will showcase Kamelot at yet another level, both in terms of production and visual artistry.
It's time to step into the dystopic and psychological world of The Shadow Theory. The new album features all the signature elements of Kamelot but the band steps out to add new and industrial elements along with bringing some amazing emotions that harken to the band's earlier days. Kamelot's artsy music is chock full of symbolism relating to how the band feels about the world and the current state of civilization.
"The Shadow Theory album is a psychological journey through the complexity of the Human Mind. We are subjected to stimuli constantly through media, technology, social experiments and AI. Can we still be social creatures in the near future? The Shadow Theory is an album that is mixing many worlds, giving the listener an Escape within our own realities. This album was written and recorded over the entire year and we are really proud of the song elements and diversity on The Shadow Theory", adds guitarist Thomas Youngblood.
Produced by acclaimed music producer Sascha Paeth and mastered by Jacob Hansen, The Shadow Theory is a huge and massive album that is sure to please critics and fans alike. Additional guests include Lauren Hart (Once Human), Jennifer Haben (Beyond The Black) and Oliver Hartmann (Avantasia). The amazing and cover and artwork was created by Stefan Heilemann.
Following the release of The Shadow Theory, Kamelot will embarque on a massive World Tour, starting with North America in April/May 2018 followed by European shows in the Summer 2018 and with The Shadow Theory European Tour in September/October 2018 the band will return to Europe for their biggest headliner tour to date.
No doubt about it: 2018 will turn into yet another Kamelot year!
Tickets klickt hier: Tickets sind Online nicht merh verfügbar aber angeblich an der Abendkasse.
KOPIKLAANI am 24.03.2019 in der Essigfabrik Köln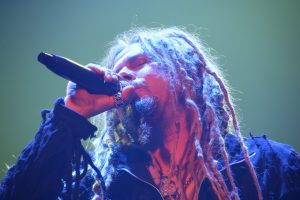 Die Folk Metal-Superstars KORPIKLAANI werkeln derzeit an Songs für ihr nächstes Studioalbum. Doch KORPIKLAANI wären nicht KORPIKLAANI, wenn sie auch dieses kommende Werk nicht mit ausgedehnten Konzertaktivitäten verbinden würden. So werden die Finnen im Februar und März 2018 mit ihren russischen Kumpanen von ARKONA und den holländischen Folk Metallern HEIDEVOLK, die voraussichtlich ebenfalls beide bis dahin neue Songs am Start haben werden, sowie den Trve Norwegian Balkan Metallern TROLLFEST Europas Bühnen heimsuchen. Des Weiteren wird es an ausgewählten Terminen Extended Shows geben, seid gespannt! Alle Details findet Ihr unten!
KORPIKLAANIs Country Cane kommentiert:
"Endlich können wir wieder Shows ankündigen – wir freuen uns so sehr darauf, dass wir sie Euch nicht länger vorenthalten wollen! Das wird eine wahre »Helluva«-Party mit unseren Pagan Metal-Brüdern (+ Schwester) ARKONA, HEIDEVOLK und TROLLFEST. Liebe Freunde und Trinkgenossen, diese Tour verspricht, eine der spaßigsten des Jahres zu werden! Tolle Leute, klasse Musik und eine Menge gute Unterhaltung!"
Ticktest hier klicken: https://www.adticket.de/Matrix-Bochum-Shop.html?format=raw
SUBWAY TO SALLY am 29.03.2019 in der Essigfabrik Köln
Die Zeit ist nahe! Die Stunde der Offenbarung steht bevor! Vergesst die Theorien über Polsprung, Eiszeit und Asteroideneinschläge und macht Euch auf eine handfeste Überraschung gefasst: "HEY!", das 13. Album von Subway To Sally ist ein Fanal der Zeitenwende. Und das im doppelten Sinne: Zum einen markiert die Rückkehr der Band nach geschlagenen fünf Jahren den Anbruch einer neuen Schaffensphase. Zum anderen spiegeln die Songs den Zustand unserer ins Wanken geratenen Welt zwischen Konsumterror und Fanatismus, Wachstumsprognosen und Untergangsszenarien bissig und direkt wieder. "HEY!" ist ein Weckruf, aber auch eine Aufforderung zum Tanz: Subway To Sally feiern das Leben – im Angesicht der Apokalypse.
Tickets hier klicken: https://www.adticket.de/Matrix-Bochum-Shop.html?format=raw
SONATA ARCTICA am 30.03.2019 in der Christuskirche Bochum
It's been very silent in the band camp of Finnish melodic metal titans SONATA ARCTICA recently. But this break has been put to good use: the band has entered the studio to start the recording process for their tenth studio album, due in 2019 through Nuclear Blast. But before their new record will see the light of day, SONATA ARCTICA will embark on a special journey – their very first acoustic run across European soil! Support will be provided by special guests, Los Angeles, CA based metallers WITHERFALL. Further details can be found below.
Keyboardist Henrik "Henkka" Klingenberg comments, "We've been locked up in the studio since the end of the summer working on our next studio album and decided we needed to take a break and go out and play some shows. In the summer of 2016 we did an acoustic summer tour in Finland which was a lot of fun for both us and our fans; in fact it was so great that we wanted to do it again and this time we're not settling for just Finland – but taking this show all around Europe for the first time ever. Now is a unique chance to hear our music in a completely different setting and we're sure these evenings will be something really special. Our set will also include some stuff we've never played live before, and who knows maybe even a new song from the upcoming album. See you at the shows!"