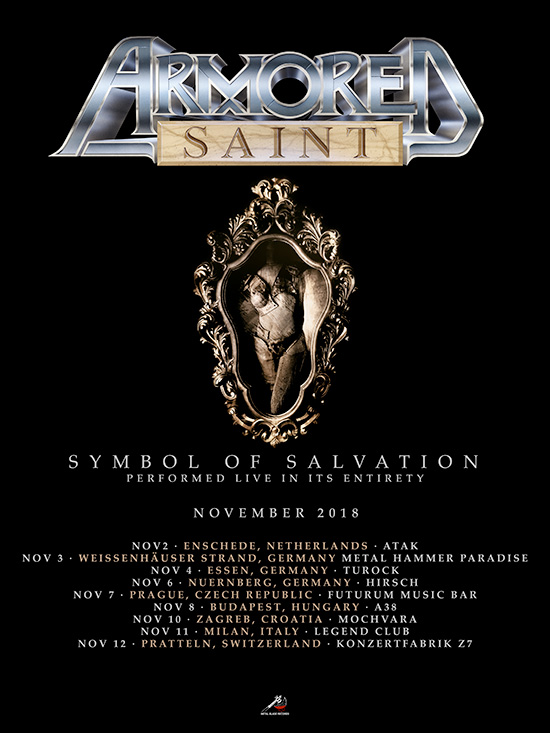 Shoutout Video von John Bush verfügbar!
Diesen November werden ARMORED SAINT nach Europa übersetzen, um ihren Klassiker 'Symbol Of Salvation' darzubieten! Während dieser Konzerte werden ARMORED SAINT 'Symbol Of Salvation' vollständig aufführen!
Frontmann John Bush hat jetzt ein Shoutout Video zur Mobilisierung der SAINT Legionen gepostet. Checkt es hier an: facebook.com/metalbladeeurope
Joey Vera fügt hinzu: "We're excited to be returning to Europe again this November to bring Symbol of Salvation Live in it's entirety. We've already played a handful of shows this Summer but now we're going further into Europe including some countries we've never played before. Super excited for this! We look forward to seeing many of you again and also looking forward to making new friends! See you soon!"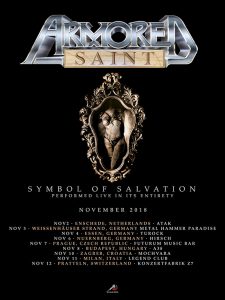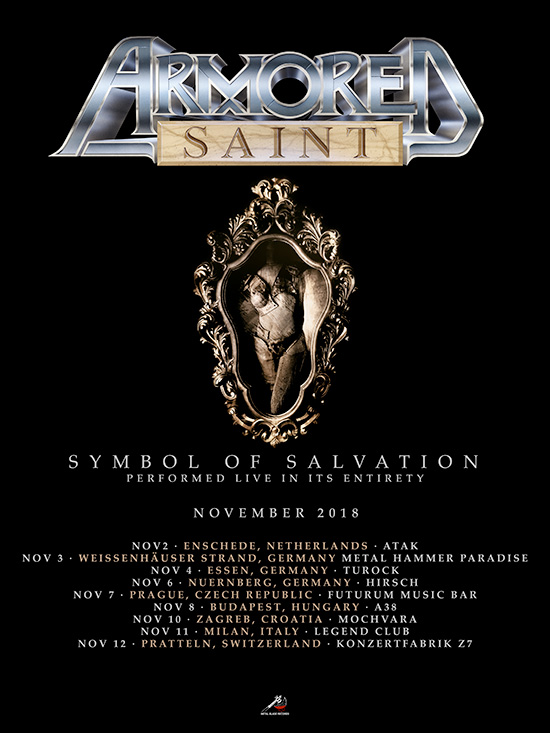 ARMORED SAINT
02/11/18 NL – Enschede – Atak (Tickets)
03/11/18 DE – Weissenhäuser Strand – Metal Hammer Paradise (Tickets)
04/11/18 DE – Essen – Turock (Tickets)
06/11/18 DE – Nürnberg – Hirsch (Tickets)
07/11/18 CZ – Prague – Futurum Music Club (Tickets)
08/11/18 HU – Budapest – A38 (Tickets)
10/11/18 HR – Zagreb – Mochvara Club (Tickets)
11/11/18 IT – Milan – Legend Club (Tickets)
12/11/18 CH – Pratteln – Z7 (Tickets)
Metal Blade Records haben 'Symbol Of Salvation' letzten Mai neu auf CD und LP wiederveröffentlicht. Das Vinyl enthielt ein formatgerechtes Mastering von Patrick W. Engel im Rahmen der Reihe "Metal Blade Originals" inklusive 400g schwerer Kastentaschen mit Inside-out-Druck, 60x60cm Artworkposter (doppelseitig bedruckt) und 250g schweren Einlegern. Die CD enthält vier Bonustracks.
Bekommt ihr bei EMP oder ebay!
Nachdem ARMORED SAINT 1988 von Chrysalis Records gedroppt worden waren, begannen sie mit den Arbeiten an einem weiteren Album und suchten sich ein neues Label. 1989 wurde Mitbegründer, Gitarrist und Songwriter Dave Prichard Leukämie diagnostiziert. Im Januar 1990 unterzog er sich einer Knochenmarkstransplantation, die er jedoch nicht überstand. Als er am 28. Februar des Jahres starb, stand die Band nur noch zu dritt da, da sie bis dahin ein Quartett gewesen war; gemeinsam mit Dave hatte man 25 Songs komponiert und als Demos aufgenommen.
Brian Slagel, Geschäftsführer und Gründer von Metal Blade Records machte ARMORED SAINT im späten Frühling 1990 ein Angebot. Die Band formierte sich mit Originalgitarrist Phil Sandoval und Jeff Duncan neu, der die Jungs 1989 auf Tour mit King Diamond begleitet hatte. Die Aufnahmen zu ihrem nächsten Album Symbol Of Salvation begannen im Winter 1990 gemeinsam mit Dave Jerdan (Alice in Chains, Janes Addiction, Red Hot Chili Peppers) und Toningenieur Brain Carlstrom (Alice in Chains, The Offspring, Rob Zombie). Dabei verwendete die Gruppe ein als Demo festgehaltenes Gitarrensolo von Dave Prichard für den Song 'Tainted Past'.
ARMORED SAINT gingen mit The Scorpions, Suicidal Tendencies, Wrathchild America, Sepultura und anderen Acts auf Tour, um Symbol Of Salvation zu bewerben. Heute nun bringt die Band den Klassiker zurück auf die Bühne, damit die Fans ihn noch einmal feiern…und Dave Prichard in Ehren halten.