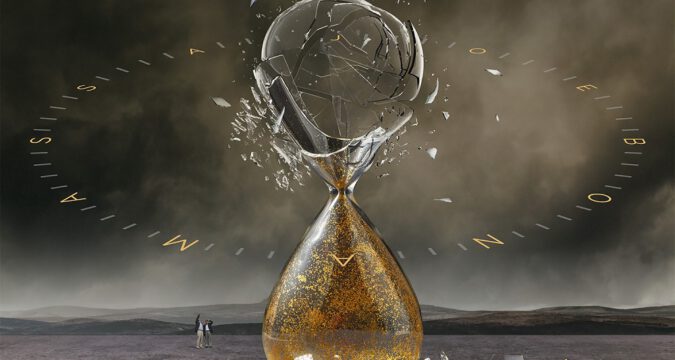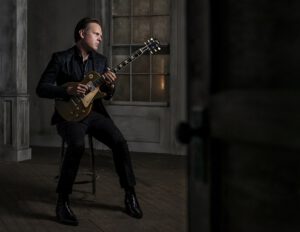 Die Gitarrenlegende Joe Bonamassa stellt heute seine neue Single "Time Clocks" vor. Dies ist der dritte Song aus seinem kommenden, gleichnamigen, brandneuen Studioalbum, das am 29. Oktober über Provogue Records veröffentlicht wird.
Listen to "Time Clocks" here: https://youtu.be/Z7116ryQV-I
Mit diesem wunderschönen, ergreifenden Song aus der Feder von Bonamassa und Produzent Kevin Shirley setzt Joe seine Seelenwanderung fort. Mit einer Länge von etwas mehr als sieben Minuten hat er die ganze epische musikalische Größe seiner ausdrucksstärksten und ehrgeizigsten Phase. Der mitreißende Refrain des Songs erhebt, wenn er singt: "and the rain soaking through my coat, about to capsize my boat I push it along away from the docks, I was never a good puncher of time clocks.". Unterstützt von den Gesangseinlagen von Juanita Tippins und Prinnie Stevens sowie dem überragenden musikalischen Können von Anton Fig (Schlagzeug), Steve Mackey (Bass), Lachy Doley (Klavier/Orgel) verbreitet der Song eine Aura reiner Zeitlosigkeit.
Die Aufnahmen zum Album in New York City führten Joe zu seinen frühen Wurzeln zurück. Bekannt als der Mann im Anzug, von vielen als der ultimative Gitarrenheld geliebt und von Kritikern als "der größte Bluesgitarrist der Welt" (Guitar World) bezeichnet, hat das musikalische Mastermind irgendwie eine weitere Ebene immenser neuer Kunstfertigkeit gefunden, die er mit seinen Fans teilen kann. Kürzlich hat Bonamassa mit seiner mitreißenden Hymne "Notches" und der blueslastigen Single "The Heart That Never Waits" einen Vorgeschmack auf das neue Album gegeben.
Das neue Album zeigt deutlich das der immer umtriebige Bonamassa ständig kreativ ist. Wie "Notches" und "The Heart That Never Waits" andeuten, zeigt dieses Album, dass Joe zwar den weniger ausgetretenen Weg gewählt hat, dieser ihn aber letztendlich zum Erfolg geführt hat. Und er wird in nächster Zeit nicht zurückstecken. Etwas älter an Jahren, aber weiser an erworbenem Wissen, hat sein neuer Sound eine rohe und vitale Note, kombiniert mit einem entschlossenen Können, das nur durch jahrelange Beharrlichkeit und unnachgiebige Hingabe erworben werden kann. "Time Clocks" folgt Joe auf seiner unaufhörlichen Entwicklung, während er weiter voranschreitet.
Für das neue Studioalbum ging Bonamassa mit seinen langjährigen Mitstreiter Kevin Shirley als Produzent und Manager/Geschäftspartner Roy Weisman als ausführender Produzent ins Studio. Zu der Band, die in den Germano Studios/The Hit Factory in New York City aufnahmen, gehören Steve Mackey (Bass), Lachy Doley (Piano), Bunna Lawrie (Didgeridoo), Bobby Summerfield (Percussion) und Anton Fig von Late Night with David Letterman (Schlagzeug und Percussion), sowie Mahalia Barnes, Juanita Tippins und Prinnie Stevens als Backgroundsängerinnen. Das Album wurde von Bob Clearmountain (Bruce Springsteen, The Rolling Stones, Toto, Bon Jovi) abgemischt, und das fantastische Artwork für diesem Album wurde von dem berühmten Grafiker Hugh Syme (Rush, Aerosmith, Megadeath) entworfen.
"Time Clocks" ist ein Song, der alle Merkmale eines Fan-Favoriten hat. Wenn Joe, der Showman und Entertainer, im April 2022 auch wieder in Deutschland seinen Platz auf der Bühne einnimmt, kann man sich schon vorstellen, wie Tausende von Fans den mitreißenden Refrain mitsingen werden.
Joe Bonamassa hält jetzt mehr denn je die Macht in Händen, sowohl seine Kunst als auch sein Geschäft zu kontrollieren. Mit 24 Nummer-1-Alben, jährlichen weltweit ausverkauften Tourneen und maßgeschneiderten Kreuzfahrten ist er schwer zu schlagen. Joe kennt seinen Wert, und obwohl er bescheiden geblieben ist, hat er nicht vor, jetzt klein beizugeben.
"Time Clocks" ist der beste Beweis für seine Qualitäten.
Mit seinem neuen Album im Gepäck wird Joe Bonamassa ab dem 26. April 2022 endlich auch wieder in Deutschland live zu erleben sein.
Live Termine:
26.04.22 Hannover
27.04.22 Saarbrücken
29.04.22 Frankfurt a.M.
01.05.22 Berlin
03.05.22 Düsseldorf.
Karten für die Shows gibt es seit dem 10.09.2021 an allen bekannten Vorverkaufsstellen.
Offizielles Video 'The Heart That Never Waits': https://youtu.be/Up0GIUtSX9k
Offizielles Video "Notches": https://youtu.be/i8UwYvvqOOo
Pre-Order New Album: https://jbonamassa.com/streaming/timeclocks/
Für weitere Informationen einfach die Joe Bonamassa Webseite besuchen: www.jbonamassa.com
Review zur CD Joe Bonamassa – Time Clocks – Rock-Konzert-Magazin.com