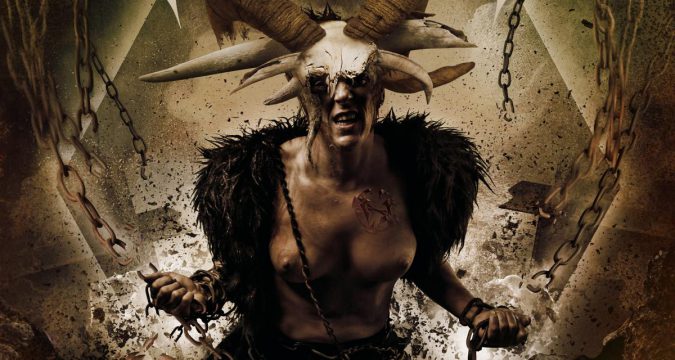 Das neue Album Unbroken erscheint am 06. März 2020 –  Sichere dir dein Exemplar JETZT!
CREMATORY ist Unbroken – eine düstere Hommage an Vergänglichkeit, Liebe und Schmerz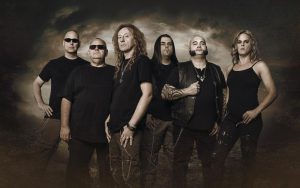 Willkommen im Panoptikum der Finsternis: Die deutschen Gothic Metal Pioniere CREMATORY wagen erneut den Drahtseilakt im düsteren Nichts und veröffentlichen heute ihre brandneue Single "The Downfall".
Mit "The Downfall" heißen CREMATORY nicht nur eine neue Dekade willkommen, sondern geben zudem einen ersten Ausblick auf das kommende Album Unbroken, welches am 06. März über Napalm Records erscheint. 
Die erste Singleauskopplung repräsentiert die Reinkarnation des düsteren CREMATORY Kosmos: Die unheilankündigenden einleitenden Klänge in Kombination mit Felix Stass' tiefer, rauer Stimme öffnen das Ohr des Hörers für das nachtschwarze Narrativ. Kraftvolle, schnelle Gitarrenparts erklingen in Symbiose mit tragenden Schlagzeuggrooves, erheben den Song zu einem wahren Ohrwurm: CREMATORY sind erneut in der Mitte der schwarzen Zeremonie angekommen.
"Welcome in madness that keeps you awake" –  Schaue das neue Video zu "The Downfall" HIER:
Mit Unbroken präsentieren die deutschen Vorreiter des europäischen Gothic Metal 15 energiegeladene Tracks mit brachialen Riffs, tiefen Growls und harten Schlagzeug Grooves und stellen ihre Diversität nach fast 30 Jahren erneut unter Beweis. Die prägnanten Einflüsse Neuer Deutscher Härte erheben Unbroken zu einem Bravourstück im Industrial Gewand. CREMATORY ist Unbroken!
CREMATORY kommentieren:
"Wir sind zurück mit feinstem Gothic Rock'n'Roll: Unsere Fans erwartet eine knallharte Kombination aus Gothic und Metal in typischer CREMATORY Manier. Wer unseren alten Hit "The Fallen" mochte, wird unsere neue Single "The Downfall"  lieben. Genau der richtige Song als Appetizer zu unserem neuen Album und der im April folgenden Tour."
Tracklisting Unbroken:
1. Unbroken
2. Awaits Me
3. Rise And Fall
4. Behind The Wall
5. The Kingdom
6. Inside My Heart
7. The Downfall
8. My Dreams Have Died
9. I Am
10. Broken Heroes
11. A Piece Of Time
12. Voices
13. Abduction
14. As Darkness Calls
15. Like The Tides
CREMATORY sind auf großer Europatour zurück und sind bereit Unbroken auf den europäischen Bühnen zu rocken: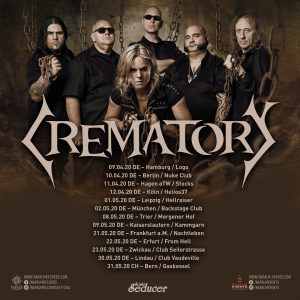 TOUR DATES:
09.04.20 DE – Hamburg / Logo
10.04.20 DE – Berlin / Nuke Club
11.04.20 DE – Hagen / Stocks
12.04.20 DE – Köln / Helios37
01.05.20 DE – Leipzig / Hellraiser
02.05.20 DE – München / Backstage Club
08.05.20 DE – Trier / Mergener Hof
09.05.20 DE – Kaiserslautern / Kammgarn
21.05.20 DE – Frankfurt a.M. / Nachtleben
22.05.20 DE – Erfurt / From Hell
23.05.20 DE – Zwickau / Club Seilerstrasse
30.05.20 DE – Lindau / Club Vaudeville
31.05.20 CH – Bern / Gaskessel
Über CREMATORY:
CREMATORY, die Pioniere der europäischen Gothic Metal Szene der 1990er Jahre, begannen 1991 ursprünglich als reine Death Metal Band. Im Laufe ihrer Karriere nahmen sie jedoch zunehmend Gothic und Industrial Elemente in ihr Repertoire auf. Im Laufe ihres 29-jährigem Bestehens hat die Band um Markus Jüllich 14 Studioalbum, drei Live-Alben, diverse Compilations  und Splits veröffentlicht, hunderte Shows rund um den Globus gespielt und sie haben immer noch Hunger auf mehr!
CREMATORY sind:
Felix Stass – Lead Vocals
Markus Jüllich – Drums
Katrin Jüllich – Keyboards
Rolf Munkes – Lead Guitar
Connie Andreszka – Guitars, Vocals
Jason Matthias – Bass