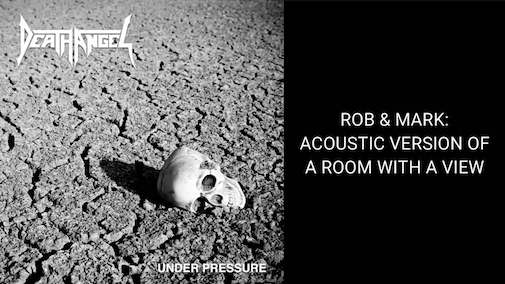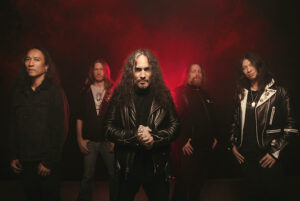 Die Thrash Titanen der Bay Area, DEATH ANGEL, haben vor Kurzem eine neue EP mit dem Titel "Under Pressure" veröffentlicht, welche ihre beeindruckende Interpretation des gleichnamigen ikonischen Songs der beiden Rocklegenden QUEEN & DAVID BOWIE beinhaltet. Die EP kommt ebenfalls mit einem neuen originalen Song, "Faded Remains," sowie zwei neu aufgenommenen Akustikversionen von  "Revelation Song" und "A Room With A View." In einem neuen Trailer, der heute veröffentlicht wurde, sprechen Gitarrist Rob Cavestany und Sänger Mark Osegueda über die their stripped down rendition of the fan favorite track "A Room With A View."
SCHAUT EUCH AN, WIE DEATH ANGEL ÜBER "A ROOM WITH A VIEW" SPRECHEN (OFFICIAL TRAILER):
Gitarrist Rob Cavestany über den Song:
"Ich freue mich sehr, 'A Room With A View' als eine der Nummern auf unserer komplett akustischen EP zurückzuholen. Wir spielen ihn selten in diesen Tagen und das obwohl er einer unserer beliebtesten und nachgefragtesten Songs ist. Dreißig Jahre nach seiner Erstveröffentlichung auf unserem dritten Album 'Act III', passt er perfekt in diese isolierten Zeiten, in denen ich aus dem Fenster meines Studios schaue und über das Schicksal der Menschheit grüble. Ich hoffe, dass sowohl Old School als auch neuen Fans die reduzierte Variante ebenso gefällt."
Die Bay Area Thrash Giganten DEATH ANGEL überraschen heute ihre Fans mit einer einzigartigen Version des Rock Klassikers 'Under Pressure' von QUEEN & DAVID BOWIE, die Teil einer unangekündigten EP mit demselben Titel ist. Die "Under Pressure" EP ist ab sofort über Nuclear Blast erhältlich und enthält außerdem einen brandneuen Originalsong, 'Faded Remains', sowie zwei neu aufgenommene akustische Versionen von 'A Room With A View' und 'Revelation Song'.
Sänger Mark Osegueda kommentiert: "Die "Under Pressure" EP ist etwas, dass wir in diesen frustrierenden Zeiten einfach rausbringen mussten… Es sind wirklich schwere Zeiten….
Obwohl es eine rein akustische EP ist, ist sie aber trotzdem heavy. Und Musik ist nun mal unsere liebste Art, uns auszudrücken!
Aber auch diese Zeiten werden vorrübergehen und dann werden wir gemeinsam unsere fantastische Metal Szene feiern! Bis dahin… bleibt gesund und lasst euch nicht unterkriegen! Ich hoffe, es gefällt euch!!"
Gitarrist Rob Cavestany fügt hinzu: "Was ursprünglich nur als Möglichkeit gedacht war, unsere Emotionen in dieser kathartischen und chaotischen Zeit auszudrücken, wurde schließlich zu unserer ersten EP. Rau und spontan und außerdem unsere erste akustische Platte. Ich hoffe, ihr seid gesund und die Musik bringt euch ein bisschen Wärme für Herz und Seele. Zusammen schaffen wir das! Danke fürs Anhören."
Seht euch das Video zu 'Under Pressure' hier an:
https://www.youtube.com/watch?v=-hCy1Y5_-k8&feature=youtu.be