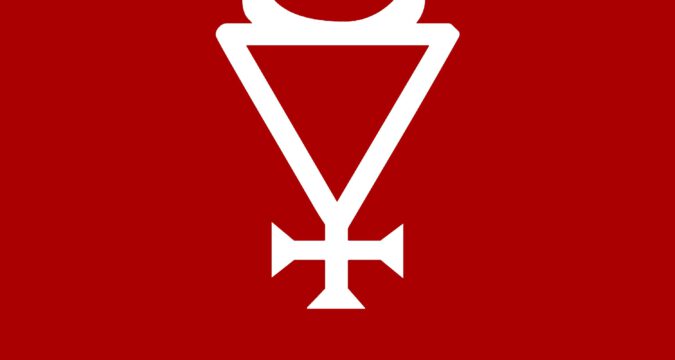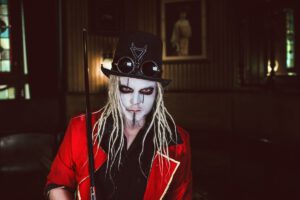 Die Finnische Okkult-Industrial Metal Band 
KING SATAN
 veröffentlicht ihre neue Single "This Is Where The Magick Happens", wie gewohnt begleitet von einem provokanten und überraschenden Musikvideo. Die Könige der Blasphemie und der exploitation zogen sich vor kurzem mit neuem, mehr Metal- lastigem Material ins Studio zurück. Nun sind sie bereit, die ersten Ergebnisse dieser Sessions mit der Welt zu teilen.
Musikvideo: This Is Where The Magick Happens https://youtu.be/sj6byLEAuaU
Der Sänger der Band und Regisseur des Videos, King Aleister Satan:
"Im Jahr 1999 war die Welt auf dem Höhepunkt angekommen und befindet sich seitdem im freien Fall. Daher wollte ich das Ausweiden der 90ger noch weitertreiben als bisher, um all die Sommerhits wieder aufleben zu lassen. Selbstverständlich alles gefiltert durch unseren eigenen Stil und geprägt vom Geiste der Unangepasstheit, der spirituellen Anarchie und der Gier nach Erleuchtung. Vielleicht erzählt das Video eine Geschichte von symbolischer Allegorie. Vielleicht auch nicht. In jedem Fall ist es voller Verweise auf einflussreiche Denkende, von Sokrates zu Aleister Crowley und alles dazwischen… Eigentlich sage ich das nur, um ein paar fancy Stichwörter für die Suchmaschinen einzustreuen. Den Kram hier liest doch eh niemand. P.S. : Nietzsche!"
Bio:
KING SATAN ist eine Industrial Metal Band aus Tampere, Finnland, gegründet im Jahre 2015. Die Band spielt eine unangepasste Form von Extreme Metal, inspiriert von Satanismus und okkulter Philosophie, durchzogen von karnevaleskem, blasphemischem Humor. Dabei hält sich ihr Stil nicht an Genregrenzen, sondern bedient sich bei Electro-Industrial und Death Metal ebenso unbeschwert wie bei Dance Punk und diversen Symphonischen Elementen.
Als Solo Projekt von Sänger und Multiinstrumentalist KING SETH ALEISTER SATAN gestartet, entwickelte sich KING SATAN bald zu einer Live Band mit vollem line-up, die bisher zwei Studio Alben veröffentlicht hat: "King Fucking Satan" (2017) und "I Want You To Worship Satan" (2019). Trotz ihrer Wurzeln in Aggrotech Metal hat die Gruppe mehr und mehr Live-Band Elemente in ihre Konzerte integriert, die bald auch feste Bestandteile der Studioproduktionen wurden.
Durch ihre Alben und Singles, die kompromisslosen Live Shows sowie die unverwechselbaren Musikvideos – produziert vom Frontmann der Band – hat das Projekt von Beginn an viel Aufsehen erregt und zahlreiche Kontroversen ausgelöst. KING SATAN sah sich immer gleichermaßen der Anerkennung, Kritik, Verwirrung und Hingabe ausgesetzt. Dies alles führte dazu, dass ihre Singles virale Erfolge wurden und die Nachfrage nach Live-Auftritten stetig zunahm, in Finnland und dem restlichen Europa.
Zu Beginn einer neuen Dekade, während die Pandemie weltweit alle bisherigen Pläne und Gewissheiten zerschlagen hat, begannen KING SATAN mit mehr Entschlossenheit als je zuvor an neuem Material zu arbeiten. Mit der Veröffentlichung der Single (plus dazugehörigem Video – logisch!) "This Is Where The Magick Happens" wird am 27.05.2021 ein erster Einblick in die aktuelle Produktion gewährt.