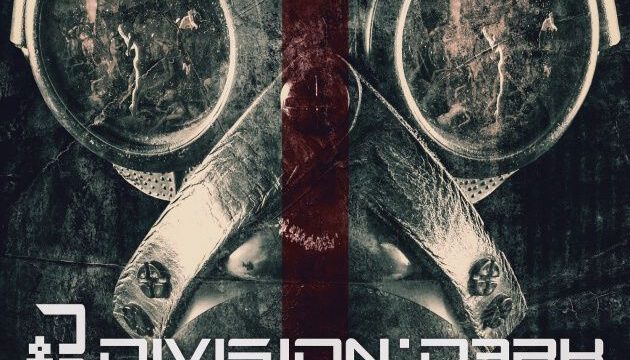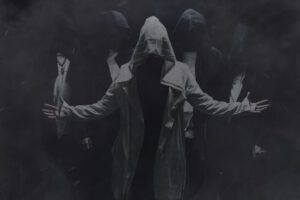 "Prophecy" erscheint am 11.02.2022 auf Drakkar Entertainment!
Die Instrustrial Metal Propheten von DIVISION:DARK haben weitere Details und einen brandneuen Song aus ihrem kommenden Debüt Album, Prophecy, bekanngegeben. Die Platte erscheint am 11. Februar 2022 bei Drakkar Entertainment, und bringt direkt eine ganze Prime Liga an hochkarätigen Gast Musikern zusammen!
Der bislang anonyme Fünfer  – aktuell nur bekannt als die Propheten Ezekiel, Abel, Judas, Aaron and Natanel – hat heute eine weitere Single samt Video Clip online gestellt, feat. THE AGONIST Frontdame Vicky Psarakis! "Die zweite Singleauskopplung vom Division:Dark Debutalbum "Prophecy" heisst "Twisted Game" und wurde gemeinsam von Rico H und Tobias Gut produziert." Verrät die Band. "Die Lyrics sowie die Vocallines stammen aus der Feder von Vicky Psarakis). Die Zusammenarbeit mit Vicky war absolute Weltklasse, durch und durch auf höchst professionellem Niveau, aber trotzdem immer kollegschaftlich. Das Produkt ist ein unglaublich kraftvoller und treibender Song mit melodiösen Hooks, die direkt ins Ohr gehen. Die Division wünscht euch viel Spass beim hören und schauen."
Das brandneue DIVISION:DARK Video zu "Twisted Game" seht ihr ab sofort HIER:
DIVISION:DARK – Twisted Game (Official Music Video) I Drakkar Entertainment 2021 – YouTube
Auf ihrem kommenden Debüt laden DIVISION:DARK auf eine bombastische Fahrt durch eine düstere Industrial Metal Landschaft, angereichert mit epischen Melodien und treibenden Sounds. Sowohl aus musikalischer als auch textlicher Sicht stellt die Platte die erste Etappe von DIVISION:DARK's Prophezeiung dar, der Tag des Jüngsten Gerichts steht uns schon bald bevor. Die Liste der geladenen Gäste auf dieser apokalyptischen Reise und jedem einzelnen Album Track liest sich beeindruckend, insbesondere für ein Debüt Album, und so geben sich auf Prophecy namenhafte Musiker wie Vicky Psarakis, Anneke van Giersbergen, Lex (Megaherz), Blutengel's Chris Pohl, Anna Murphy von Eluveitie und viele mehr die Ehre! Macht euch bereit für die Offenbarung, der Tag des Jüngsten Gerichts steht uns bevor; während die Reise von DIVISION:DARK gerade erst begonnen hat…
Prophecy wurde in der Creative Lounge auf Mallorca produziert, und erscheint am 11. Februar 2022 als CD Digipak sowie Boxset auf Drakkar Entertainment. Vorbestellungen sind ab sofort HIER möglich!
Tracklist:
01. Eve (feat. Isra Ramos)
02. Stärker Als Gott (feat. Anna Lux & Eric Fish)
03. Twisted Game (feat. Vicky Psarakis)
04. Bevor Wir Wieder Asche Sind (feat. Lex)
05. (They're All) Hypocrites (feat. Chris Pohl)
06. Division:Dark (feat. Seeb)
07. Der Letzte Tanz (Dino Serci & Otto Dix)
08. Still Meinen Durst (feat. Frank Herzig / Schattenmann)
09. The Art In Artificial (feat. Scarlet Dorn)
10. Destination (feat. Steffi Stuber)
11. Promise (feat. Saeko & Seraina Telli)
12. Bound Together (feat. Anna Murphy)
13. Wrong (feat. Anneke van Giersbergen)