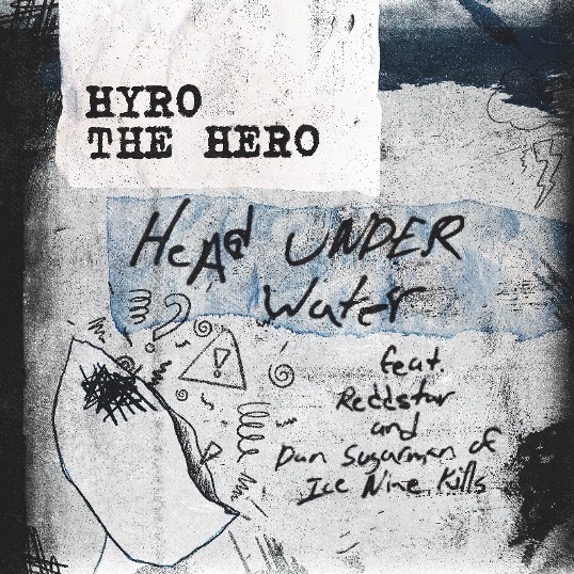 HYRO THE HERO veröffentlicht neue Single "Head Under Water (feat. Reddstar und Dan Sugarman von Ice Nine Kills)" inkl. Lyric-Video
HYRO THE HERO
meldet sich mit seiner fesselnden neuen Single
"Head Under Water"
zurück, für die er sich
Reddstar
und
Dan Sugarman
von
Ice Nine Kills
als Feature Partner dazugeholt hat. Thematisch widmet er sich im Song, der heute via Better Noise Music erscheint,  seinem  persönlichen Kampf gegen Depression.
"Dark clouds around my head/
I ain't feeling fine.
Immediate help, I need a hotline.
I've been feeling like this for a long time."
Die Lyrics von "Head Under Water" zeigen seinen Kampf gegen diese dunklen Gedanken und seine Entschlossenheit, sie vollständig zu verdrängen. "Head Under Water (feat. Reddstar and Dan Sugarman of Ice Nine Kills)" ist ab heute auf allen digitalen Plattformen erhältlich. Das neue Lyric-Video zum Song gibt es  
HIER
.
"It was such an epic feeling to have the first single off my new album be 'Head Under Water ft Reddstar and Dan Sugarman of Ice Nine Kills,'"
kommentiert
HYRO
.
"There's such intense emotion we conveyed through this track that I hope listeners will be able to connect with it. It's a deep dive into depression and the dark thoughts that arise when struggling with life's problems. When you feel like you have nobody to talk to or that can understand, it can lead to terrible things. Mental health is no longer a taboo subject and it's being brought up in discussion throughout society today, so I wanted to touch on it because I know the feeling first-hand."
"I knew when I heard this track that we had something," sagt Reddstar. "Not only does the song have a lot of meaning but I like how Hyro and I approached it from our own perspectives. I do believe when people listen to this that so many will be able to connect or relate to it on multiple levels."
"'Head Under Water' is as authentic and real as a song can get," so Sugarman. "The second I heard this track, I knew I needed to be a part of it. Feeding off the raw rock energy, I dug deep to bring as many melodic and off-the-wall guitar elements to the table as I possibly could. Playing through a slurred drunken swagger, the solo and guitar playing gets more concise and razor sharp as the song progresses. Hyro and Reddstar spit the sickest flows and heaviest lyrics I've ever heard, and that meant that I needed to do the same. Moments before I started to write and record I got a call from my doctor with the most terrifying medical news that a person could get, so I poured myself into this solo, and into this song. I know 'Head Under Water' will hit you like it hit me, because this feeling is so real for so many of us."
Seine Vorgänger EPs "Worst Behavior" (2022) und "Kids Against the Monsters" (2021) beinhalten hochkarätige Kollaborationen, darunter David Draiman (Disturbed), Corey Taylor (Slipknot) undChad Grey (Hellyeah). HYRO war zudem auf Tracks von Hollywood Undead und Deuce zu hören und landete mit seinem Song "Who's That Playing On The Radio", eine Kollaboration mit Mick Mars (Mötley Crüe) und Danny Worsnop (AskingAlexandria), auf dem Soundtrack des Horror-Thrillers The Retaliators von Better Noise Films.