Am 09.07.2021 erscheint das neue Album "30 Years In A Hole 1991 Rarities & Outtakes" von BLIND PETITION. Wir haben die gunst der Stunde genutzt und it Sänger und Gitarrist Johannes Bartsch über das neue Album gesprochen.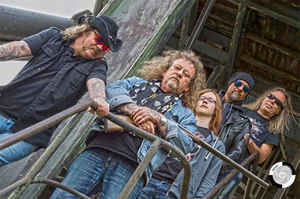 RKM: Ihr habt seit eurer Gründung 1974 6 Studio und 6 Live Alben aufgenommen bzw. veröffentlicht. Jetzt kommt nach 7 Jahren des letzten Studioalbums "Law and Order since 1974" und dem vor 4 Jahren veröffentlichten Live Album "Law and Order unplugged Live" mit "30 Years in a Hole 1991 Rarities & Outtakes" euer neues Album. Wieso habt ihr euch gerade für diese Form des neuen Albums entschieden? Wäre es nicht besser gewesen man hätte ein neues Album herausgebracht und diese Raritäten und Outtakes als "Bonusmaterial" mit raus gebracht?
JB:…Ein neues Studioalbum war auch unser Plan, nur durch die Pandemie wurde alles anders. Zugesagte Finanzierungen waren nicht mehr möglich, Studios geschlossen, wir durften nicht einmal zusammen proben. So war es unmöglich neues Material einzuspielen. Als ich mein Archiv durchforstete fiel mir eine 30 Jahre alte Aufnahme in die Hände, welche unveröffentlicht war. Alles im Studio eingespielt und abgelegt, da wir nach den Aufnahmen einen neuen Gitarristen, einen neuen Produzenten (Tommy Newton, der auch gleich Fritz Randow (Victory, Saxon) ins Studio mitbrachte. Wir machten alles neu und das Album Elements of Rock wurde veröffentlicht. Das zuvor gespielte Material ist nun hier und wird Rockfans hoffentlich gefallen….
RKM: Ihr spielt verschiedene Musikstyle wie Hard Rock, Southern Rock, Blues und Heavy Metal, was sehr gut an zu hören ist. Konntet Ihr euch nicht auf eine Richtung einigen? Waren die vielen Besetztungswechsel in den über 40 Jahren mit dafür verantwortlich das es so viele Style gibt?
JB:…also , so viele Stile gibt es ja nicht,E es ist immer Blind Petition. Ein zu enges Korsett war nie unser Ding. Die von dir genannten Richtungen sind ja nicht meilenweit voneinader entfernt sondern da greift ja eins ins andere. Einen Song schreiben und dann 10 ähnliche abpausen werden wir auch in Zukunft nicht machen. Vielfalt ist unsere Devise.
RKM: Gibt es auf dem Longplayer einen Favoriten von deiner Seite aus? Welche Anekdote kannst Du uns zu der Scheibe erzählen? In 30 Jahren passiert ja so einiges und da ist doch bestimmt auch etwas zu dem ein oder anderen Song passiert.
JB:…Ja, einer meiner liebsten Songs, Steelhunter, ist vom Text geradezu genial. Niemand außer unser damaliger Sänger Gary Wheeler kann  so leidenschaftlich und alles sagend über ein Stück Stahl singen, einfach köstlich.w Weiters Hero of the Ring, oder Shock Therapy . Einfach reinhören…
RKM: Es heißt ja ihr seid eine geile Live Band. Zu Zeiten der Pandemie ist das ja äußerst schlecht. Vermisst ihr die Live Auftritte? Wie vertreibt ihr euch die Zeit in der Pandemie? Gibt es denn schon Pläne nach der Pandemie euch auch wieder live zu sehen?
JB:…mehr als 20 Konzerte sind abgesagt worden, ja wir wollen auf die Bühne und ja es fehlt uns sehr…….sobald es möglich ist werden wir unterwegs sein…
RKM: Zum Abschluss hast Du hier die Gelegenheit dich an eure Fans da draußen zu richten und ihnen noch das ein oder andere mit auf den Weg zu geben.
JB:…möchte noch erwähnen, dass eine Auswahl der Songs auch auf Vinyl in Österreich erscheint. International wurde das Vinylcover kurzum verboten, da unser Zeichner und Freund G. Altenberger einen Panzerknacker 30 Years in a hole steckte, was den Disneymillionären nicht so gefällt, in Österreich ein eigenes Kunstwerk, kann sich die Firma Disney brausen….also bei Interesse für Sammler Blindpetition@chello.at
Alles Liebe, gesund bleiben Hannes, BLIND PETITION
Ich sage Danke und wünsche euch viel Erfolg mit der neuen Platte und vielleicht habe wir ja dann auch mal die Möglichkeit euch live zu sehen und zu hören.
TRACKLIST:
1. Look up the grave
2. Stardust
3. Breaker of your heart
4. Forever free
5. All that we started
6. Shock therapy
7. Catch me I fall
8. Deny
9. Only suspense
10. Steelhunter
11. The fools game
12. Danger
13. Just one night
14. Hero of the ring
15. Hero 2010
Total Playing Time: 60:13 min
LINE-UP:
Johannes Bartsch – vocals, guitars
Thomas Gehrke – bass
Bertl Bartsch – guitars
David Strohmeier – vocals, guitars
Harald Bartsch – drums