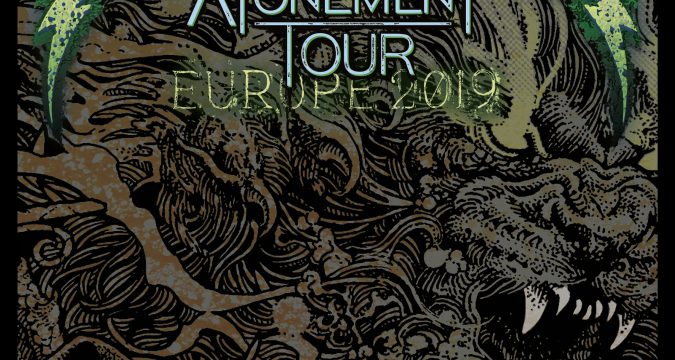 Das neue Album erscheint am 16. August auf Sony Music Entertainment. Bereits heute erscheint es die neue Single "Unleashed". Außerdem kommt die Band im Herbst auf Tour.
Die Grammy-nominierten und mit Gold ausgezeichneten Hardrock-Schwergewichte Killswitch Engage kündigen ihr achtes Album Atonement an, das am 16. August via Sony Music Entertainment (Welt ex Nordamerika) / Metal Blade Records (Nordamerika) erscheint. Das Album kann hier vorbestellt werden: https://smarturl.it/kse-atonement
Die Band hat außerdem den ersten Song "Unleashed" veröffentlicht, zum Anhören bitte hier entlang:
https://www.youtube.com/watch?v=HfwlIGUQCWo
"In 'Unleashed' geht es darum, wie Leidenschaft und Wut sich ihren Weg an die Oberfläche bahnen", erklärt Sänger Jesse Leach. "Wir alle haben etwas Wildes in uns, das die meiste Zeit inaktiv ist – bis ein tragisches Ereignis es triggert und zum Leben erweckt. Der Song handelt von diesem inneren Erwachen. Ich glaube, es ist uns gelungen, auf diesem Song etwas Rohes und Intensives einzufangen und ich freue mich unglaublich darauf, dass es jetzt jeder hören kann! Das neue Album Atonement spiegelt unsere Gedanken zu Beharrlichkeit und Leidenschaft während der Prüfungen und des Leids unserer Existenz wider."
Tatsächlich markiert Atonement den krönenden Abschluss zweier aufreibender, turbulenter Jahre, denn KsE haben schon 2017 damit angefangen, sich Ideen dafür zuzuwerfen. Den Großteil des Materials hat die Band separat an beiden Küsten aufgenommen. Aber mitten im Aufnahmeprozess entwickelte sich durch ein Geschwulst Narbengewebe in Jesses Kehle und zwang ihn, sich einer Operation zu unterziehen. Die intensive, dreimonatige Reha endete mit Sprech-, Gesangs- und Schreitherapie. Nach all dem liefert die Band jetzt ein Album ab, das ein erneuter Beweis für ihre unbestrittene Stellung als eine der beständigsten Metal-Bands der letzten zwei Jahrzehnte und darüber hinaus ist.
Die aufwendige Illustration des Albumcovers von Atonement stammt von niemand geringerem als dem talentierten englischen Künstler Richey Beckett (Metallica, Mastodon) in Zusammenarbeit mit Bandmitglied Mike D'Antonio, der die Artdirektion und das Layout übernahm.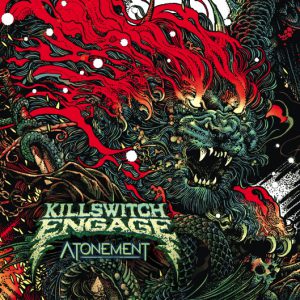 ATONEMENT TRACKLISTING
"Unleashed"
"The Signal Fire" [featuring Howard Jones]
"Us Against the World"
"The Crownless King" [featuring Chuck Billy]
"I Am Broken Too"
"As Sure As the Sun Will Rise"
"Know Your Enemy"
"Take Control"
"Ravenous"
"I Can't Be the Only One"
"Bite the Hand That Feeds"
Gleichzeitig kündigt die Band ihre Headliner-Tour durch Europa an, die am 14. Oktober im englischen Norwich startet und die Musiker bis zum 10. November in nur fünf Wochen durch insgesamt 21 Städte und zehn Länder führen wird. Die Supportbands werden zu einem späteren Zeitpunkt bekanntgegeben. Noch vorher verbringen KsE den Sommer in Nordamerika auf einer Co-Headliner-Tour mit Clutch.
KILLSWITCH ENGAGE IN EUROPA
14.10.  Norwich, UK – UEA
15.10.  Bristol, UK – O2 Academy
17.10.  Glasgow, UK – Barrowlands
18.10.  Manchester, UK – Academy
19.10.  Birmingham, UK – O2 Academy
20.10.  London, UK –  O2 Academy Brixton
22.10.  Brüssel, BEL – AB
23.10.  Amsterdam, HOL – Melkweg
25.10.  Oberhausen, GER – Turbinenhalle
26.10.  Berlin, GER – Huxleys
28.10.  Helsinki, FIN – Circus
30.10.  Stockholm, SWE – Fryshuset
31.10.  Oslo, NOR – Rockefeller
01.11.  Karlstad, SWE – Nojesfabriken
02.11.  Kopenhagen, DEN – Amager Bio
04.11.  Warschau, POL – Stodola
05.11.  Leipzig, GER – Werk 2
06.11.  München, GER – Tonhalle
08.11.  Lausanne, SWI – Les Docs
09.11.  Prattelen, SWI – Z7
10.11.  Nürnberg, GER – Löwensaal
ÜBER KILLSWITCH ENGAGE
Zum ersten Mal rüttelten Killswitch Engage an den Grundfesten von Heavy Musik, als sie 1999 aus dem verschneiten, industrialisierten Westen von Massachusetts auftauchten. Als musikalische Außenseiter bereiteten sie den Weg für eine Fusion aus thrashiger europäischer Gitarren-Pyrotechnik, Ostküsten-Hardcore-Spirit, ungezügeltem Spaß auf der Bühne und aufgeklärten Texten – und gaben damit den Takt vor für das, was die Jahrhundertwende Heavy nennen würde.
Das 2002er Alive Or Just Breathing wurde zum Genre-prägenden Album erklärt, das Decibel zu den "Top 100 Greatest Metal Albums of the Decade" zählte und von Metal Hammer bis Revolver gefeiert wurde. Nicht nur hatten Killswitch Engage damit die Schleusen für Dutzende Nachfolger geöffnet, sondern sie verzeichneten 2005 und 2014 auch zwei GRAMMY® Nominierungen in der Kategorie "Best Metal Performance" und meldeten sowohl Gold für The End of Heartache [2004] als auch für As Daylight Days [2006]. Die Band landete drei aufeinanderfolgende Top-10-Positionen in den Billboard Top 200 mit Killswitch Engage [2009], Disarm The Descent [2013] und ihrem bisherigen Karriere-Höhepunkt Incarnate [2016] auf #6. Die beiden letzten Releases sicherten sich außerdem die #1 in den Top Rock Albums und den Top Hard Rock Albums Charts und ihre Songs wurden bis heute über eine halbe Milliarde Mal gestreamt. Unterwegs haben sie mit einigen der größten Acts der Welt auf der Bühne gestanden und unzählige ausverkaufte Headliner-Shows auf sechs Kontinenten gespielt.
2019 stehen Killswitch Engage vor einem weiteren wichtigen Schritt. Mit Atonement, ihrem insgesamt achten Studio-Album und dem ersten für Metal Blade, schärft das Quintett, bestehend aus Adam Dutkiewicz [Gitarre, Produktion], Joel Stroetzel [Gitarre], Mike D'Antonio [Bass], Justin Foley [Schlagzeug] und Jesse Leach [Gesang], jeden Aspekt ihres typischen Sounds. Wie nie zuvor kristallisiert sich hier die Vision der Band heraus, die sie seit der Gründung vor zwei Jahrzehnten vereint – dokumentiert durch die erste Single "Unleashed".