KISS sind d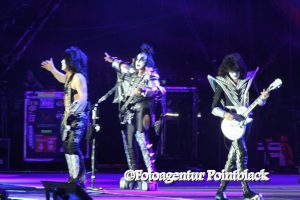 ie am häufigsten mit Gold ausgezeichnete Band der USA und verfügen über einen unfassbaren Katalog voller Rock'n`Roll-Klassiker. Die Veröffentlichung von KISSWORLD – The Best Of KISS kommt rechtzeitig zum Jubiläum ihres allerersten Konzerts am 30. Januar 1973. Damals standen sie im kleinen New Yorker Club Popcorns vor gerade mal zehn Leuten auf der Bühne. Gleichzeitig feiert diese Collection die legendäre Band und den Start ihrer finalen End Of The Road-Tour am 31. Januar 2019 in einer riesigen Arena in Vancouver mit einer Kapazität von 18.000 Plätzen. KISSWORLD vereint 20 der beliebtesten KISS-Tracks auf einem Album. In dieser umfassenden Sammlung treffen Kultsongs wie "I Was Made For Lovin' You", "Rock And Roll All Nite" und "God Gave Rock 'N' Roll To You II" auf Top 10 Hits wie "Beth" und "Detroit Rock City".
KISS sind eine der legendärsten und einflussreichsten Rockbands aller Zeiten. Sie haben 44 Alben veröffentlicht und weltweit über 100 Millionen Platten verkauft. Sie sind eine grandiose Liveband und im Laufe ihrer glanzvollen Karriere haben ihre weltweiten Tourneen immer wieder Rekorde aufgestellt.
Jetzt, nach einer ereignisreichen, 45-jährigen Karriere, die ein ganzes Zeitalter phänomenaler Rock'n'Roll-Legenden einläutete, kündigen KISS ihre allerletzte Tour für 2019 an. Paul Stanley, Gene Simmons, Eric Singer und Tommy Thayer machten die Pläne zu ihrer Tour, die sie passenderweise END OF THE ROAD-Tour getauft haben, in der NBC-Show America's Got Talent bekannt. Das Internet lief natürlich sofort heiß, denn Tausende von Fans wollten sehen, ob ihre Stadt auf dem Tourneeplan stand und eine letzte KISS-Show erleben würde.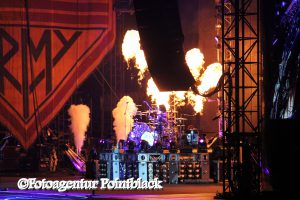 Tracklisting von KISSWORLD – The Best OF KISS
1. Crazy Crazy Nights
2. Rock And Roll All Nite
3. I Was Made For Lovin' You
4. God Gave Rock 'N' Roll To You II
5. Detroit Rock City
6. Beth
7. Lick It Up
8. Heaven's On Fire
9. Tears Are Falling
10. Unholy
11. Hard Luck Woman
12. Psycho Circus
13. Shout It Out Loud
14. Calling Dr. Love
15. Christine Sixteen
16. Love Gun
17. Shandi
18. I'm A Legend Tonight
19. Modern Day Delilah
20. Hell Or Hallelujah
DEUTSCHLAND-TOUR
27. Mai 2019 – Leipzig; Messe Leipzig – Open Air
31. Mai 2019 – München; Königsplatz
02. Juni 2019 – Essen; Stadion Essen
04. Juni 2019 – Berlin; Waldbühne
05. Juni 2019 – Hannover; EXPO Plaza
06. Juli 2019 – Iffezheim / Baden-Baden; Rennbahn Iffezheim
(Tickets unter: https://wizpro.com/kiss/2019/end-of-the-road-world-tour-2019)
ÜBER KISS:
KISS sind die am häufigsten mit Gold ausgezeichnete Band der USA – in jeder Kategorie (RIAA) – und so kann man sie wohl mit Fug und Recht als eine der einflussreichsten Rockbands aller Zeiten bezeichnen. Die Rock N Roll Hall of Fame-Mitglieder haben 44 Alben veröffentlicht und weltweit über 100 Millionen Platten verkauft. Musikerkollegen verehren die Band und 2015 erhielten KISS den renommierten ASCAP Founders Award. In über 40 Jahren haben KISS mit ihren Tourneen Rekorde gebrochen und waren so immer für ihre Fans da. Ihre letzte Welttournee starteten sie 2014 mit fünf Headline-Shows in Japan und der #1-Single "Samurai Son" mit der Popgruppe Momoiro Clover Z. Mit ihrer 40th Anniversary World Tour rockten sie auch Nordamerika, Südamerika und Australien. Außerdem verwandelt sich die "KISS Army" einmal im Jahr in die "KISS Navy", wenn sich Fans aus der ganzen Welt auf die KISS Kruise, eine Kreuzfahrt der besonderen Art, begeben (2017 fand sie bereits zum siebten Mal statt). 2014 kreierten KISS zusammen mit Warner Brothers den erfolgreichen Kinofilm ScoobyDoo and KISS: Rock And Roll Mystery. Nicht zu vergessen die Auftritte beim Super Bowl, den Olympischen Winterspielen, dem Rockin' The Corps Koncert, sowie die Zusammenarbeit mit FOX, dank der KISS in mehreren Folgen der Serie Family Guy zu sehen waren, und zwei Gastauftritte in Staffelfinals von American Idol. KISS tauchen immer wieder in Marketingkampagnen auf, so z. B. für John Varvatos, Google Play und Hello Kitty; sogar in einem Werbefilm von Dr. Pepper zum Super Bowl und natürlich einer großangelegten Werbekampagne zu ihrer Hottest Show On Earth-Tour. Mit ihrer erfolgreichen Restaurantkette Rock & Brews haben die Gründungsmitglieder Paul Stanley und Gene Simmons ganz neues Territorium betreten. KISS unterstützen Veteranen-Organisationen wie Vet Tix, das Wounded Warriors Project, die USO, das "Hiring Our Heroes"-Programm der U.S. Chamber of Commerce, die Legacy Organization in Australien, Help For Heroes United Kingdom und die Dr. Pepper Snapple Groups Wounded Warriors Support Foundation.