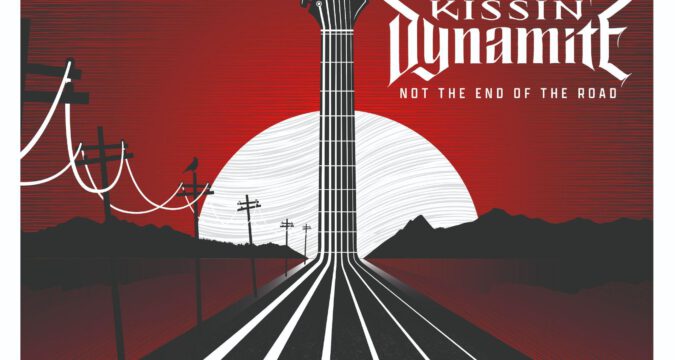 Neues Album Not The End Of The Road erscheint am 21.01.2022 via Napalm Records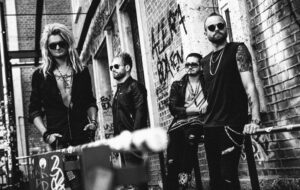 Die deutschen Heavy-Metal-Chartstürmer KISSIN' DYNAMITE gehen einmal mehr in die Vollen und heizen die Vorfreude auf das kommende Studioalbum Not The End Of The Road, das am 21. Januar über Napalm Records erscheint, weiter an! Nach den Veröffentlichungen des Titeltracks "Not The End Of The Road", der explosiven, zweiten Single "What Goes Up" sowie des Charity-Songs "Good Life" steht das Quintett jetzt mit einem weiteren, krachenden Stadionhit in den Startlöchern und enthüllt mit "Yoko Ono" Single Nummer vier.
Mit ihrer Hommage an "Yoko  Ono" präsentieren KISSIN' DYNAMITE nicht nur einen massiven Ohrwurm voller klanglicher Überraschungen sondern auch ein brandneues, aufregendes Musikvideo. Genau so muss 80er Stadionrock in der heutigen Zeit klingen!
KISSIN' DYNAMITE zu "Yoko Ono":
"Wir alle wissen von Yoko Ono und ihrer zweischneidigen Geschichte. In unserem Song geht es genau um Menschen wie Yoko Ono, die dich wie eine Spinne zunächst in ihrem Netz fangen, um dich schließlich zu benutzen und zu manipulieren. Im Video zu diesem Song haben wir versucht, Yokos Kunst zu umreißen, oder besser gesagt, neu zu interpretieren. Viel Spaß!"
Schaue jetzt das offizielle Musikvideo zu "Yoko Ono" HIER:
KISSIN' DYNAMITE – Yoko Ono (Official Video) | Napalm Records – YouTube
Die 2007 gegründete Heavy-Metal-Formation KISSIN' DYNAMITE hat sich mehr als nur einen Namen in der Szene gemacht: Mit sechs Studioalben und diversen Chartplatzierungen (#7 in den deutschen Albumcharts mit Ecstasy 2018) etablierte die Band ihren eigenen Stil – geprägt von modernem Sound, großen Hymnen gepaart mit eingängigen Hooks und 80er-Jahre-Stadionrock-Attitüde. Jetzt ist das für seinen exzentrischen Look bekannte fünfköpfige Quartett bereit, ihr Napalm Records-Debüt Not The End Of The Road zu veröffentlichen und das Heavy Metal-Jahr 2022 mit Vollgas einzuläuten!
Produziert, aufgenommen und gemischt wurde das neue Studioalbum von Sänger Hannes Braun (Südland Music) selbst, der auch schon mit Bands wie Santiano, The Kelly Family und Beyond The Black gearbeitet hat. Das Mastering erfolgte durch den Grammy-prämierten Produzenten Jacob Hansen in den Hansen Studios, der für seine Arbeit mit Bands wie Volbeat und vielen anderen bekannt ist.
Ande Braun über das neue Album:
"Not The End Of The Road ist ein Album, das unsere Erlebnisse als Band seit Ecstasy 2018 exakt beschreibt. In erster Linie stellen wir mit Songs wie "Not The End Of The Road", "What Goes Up", "Yoko Ono" und "Only The Dead" heraus: Wir haben Bock, wir ziehen an einem Strang und wir wollen in den Rock-Olymp! Titel wie "Coming Home", "Gone For Good" und "Scars" hingegen handeln von echten Gefühlen wie Einsamkeit, Heimweh und Trauer, die auch zum Leben gehören."
Hannes Braun ergänzt:
"Bei Ecstasy sind wir schon keine Kompromisse mehr eingegangen und wollten einfach nur Musik komponieren, die aus uns spricht. Not The End Of The Road knüpft genau hier nahtlos an."
Mit Not The End Of The Road setzen KISSIN' DYNAMITE einen weiteren Meilenstein in ihrer erfolgreichen Diskografie: In gitarrengetriebener Power-Metal-Manier bereitet das Intro und der Titeltrack "Not The End Of The Road" den Hörer auf einen mitreißenden Roadtrip mit neuen Hymnen direkt aus dem Herzen des KISSIN' DYNAMITE-Universums vor. Der Brecher "What Goes Up" entführt den Hörer in wahrhaft spektakuläre Klangwelten, die Stadien zum Beben bringen und überzeugt mit Aerosmith-ähnlichen Gitarrenattacken und einer hymnischen Hook. Aber KISSIN' DYNAMITE scheuen sich auch nicht davor, ihre sanftere Seite zu zeigen, wie man in ruhigen Tracks wie "Good Life" und "Gone For Good" hören kann – diese zeigen nicht nur sanfte Melodien, sondern auch die weichere Seite von Brauns Gesangsrepertoire. Während Tracks wie "No One Dies A Virgin" und "Yoko Ono" für eingängige Partyhymnen stehen, unterstreichen die Standouts "Coming Home" und "Defeat It" ihre Herkunft aus dem Stadionrock, ohne die Band in diese Schublade zu stecken. "Voodoo Spell" manifestiert die Vielseitigkeit der Band und ihre unterschiedlichen Einflüsse – beginnend mit starken Dark-Rock-Elementen, entwickelt sich der Song zu einem Opus, das es locker mit den größten Stadion-Giganten aufnehmen kann. Der Abschluss des Albums, "Scars", beweist einmal mehr, dass KISSIN' DYNAMITE in die Tiefe gehen und lyrische Verletzlichkeit zeigen können – ein beeindruckender Abschlusstrack, der danach schreit, live gespielt zu werden.
Not The End Of The Road track listing:
1. Not the End of the Road
2. What Goes Up
3. Only the Dead
4. Good Life
5, Yoko Ono
6. Coming Home
7. All for a Halleluja
8. No One Dies a Virgin
9. Gone for Good
10. Defeat It
11. Voodoo Spell
12. Scars
Not The End Of The Road wird in den folgenden Formaten erhätlich sein:
CD Digipack
LP Gatefold Vinyl Black
LP Gatefold Vinyl White
LP Gatefold Vinyl Glow In The Dark
LP Gatefold Vinyl Marbled Red/Black + Slipmat
LP Gatefold Vinyl Crystal Clear
Deluxe Box, inkl Digipack, Thermobecher, Nackenkissen, Patch, Autogrammkarten
Musik Kassette
Earbook
Digital album