Seit Ende Januar sind HAMMERFALL nun schon auf Ihrer European Dominion Tour unterwegs. Heute Abend waren Sie zu Gast in Lingen in der neuen Stadthalle. Mit dabei auf der Tour sind SERIOUS BLACK und BATTLE BEAST, so dass man also von einem geballten Power Metal Abend ausgehen konnte.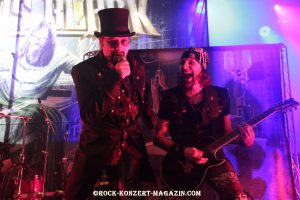 Pünktlich um 19:30 Uhr ging es los und SERIOUS BLACK enterten die Bühne. Ok Bühne war etwas übertrieben denn viel Platz hatten SERIOUS BLACK nicht auf der Bühne, da im Hintergrund schon alles für HAMMERFALL aufgebaut war. SERIOUS BLACK lassen sich nicht davon ablenken und versuchen gleich von der ersten Minute an Stimmung zu machen. Die Halle war schon gut gefüllt und die Fans gingen schon zum Teil gut mit. Immer wieder stellen sich die Gitarristen und der Bassist in Pose und lassen dabei ihre Haare kreisen. Sänger Urban Reed sticht durch seinen Zylinder und seinem schwarzen Sakko da eher ein wenig hervor. So versucht er auch die Fans in der Halle anders in Stimmung zu bringen wie die Gitarristen. Was an diesem Abend passt sind die Sound und Licht Effekte, die den Power Metal von SERIOUS BLACK den Fans direkt aus Hirn knallen. 6 Songs gaben SERIOUS BLACK in 30 Minuten zum Besten aber man merkte das die Stimmung nicht in der ganzen Halle ankam und so gingen SERIOUS BLACK mit dem Hinweis von der Bühne, dass Sie im Herbst wieder im Nachtleben als Headliner spielen werden.
Setlist:
Temple of the Sun
Akhenaton
I Seek No Other Life
Nightmist
Serious Black Magic
We Still Stand Tall
High and Low
As Daylight Breaks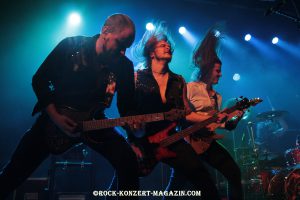 Nach der obligatorischen Umbaupause von nur 15 Minuten, war es soweit und BATTLE BEAST kamen auf die Bühne. Auch hier war der Platz auf der Bühne sehr begrenzt, so das Noora Louhimo und ihre Kollegen nicht so die Show abziehen konnten, wie man es von BATTLE BEAST gewohnt ist dazu brauchen Sie mehr Platz. Trotz alledem steckt viel Kraft und Energie in Noora, die ganz in Silber gekleidet und mit einem formvoll endeten Hörnerhut auf die Bühne kam. Die Stimmung in der Stadthalle war von Beginn an eine andere, der Funke sprang direkt auf die Fans über. Es ist schon erstaunlich wie Sängerin Noora Louhimo über die Bühne springt und dabei immer wieder die Fans animiert zum Mitsingen und Mitfeiern. Dabei halfen ihnen Songs wie "Straight to the Heart", "Eden" oder "No more Hollywood endings". Es war ein guter Gig und nach 45 Minuten und vielen Posen später, war dieser Gig dann zu Ende und es wurde wieder um, bzw. aufgeräumt, denn die Instrumente des Supports mussten weg geräumt werden.
Setlist:
Unbroken
Familiar Hell
Straight To The Heart
Bastard Son Of Odin
The Golden Horde
Eden
No More Hollywood Endings
King For A Day
Beyond The Burning Skies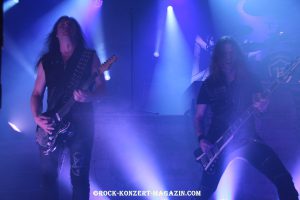 21:30 Uhr, jetzt war es soweit und HAMMERFALL entern die Bühne. Diesmal mit viel Platz für die Musiker und Sänger Joacim Cans. Die Bühnenkonstruktion ist so aufgebaut, dass der Schlagzeuger David Wallin auf einer Art Festung thront und links und rechts sich die Gitarristen oder Joacim aufhalten können. Gleich mit Ihrem Opener "Never Forgive, never Forget" ziehen HAMMERFALL die Fans auf Ihre Seite. Die Reihen in der Stadthalle sind mittlerweile auch stark gefüllt, so das der Funke sofort überspringt. Mit "Heeding the Call" kommt der erste Song aus der Anfangszeit von HAMMERFALL und nun war es ein wirklich bunter Reigen aus alten und neuen Songs, die Hammerfall an diesem Abend den Fans präsentierten. Immer wieder wechselten die Seiten zupfer die Positionen oder stellten sich zu dritt neben einander und posten was das Zeug hielt. Man merkte Ihnen an das Sie viel Spaß beim Spielen haben. Die Fans freute es und feierten was das Zeug hielt.
Mit der Unterstützung von Noora Louhimo, sang Joacim Cans den Song "Second to One" und ich muss sagen das was beide sangen war richtig geil. Die Stimmen passen zusammen und so ergab es ein brillantes Duo. Dann erzählte uns Joacim etwas vom Album "Renegade", welches in diesem Jahr 20-jähriges Jubiläum feiert. Zu diesem Anlass gab es dann auch ein Medley von verschiedenen "Renegade" Songs um diesen Anlass würdig zu huldigen. Mit dem obligatorischen "Let the Hammer Fall", verabschiedeten sich HAMMERFALL von den Fans um kurz hinter die Bühne zugehen und dann mit den 3 letzten Songs an diesem Abend wieder zu kommen.
Was für ein Abend mit drei richtig guten Bands, wobei die beiden ersten etwas zu kurz bzw. wegen Platzmangel nicht ihre volle Bühnenpräsenz zeigen konnten, die den Fans von Anfang an so richtig ein heizten mit kraftvollen, dynamischen und hartem Power Metal.
Setlist:
Never Forgive, Never Forget
One Against The World
Heeding The Call
The Way Of The Warrior
Any Means Necessary
Hallowed Be My Name
Blood Bound
Redemption
Hector's Hymn
Natural High
Second To One (mit Noora Louhimo)
Renegade Medley
Keep The Flame Burning
Dominion
The Dragon Lies Bleeding
Last Man Standing
Let The Hammer Fall
—
Hammer High
(We Make) Sweden Rock
Hearts On Fire