Als UDO DIRKSCHNEIDER im August 2015 auf dem Wacken Open Air in einer Pressekonferenz angekündigt hatte, dass er auf eine ausgedehnte Tour gehen würde, dessen Namen "Back to the Roots" heißt, wusste selbst UDO nicht welchen Erfolg diese Tour haben würde. Nicht nur das die erste Tour, nur mit ACCEPT Songs aus UDO´S Zeiten gefüllt war, nein auch die zweite Tour war wieder nur mit ACCEPT Songs gespickt. Nun konnte man meinen, wenn man den I. Teil gesehen hat, kennt man auch Teil II, nein nicht ganz. Es gab zwar auch wieder den ein oder anderen Song, den es schon bei Teil I gab aber auch andere Songs, die nicht beim Teil I gespielt worden sind. Was war noch anders, im Gegensatz zu Teil I. Gitarrist Kasperi Heikinnen hat bei UDO ausgespielt, er spielt nun Bei BEAST IN BLACK, für Ihn ist mit Bill Hudson ein adäquater Ersatz gekommen, der keine Mühe hatte sich in die Band ein zu fügen. So konnte es also in die Verlängerung der Back to the Roots Tour gehen. In der Kölner Essigfabrik habe ich mir den zweiten Teil angeschaut. Im Gegensatz zu Oberhausen, war in Köln auch die Vorband RAVEN dabei. In Oberhausen haben Sie angeblich den Flug verpasst und konnten nicht auftreten. RAVEN, die nicht erst seit gestern auf der Bühne stehen, sondern schon seit über 40 Jahren im Metal Circus sind, eröffnen diesen Abend.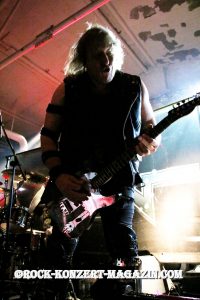 Was die Brüder John und Mark Gallagher auf der Bühne abspielen, ist zum Teil Gewöhnungsbedürftig, denn man kann meinen das die beiden irgendwo abgehauen sind. Wild rennen Sie über den nicht gerade vielen Platz auf der Bühne, hin und her und spielen wild auf Ihren Gitarren dazu. Leider konnte man John nicht immer so klar im Gesang erkennen, ich glaube heute hatte der Ton Techniker einen Knick im Ohr, was doch schade war, denn so richtig wollte der Funke auf die Fans nicht überspringen. Lag es daran das die Musik und der Sound etwas scheiße war an diesem Abend oder warteten alle nur auf UDO und seine Jungs. So spielten RAVEN an diesem Abend eine gute halbe Stunde lang Ihren New British Heavy Metal und hatten Ihren Spaß.
Setliste:
Destroy all Monsters
Hell Patrol
All for one
Hung, Drawn & Quartered
Rock until you Drop
On and On
Break the Chain
It´s a long way to the Top (If you wanne Rock´n Roll)
Symptom oft he Universe
Crash Bang Wallop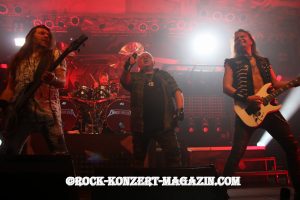 Nun konnten Sie kommen UDO und seine Mannen. Alle haben sich darauf gefreut und so war die Stimmung dann auch großartig durch den ganzen Gig. Wie schon im Teil I zu bestaunen, war auch im Teil II die Choreo bei allen sehr einstudiert und so ging auch nichts schief, selbst bei Bill Hudson. Was mir aufgefallen ist, dass die Halle nicht ausverkauft war wie bei Teil I. Woran das lag kann man nicht mit Bestimmtheit sagen, vielleicht hat UDO es dann doch ein wenig übertrieben mit der Back tot he Roots Tour. Damit ist aber definitiv im Jahr 2018 Schluss, denn UDO DIRKSCHNEIDER Returns to U.D.O. Ein neues Album soll im August 2018 auf den Markt kommen und im Anschluss soll es dann auf U.D.O. Tour gehen, wir sind gespannt wie es wird, ganz ohne ACCEPT Songs. Bis dahin ist noch etwas Zeit und ich habe erstmal das Konzert an diesem Abend genossen, denn es war vom ersten bis zum letzten Takt, kraftvoll und dynamisch rübergekommen.
Es war mal wieder ein geiler Abend mit einem UDO DIRKSCHNEIDER in guter Form, der diesmal nicht viel bis gar nicht ablesen brauchte und man ist echt gespannt wie es wird wenn er wieder U.D.O. ist.
Setliste:
The Beast Inside
Aiming High
Bulletproof
Midnight Mover
Slaves to Metal
Another Second to be
Protectors of Terror
London Leatherboys
Fight it Back
Can´t stand the Night
Amamos la Vida
Stone Evil
Breaker
Hard Attack
Love Child
Objection Overruled
X-T-C-
Russian Roulette
Princess of the Dawn
Metal Heart
Fast as a Shark
Balls to the Walls