Paradise Lost in der Batschkapp Erstmals seit ihren Festivalauftritten im Sommer 2016 kommen Paradise Lost wieder nach Deutschland. Begleitend zur Veröffentlichung des im September erscheinenden Albums "Medusa"(Nuclear Blast/Warner), hat die Gothic Metal-Band aus dem englischen Halifax sieben Shows im Herbst 2017 in Deutschland bestätigt. Das Quintett um Frontmann Nick Holmes trat unter anderem in der Batschkapp in Frankfurt auf. Also mal nichts wie hin und sich die Gehörgänge mal ordentlich durchpusten lassen. Mit von der Party waren SINISTRO und PALLBEARER. Einem erfolgreichem Doom Gothic Death Metal Abend stand also nichts mehr im Wege. Was ein wenig für Verwunderung sorgte war das PARADISE LOST 2 Supports dabei hatten aber erst um 20:00 Uhr angefangen sind und um 23:00 Uhr schon wieder aufhören sollten. Kurz an der Kasse mal nachgefragt und es stellte sich heraus das bis 23:30 Uhr gespielt wird. Los ging es dann auch um 20:00 Uhr mir der aus Portugal stammenden Band SINISTRO.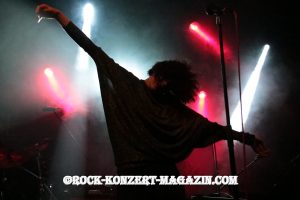 Dunkel war es und dann legten die 4-mal so richtig los. Sängerin Patricia Andrade machte dabei immer wieder komische Verrenkungen als wenn Sie von einem anderen Stern käme oder lieber doch gleich in die Klapse eingeliefert werden müsste. Starker Sound, kein Licht aber eine gute Stimme von Patricia . Irgendwie sprang der Funken aber nicht so auf die Fans über. Man hörte geduldig zu und gab Beifall aber das war es dann auch schon. Nach einer guten halben Stunde war es dann auch schon vorbei, wobei man sich dann fragte was ist jetzt los, denn in der Umbaupause wurden 2 Songs von SINISTRO so laut gespielt das man meinen könnte Sie sind noch auf der Bühne.
PALLBEARER kamen auf die Bühne um den Soundcheck zu machen und gegen 20:50 Uhr gingen Sie einfach an. Soundcheck geht auch anders. Die progressive Doom-Band aus Arkansas veröffentlicht 2010 ein erstes Demo, dem im Februar 2012 das Debütalbum "Sorrow and Extinction" folgt. Heute spielt PALLBEARER in der Batschkapp mit dem Album "Heartless" den Fans vor. Auch hier ist wenig Licht im Spiel und bei den Fans regt sich auch nicht so viel.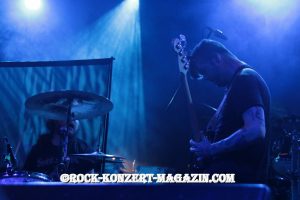 Eigentlich ist es schade für beide Bands dass die Stimmung nicht so aufkommt wie man sich das eigentlich wünscht. PALLBEARER spielen eine schnörkelose und doch irgendwo geile Show und man merkt Ihnen auch an das es Ihnen unheimlichen Spaß macht aber auch hier wurde nicht so viel Applaudiert wie man sich das erhofft hatte. Gegen 21:30 Uhr gingen PALBEARER von der Bühne und jetzt könnte eigentlich nur noch Stimmung aufkommen denn jetzt kamen PARADISE LOST.
Jetzt kam auch zum ersten Mal richtig Stimmung auf und als PARADISE LOST auf die Bühne kamen gab es kein Halten mehr bei den Fans. Gleich mit Ihrem Opener "From The Gallows" rissen Sie die Fans mit. Tolles Licht und guter Sound nur leider verstand man Nic Holmes nicht so beim Singen was doch recht Schade war.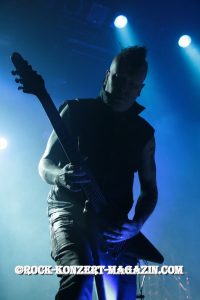 Der ein oder andere Fan regte sich schon darüber auf die anderen feierten einfach nur. Mit Ihrem Song "Medusa" vom gleichnamigen, im September erschienen Album kam noch mal richtig Stimmung auf und das zog sich durch bis PARADISE LOST nach dem Song "True Belief" sich erstmal zu verabschieden um dann unter stürmischen Applaus wieder zu kommen um noch 3 Songs zu spielen. Gegen 23:30 Uhr war dann alles vorbei und die meisten der zahlreichen Fans ging Glücklich nach Hause. Eine durchweg gelungene Show mit 3 gleichen aber doch unterschiedlichen Bands war vorbei.
Setliste:
From the Gallows
Tragic Idol
Remembrance
One Second
Gods of Ancient
Enchantment
Medusa
An Eternity of Lies
Faith Divides us
Blood and Chaos
Eternal
Beneth broken Earth
True belief
No Hope in Sight
The Longest Winter
The Last Time