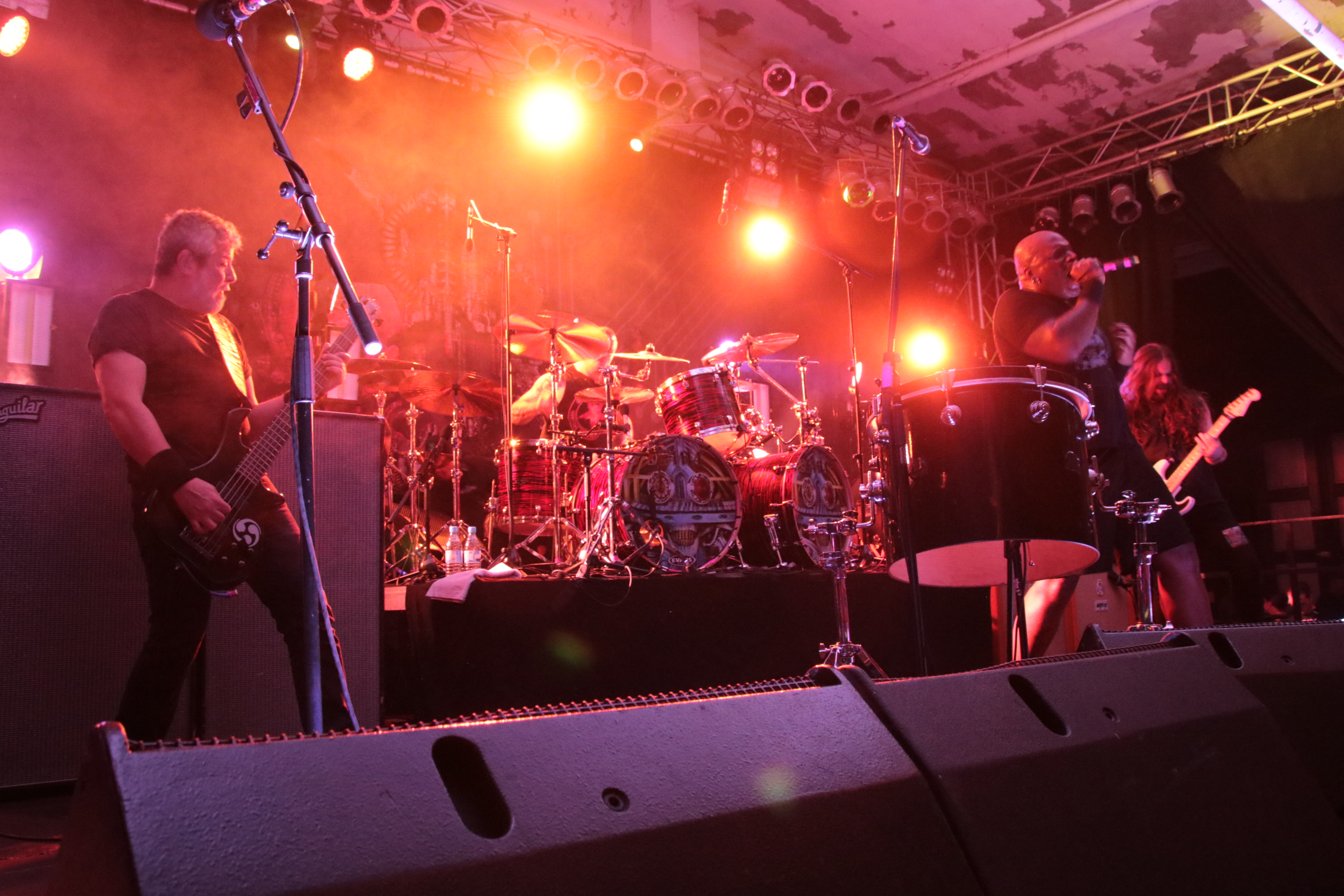 Es konnte sich sehen lassen was an diesem Abend in der Essigfabrik geboten wurde. SEPULTURA spielten groß auf, wo man fragen muss warum spielen SEPULTURA eine Hallen Tour im Sommer wenn doch ganz viele Festivals zu Gange sind. Man merke schon das es Ferien waren und Festival Zeit denn zu Beginn war die Essigfabrik nicht gerade gut gefüllt und man hatte noch reichlich Platz um sich herum um zumindest die erste Band EVIL INVADERS zu hören und zu sehen. SEPULTURA die es ja schon seit den 80er Jahren gibt, waren aus der original Besetzung Bassist Paulo Xisto Pinto Jr. Und Gitarrist Andreas Kisser dabei.
Los ging es mit EVIL NVADERS an diesem Abend, die nicht gerade viel Platz auf der Bühne hatten denn es kamen ja noch ABORTED und eben SEPULTURA auf die Bühne und dessen Equipment stand auch schon auf der Bühne damit es alles schneller geht beim Umbau. Den wenigen Platz den EVIL INVADERS hatten, nutzen Sie aber schon recht gut aus. Immer wieder posierten Sie wie echte Profis, dafür da die Jungs erst so Anfang 20 sind machen Sie das schon ganz ordentlich. Den Speed-, Trash Metal den die Jungs spielen hört sich wirklich geil an und wird durch die Screams reichlich unterstützt. Eine wirklich mitreißende und energiegeladene Show, die EVIL INVADERS da ablieferten.
Setliste:
As Life Slowly Fades
Pulses Of Pleasure
Shot To Paradise
Stairway To Insanity
Mental Penitentiary
Raising Hell
Victim Of Sacrifice
Nach der Umbaupause waren dann die Skelette im Schaufenster dran, wie ich es gerne beschreibe. ABORTED haben zur Deko auf der Bühne Skelette im Schaukästen stehen, die ja nach Titel in verschiedene Farben gehüllt werden, sieht klasse aus und macht was her auf der Bühne. Nicht ganz so Ruhig wie die Skelette in Ihren Schaukästen hauen dann ABORTED den Fans die Musik um die Ohren. Kraftvoll und Ausdrucksstark spielen ABORTED Ihren DeathMetal/Grindcore Stil und die Fans, die jetzt doch etwas zahlreicher in der Halle waren, bangten mit was das Zeug hielt. Sänger Sven ist dabei wie ein Flummi und springt dabei von einer Seite der Bühne zur anderen. Auch wenn ABORTED knallharte Riffs präsentieren, so sympathisch sind die Jungs während der Songs, denn die Ansagen, die Sie machen sind gar nicht hart und druckvoll sondern "sanft" und freundlich. Ein 45 minütiger Auftritt von ABORDET der es in sich hatte und man war gespannt was uns jetzt bei SEPULTURA erwarten würde.
Setliste:
Divine Impediment
Cadaverous Banquet
Fallacious Crescendo
Meticulous Invagination
Parasitic Flesh Resection
Necrotic Manifesto
Termination Redux
Expurgation Eurphorira
Bit by Bit
Hecatomb
Threading The Prelude
The Saw And The Carnage Done
Wieder wurde Umgebaut und dann endlich war es soweit und SEPULTURA kamen nach dem Intro auf die Bühne. Leider wurde die Halle nicht voller den im Vorverkauf wurden nur knapp 400 Karten abgesetzt und es kamen jetzt nicht gerade hunderte von Fans an die Abendkasse um SEPULTURA und die anderen Bands zu sehen. SEPULTURA war es egal, denn die legten gleich zu Beginn los wie die Feuerwehr. Frontman Derrick schaffte es immer wieder die Fans in seinen Bann zu ziehen und zu begeistern, viel brauch er dafür auch gar nicht machen, denn die Fans waren auch so von der ersten bis zur letzten Minute mit Begeisterung dabei. Zwischen durch versuchte Derrick auch mal Ansagen auf Deutsch was Ihm auch gut gelungen ist. Zum Ende des Gigs wurde es nochmals besonders laut, denn die alten SEPULTURA Klassiker wurden raus geholt und den Fans präsentiert, die jetzt auch kein Halten mehr kannten.  
Setliste:
I Am The Enemy
Phantom Self
Kairos
Desperate Cry
Sworn Oath
Inner Self
Iceberg Dances
Choke
Dialog
Alethea
Resistant Parasites
Biotech Is Godzilla / Policia
Territory
Refuse/Resist
Arise
Sepultura Under My Skin (Zugabe)
Ratamahatta (Zugabe)
Roots Bloody Roots (Zugabe)
Als Fazit bleibt ein solides Konzert mit einer schönen Portion Nostalgie sowie einer gut gelaunten Band, die sichtlich Spaß am Zocken der neuen Lieder (6 Stück) als auch zelebrieren der alten Hits hatte und den Fokus auf diese beiden Bereiche legte.