Die schwedischen Melodic-Death-Metal-Granden ARCH ENEMY machen auf dem zweiten Teil ihrer "Will To Power"-Tour im Schlachthof halt und haben ihr im September erschienenes, gleichnamiges Album dabei. Wurden sie zuletzt von JINJER allein begleitet, so sind es diesmal mit WINTERSUN, TRIBULATION und JINJER gleich drei spitzenmäßige Acts, die mit ihnen gemeinsam touren.
Was auffiel an diesem Abend, war das sich nicht lange mit irgendwas aufgehalten wurde und so legten JINJER auch pünktlich um 18:10 Uhr los. Bands aus der Ukraine trifft man auch nicht alle Tage. Genau dort formieren sich JINJER jedoch 2009.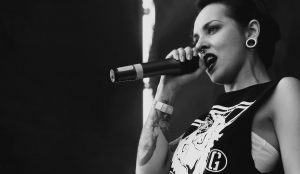 Das Frontfrau Tatiana Shmailyuk eigentlich nur eine Übergangslösung sein sollte als sich der frühere Sänger in die USA absetzte, erwies sich später als Glücksfall und das vermittelt Tatiana auch. Sie hat Spaß bei dem was sie macht. Mit Songs wie "Captain Clock" oder "Just Another" weiß Sie die Fans in Stimmung zu bringen. Leider haben JINJER Nur 30 Minuten Zeit sich dem großen Publikum zu präsentieren aber das taten sie eindrucksvoll.
Setlist:
1. Captain Clock
2. Sit stay roll over
3. I speak Astronomie
4. Just Another
5. Pisces
6. Who Is Gonna be The One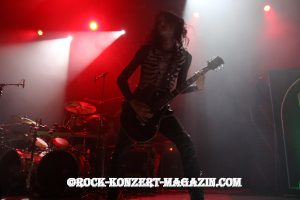 Nach einer wirklich kurzen Verschnaufpause kamen TRIBULATION auf die Bühne. Ich wusste das ich diese Band schon mal gesehen habe denn wenn man den Gitarristen in seinen Balletschüchen sieht weiß man wer TRIBULATION sind. So bewegt er sich auch auf der Bühne. Die Band spielt schnellen von MORBID ANGEL und AUTOPSY beeinflussten Death Metal mit Texten aus dem Bereich der Horrorlitertur. Wenn man Sänger Johannes Anderson so sieht könnte man auch meinen man würde sich TRYPTIKON anschauen, denn es herrscht schon ein wenig Ähnlichkeit. Viele der Anwesenden Fans wussten nicht so recht was Sie von der Musik halten sollten und so gab es zum Abschluss eher gemäßigten Applaus als bei JINJER.
Setlist:
1. Lady Death
2. Melancholia
3. The Motherhood of God
4. Suspiria de Profundis
5. Nightbound
6. Strange Gateways Beckon
7. The Lament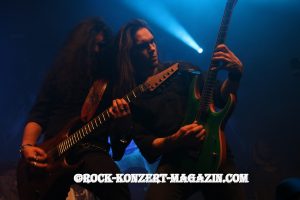 Auch jetzt wurde wieder nicht sehr lange umgebaut und so kamen Sie dann wie eine große Welle auf die Bühne, WINTERSUN. Der Stil der Band ist schwer einzuordnen, kann jedoch als melodisch oder episch beschrieben werden. Er umfasst Elemente verschiedener Metal-Substile, wie Black-, Death-, Power und Viking Metal mit entsprechenden Folk-Einflüssen. Darüber hinaus ist eine klangliche Ähnlichkeit zu Jari Mäenpääs vorheriger Band ENSIFERUM vorhanden, wobei aber im Gegensatz zu dieser die Anteile aus dem Folk nicht im Vordergrund stehen. Die Fans hatten ihre große Freude daran und so wurden Songs wie "Winter Madness" oder "Loneliness (Winter)" begeistert gefeiert. Jetzt war es aber soweit und nach dem Umbau kamen Alissa und die Jungs von ARCH ENEMY.
Setlist:
1. Awakening from The Dark Slumber
2. Winter Madness
3. Sons of Winter and Stars
4. Loneliness (Winter)
5. Battle against Time
6. Time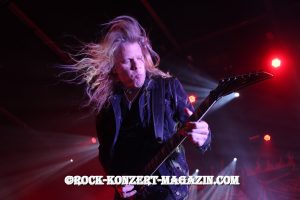 Schon als das Licht ausging und vom Band MOTÖRHEAD's "Ace of Spade" zu hören war wurde bei den Fans gefeiert was das Zeug hält. Zu den Klängen von "Set Flame To The Night" kamen Sie und sie wurden begeisternd gefeiert. Mit "The World is yours" gehen ARCH ENEMY gleich mal in die Vollen und schieben mit "Ravenous" gleich mal noch einen hinterher, was das Publikum voll auf Betriebstemperatur gebracht hat. Mit fettem Sound hauen ARCH ENEMY einen Song nach dem anderen den Fans um die Ohren wobei das neue Material von ARCH ENEMY auch ein Brett ist. Die Live Präsents von Alissa trägt sein Übriges dabei und so ist es ein rundum gelungenes Paket was ARCH ENEMY da abliefern. Mit den Rausschmeißern "Avanlance", "Snow Bound" und "Nemesis" entlassen ARCH ENEMY ein Publikum welches nicht mehr Herr seiner Sinne ist sondern völlig berauscht von der Musik.
Setliste:
1.     Ace of Spades (Intro)
2.     Set Flame To The Night
3.     The World Is Yours
4.     Ravenous
5.     The Race
6.     War Eternal
7.     My Apocalypse
8.     You Will Know My Name
9.     Bloodstained Cross
10.  Dead Eyes See No Future
11.  The Eagle Flies Alone
12.  As The Pages Burn
13.  Intermezzo Liberté
14.  Dead Bury Their Dead
15.  We Will Rise
16.  Avalanche
17.  Snow Bound
18.  Nemesis
19.  Field Of Desolation (Outro Instrumental)