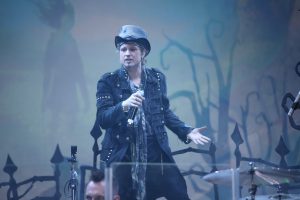 Es wurde dunkel in der Köpi Arena und die ersten Klänge der 9 Symphonie (Ode to Joy) erklangen. Hinterm Vorhang verbargen sich schon die Musiker und Backroundsänger und warteten im Prinzip nur noch darauf das der Vorhang viel. Dann war es soweit, der Vorhang viel und zu den ersten Klängen von "Ghost in the Moon" sah man dann Tobias Sammet die Treppe herunter kommen. Von der ersten Minute an war gleich Stimmung in der Halle. Eigentlich brauchte Tobias Sammet sich und die Band AVANTASIA gar nicht mehr vorstellen, denn man wusste ja auf welches Konzert man gegangen ist, als er dann noch sagte "wir spielen heute über 3 Stunden, vom neuen Scheiß, vom alten Scheiß, vom harten Scheiß und vom restlichen Scheiß sowieso" war der Siedepunkt in der Halle erreicht. Nicht nur das Tobias Sammet über 3 Stunden spielen sollte, nein es gab ja auch noch andere Gastmusiker bzw. Sänger die mit Tobias oder auch ohne ihn an diesem Abend singen sollten. Mit Ronnie Atkins (PRETTY MAIDS), Jorn Lande, Goeff Tate (ex. QUEENSRYCH), Oliver Hartmann, Hauptamtlich als Gitarrist bei AVANTASIA, Adrienne Cowan, Ina Morgan, Eric Martin (Mr, Big), Bob Catley, (Magnum) waren einige Sänger vom neuen Album "Moonglow" dabei aber es fehlten so Urgesteine wie Michael Kiske, Hansi Kürsch oder Candice Night.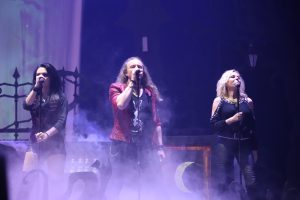 Dies war aber nicht weiter tragisch, denn das was man geboten bekam war ein Konzert voller Spielfreude der Musiker und Sänger, harten aber auch weichen Metal und Fans die nicht genug bekommen konnten. Eine bunte Mischung aus den verschiedenen Alben wurde uns an diesem Abend geboten und so durften Songs wie "Alchemy"  gesungen mit Goeff Tate, "Dying for an Angel" mit Eric Martin oder "Mystery of a Blood Red Rose" mit Bob Catley. Neben den ein oder anderen Späßchen auf der Bühne gab Tobias Sammet dann ganz besonderes Ständchen den Fans in Oberhausen, als er Anfing das Steiger Lied zu singen und die Fans gleich mal im Chor mitgesungen haben, denn schließlich war am ja im Pott. Ronnie Atkins, der zu diesem Zeitpunkt auf der Bühne war, staunte nicht schlecht über das was er da hörte und beschloss das ganze mit einem "Glück auf". Die Halle bebte jetzt.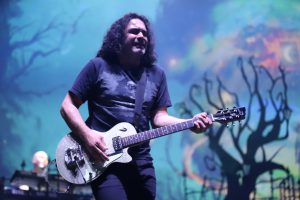 Was kann jetzt noch kommen, da es ja auch schon ziemlich weit fortgeschritten war in dem Konzert? Eigentlich nur noch die Zugaben die aus "Farewell", "Sign oft he Cross" und "The Seven Angels" bestand. Nach fast 3 ½ Stunden war dann unter einem großen Konfetti Regen ein geiles Konzert zu Ende ging, was bei vielen noch lange in Erinnerung bleibt, vor allem bei denjenigen, die AVANTASIA zum ersten Mal gesehen und gehört haben.
Setlist:
1.        Symphony No. 9, Op. 125 (Ode to Joy)
2.        Ghost in the Moon
3.        Starlight (mit Ronnie Atkins)
4.        Book of Shallows (mit Ronnie Atkins und Adrienne Cowan)
5.        The Raven Child (mit Jørn Lande)
6.        Lucifer (mit Jørn Lande)
7.        Alchemy (mit Geoff Tate)
8.        Invincible (mit Geoff Tate)
9.        Reach Out for the Light
10.     Moonglow (mit Adrienne Cowan)
11.     Maniac (mit Eric Martin)
12.     Dying for an Angel (mit Eric Martin)
13.     Lavender (mit Bob Catley)
14.     The Story Ain't Over (mit Bob Catley)
15.     The Scarecrow (mit Jørn Lande)
16.     Promised Land (mit Eric Martin)
17.     Twisted Mind (mit Geoff Tate)
18.     Avantasia (mit Geoff Tate)
19.     Let the Storm Descend Upon You (mit Jørn Lande)
20.     Master of the Pendulum (mit Ronnie Atkins)
21.     Shelter from the Rain (mit Bob Catley)
22.     Mystery of a Blood Red Rose (mit Bob Catley)
23.     Lost in Space
Zugaben:
1.        Farewell (mit Adrienne Cowan)
2.        Sign of the Cross / The Seven Angels (mit allen Interpreten)