Als im Jahr 2009 EPICA ihr damals mittlerweile 4 Studio Album "Design your Universe" auf dem Markt brachten, wussten die Fans vorher nicht so viel mit der Gruppe an zu fangen.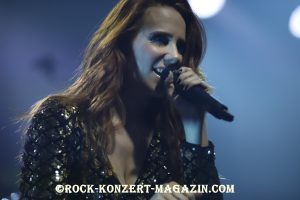 Dies änderte sich mit erscheinen der neuen Scheibe schon gewaltig. Über die Grenzen Hollands hinaus, stieg das Album in die Charts ein und das nicht nur in Deutschland. Das Album hat nicht nur bei den Fans einen hohen Stellenwert, sondern hat die Band auch ganz weit nach vorne gebracht und dabei halfen Songs wie "Kingdom of Heaven" und der Titeltrack "Design your Universe". Beide Titel dürfen auf keinem Konzert fehlen. Für Epica Grund genug, das 10-jährige Jubiläum dieses stilprägenden Albums zu feiern. Und zwar auf besondere Weise: mit ausgewählten Konzerten an Locations der damaligen Tour. In Deutschland durften sich die Fans auf Oberhausen und die Turbinenhalle freuen. Als Support waren an diesem Abend BLACKBRIAR dabei.
Leider habe ich die BLACKBRIAR aus arbeitstechnischen Gründen versäumt und war pünktlich 5 Minuten vor Beginn von EPICA in der Halle um zu fotografieren und zu genießen.
Die Halle war knackig voll, nur in den hinteren Reihen war noch ein wenig Platz aber die Fans wollten lieber alle nach vorn um ganz nah bei Ihren Idolen zu sein. Die Fans freuten sich auch schon riesig auf EPICA. Die Stimmung war gut so das BLACKBRIAR einen guten Start in diesen Abend hingelegt haben müssen.
Es war soweit 21:00 Uhr das Licht ging aus und das Intro "Samadhi" ertönte. Sofort waren die Fans zur Stelle und feierten die Jungs auf der Bühne und dann war Sie da, Simone. Von der ersten Minute, ach was, von der ersten Sekunde an, kam die geile Stimmung von den Fans zur Band und wieder zurück. Jetzt kannte der Jubel keine Grenzen mehr und gleich mit Ihrem Opener "Resign to Surrender", den man seit 2012 nicht mehr live auf der Bühne gespielt hatte, hatten EPICA die Fans auf Ihre Seite gezogen.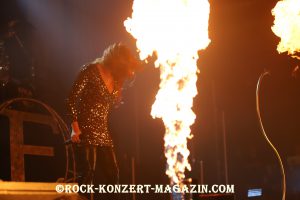 Resign to Surrender sollte aber nicht der einzige Song an diesem Abend sein, den man lange nicht gehört bzw. Live gespielt hatte. "Our Destiny" seit 2009, "Burn to a Cinder" seit 2011, "Tides of Time" seit 2013 und eine Live Premiere mit dem Song "In all Conscience" gab es auch. Wow, was für eine Setliste auf der die Klassiker wie "Unleashed", "Kingdom of Heaven" und vor allem "Design your Universe" nicht fehlen durften. Einen Song nach dem anderen ohne viele Worte, knallten EPICA den Fans um die Ohren, dazu gab es hier und da mal ein wenig Pyro und eine klasse Lichtshow. Aber nichts beeindruckte mehr als Simone, die mit ihrer einzigartigen Stimme, ihrer unglaublichen Sympathie und ihrer mitreißenden Persönlichkeit das Publikum fest im Griff hatte. Die Fans waren mit Stimme und vollem Körpereinsatz dabei und ließ das gesamte Konzert über nicht darin nach, Band und Songs zu feiern. Was für eine großartige Show an diesem Abend von EPICA geboten wurde, merkte man dann als um 22:30 Uhr die Zugaben starteten und das Konzert um 23:00 Uhr mit den Songs "Sancta Terra", "Beyond the Matrix" und "Consign to Oblivion" zu Ende ging. Eigentlich hätte das Konzert um 22:30 Uhr zu Ende sein sollen aber aufgrund der Stimmung, der Spielfreude von EPICA und nicht zu Letzt der starken Songs hat es nun mal etwas länger gedauert.
Setliste:
Intro Samadhi
Resign to Surrender
Unleashed
Martyr of the free World
Our Destiny
Kingdom of Heaven
Quietus
In all Conscience
The Price of Freedom
Burn to a Cinder
Tides of Tie
Deconstruct/Semblance of Liberty
Cry fort he Moon
Design your Universe
Sancta Terra
Beyond the Matrix
Consign to Oblivion
Bilder von Epica hier lang: