Ausverkauft, so heißt es schon seit Wochen im Kubana in Siegburg. Der Grund dafür ist das JINJER aus der Ukraine auf ihrer Summer Tour 2019 sind. Unterstützt werden sie dabei von DEAD LABEL aus Irland.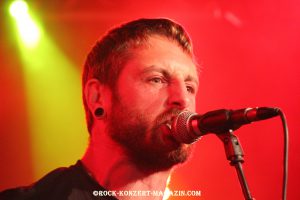 Pünktlich um 20:00 Uhr kommen DEAD LABEL auf die Bühne. Das Kubana ist da schon erstaunlich voll, obwohl die meisten doch immer erst später kommen. Dem war nicht so und DEAD LABEL Häuten auch gleich mal mächtig einen raus. Mit ihrer Mischung aus Metalcore, Groove und Nu-Metal entsteht ein Klangerlebnis, welches von der ersten Minute an begeistert. Sänger Dan O'Grady gibt sofort Vollgas und versucht die Fans mit zu nehmen, was ihm geil gelingt. Es werden reihenweise die Köpfe gebangt und Pommes Gabel in die Luft gestreckt. Songs wie "Falls Messiah" oder "Triggeted" tun ihr übriges hinzu. Selbst in dem kleinen Kubana kann man Circle Puts und sogar eine Wall of Death machen als Dan die Fans dazu aufrief. Es ging richtig geil zur Dache und so waren die Fans für JINJER bestens Vorbereitet. Knappe 40 Minuten dauerte der Gig von DEAD LABEL in dem immer wärmer werdenden Kubana.
Bilder von Dead Label
Nach der Umbaupause kamen sie dann. JINJER aus der Ukraine. Zu Hause ist die Band im Metalcore Genre aber mit den Einflüssen von Progressiv-, Groove-und Death Metal haben sie sich ihren eigenen Stil entwickelt. Ohne lange zu quatschen knallte Tatiana den Fans einen Song nach dem anderen aufs Hirn, so das die Stimmung immer mehr überkochte. Wild bangend, hüpfend und johlend standen die Fans da und saugten alles auf was JINJER ihnen gab.
Dabei halfen Ihnen Songs wie "Ape", "Teacher, Teacher" oder "Outlander". Laut, hart und knackig kamen die Songs aus den Boxen, wobei der Sound an diesem Abend richtig gut war. 15 Songs umfasste die Setliste an diesem Abend, was eigentlich Stoff für 1,5 Stunden ist aber JINJER waren etwas früher fertig und so verabschiedete sich Tatiana bei den Fans mit den Worten "This is the Last Song, thank you for the Great Evening"und dann war es vorbei, ein geiles Konzert im Kubana.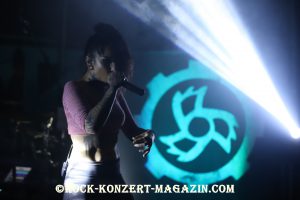 Setlist:
 7. Who's gönne be the One
Bilder von Jinjer hier: