Nach dem Motto "Bring back Stadium Rock" sind KISSIN DYNAMITE mit ihrem neuen Album "Ecstasy" auf Tour. Das dies ein ganz schönes Stück Arbeit wird, stellen KISSIN DYNAMITE auch an diesem Abend fest. Die Kantine in Köln ist trotzdem ausverkauft und die Fans feiern schon von Anfang an. Mit dabei sind JOHN DIVA & THE ROCKETS OF LOVE. Während die Fans sich in die Reihen stellen und es kaum erwarten können haben wir mit Andi von KISSIN DYNMITE ein Interview geführt, welches Ihr euch hier anschauen könnt
https://www.youtube.com/watch?v=bXhvW6FtlFI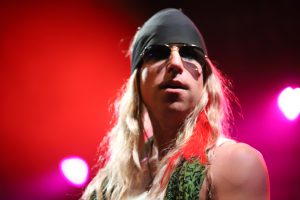 20:00 Uhr geht es los und das Quintett von JOHN DIVA & THE ROCKETS OF LOVE kommen auf die Bühne und die Fans sind von der ersten Minute an mit Leib und Seele dabei zu feiern. JOHN DIVA sind früher als eine reine Cover Band aufgetreten und haben in Sachen posen und Stage Acting es hundertprozentig drauf. Die Garderobe sitzt und die Töne auch. Wer jetzt aber denkt das dies alles so toll ist wie es aussieht fühlt sich ein wenig getäuscht. Es wurde viel bei MÖTLEY CRÜE oder BON JOVI oder auch GUNS`N ROSES abgekupfert bzw. eingestreut, sei es von den Posen oder der Art und Weise wie man sich auf der Bühne bewegt. Die Fans lassen sich davon nicht beirren und feiern die Band, erst recht als sich JOHN DIVA auf die Absperrung stellt und jedem Fan in den ersten beiden Reihen die Hand schüttelt. Gute 40 Minuten dauerte dieser Auftritt und dann wurde der Vorhang hoch gezogen und auf der Bühne wurde alles vorbereitet für KISSIN DYNAMITE.
Zur Bilder Galerie von John Diva hier http://rock-konzert-magazin.com/konzertfotos-2019-g-l/john-diva-the-rockets-of-love/
Eigentlich hat man gedacht das KISSIN DYNAMITE nach den ganzen Strapazen mit der großen POWERWOLF Tour, vielleicht etwas platt sind, aber der Elan der von der ersten bis zur letzten Minute über die Bühne hinaus in Die Kantine transportiert wurde, war großartig. Auf ihrem neuem Album "Ecstasy" transportieren KISSIN DYNAMITE den 80er Rock ohne Schnörkel ins hier und heute. Auf der Bühne kommt das noch besser rüber als gedacht.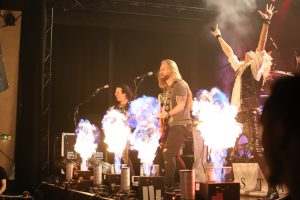 Gleich mit dem ersten Song "I´ve got the Fire" setzten KISSIN DYNAMITE auf eine Pyro Show um den Fans noch mal so richtig ein zu heizen, was gar nicht notwendig ist, die Stimmung war auf geheizt. Zu der Pyroshow gesellt sich auch eine gute Choreografie, die natürlich und authentisch rüberkommt und vor allem immer dann, wenn man nicht so damit gerechnet hat. Auch Frontman Hannes hat seinen Spaß und er bedankt sich immer wieder beiden Fans für diese tolle Atmosphäre hier in der Kantine. Ein weiteres Highlight an diesem Abend ist die Gastsängerin Anne Brunner, die beim Titelsong "Ecstasy" mit singt und dabei die Menge aufwühlt. Zur Belohnung darf Anne beim nächsten Song "Sleaze Deluxe" auch noch mal mit singen. Diesen glänzenden Abend bringen KISSIN DYNAMITE mit "Flying Colours" zu einem grandiosen Abschluss und bei allen Fans steht die Freude und die Glückseligkeit in den Gesichtern geschrieben.
Zur Bilder Galerie von Kissin Dynamite http://rock-konzert-magazin.com/konzertfotos-2019-g-l/kissin-dynamite-2/
Setliste:
01. I've Got the Fire
02. Somebody's Gotta Do It
03. Money, Sex & Power
04. Love Me, Hate Me
05. She Came She Saw
06. DNA
07. Sex Is War
08. Ecstasy (mit Anna Brunner)
09. Sleaze Deluxe (mit Anna Brunner)
10. Breaking the Silence
11. Heart of Stone
12. Waging War
13. Steel of Swabia
14. Six Feet Under
15. I Will Be King
16. Still Around (Zugabe)
17. You're Not Alone (Zugabe)
18. Flying Colours (mit Anna Brunner) (Zugabe)