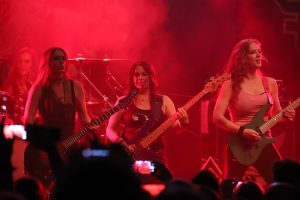 Eigentlich sagt man ja es geht nichts über das Original, was ja auch in den meisten Fällen stimmt. Was wir heute gesehen und gehört haben war aber schon eine ganz andere Klasse für sich. IRON MAIDEN, die schon etwas länger nichts mehr was auf Vinyl gebracht haben machen eine Pause von Ihrer Welttournee, also gehen 5 Mädels als THE IRON MAIDENS auf die Bühnen der Welt um die Klänge von MAIDEN aufleben zu lassen. Nicht nur musikalisch erfolgt dies, nein auch die Namen der originalen Bandmitglieder haben sie sich in Ihre Namen adaptiert.  Da wird aus Bruce Dickinson, Kirsten "Bruce Chikinson" Rosenberg, aus Nicko MCBrain wird Linda "Nikki MBurrain Mc Donald am Schlagzeug, Courtney "Adriana Smith Cox als Adrian Smith und Nikki "Davina Murray" Stringfield als Dave Murray an den Gitarren, dazu Bassistin Wanda "Steph Harris" Ortiz machten den Gründer Steve Harris. In der Essigfabrik sind viele Männer vertreten an diesem Abend, komisch, woran das wohl liegt. Die Mädels haben viel Humor und auch eine derartige Spielfreude dass diese sofort auf die Fans überspringt.  Dazu lassen sich die Mädels aus Kalifornien nicht zweimal bitten. Ihr Gitarrenspiel ist richtig geil und so ist es auch kein Wunder das die Mädels schon dem einen oder anderen Preis abgeräumt haben unter anderem als Beste Band, Bester Gitarrist, Bester Bassist oder bester Schlagzeuger.
Nach dem Intro von "Doctors, Doctors" geht es mit einem klassischen Repertoir von den MAIDEN originalen mal so richtig los. Den Einsteige an diesem Abend macht "Invaders" um mit "2 Minutes to Midnight" gleich einen richtig geilen Klassiker hinterher zu jagen. Mit "22 Acacia Avenue" läutet Sängerin Kirsten eine Kostümierung ein, die Sie im Song "The Trooper" vollzieht. Hier ist Sie uniformiert mit Deutschland Fahne und Union Jack. Mit "Powerslave" oder 666 "The Number oft he Beast" geht es weiter. Die Fans sind, so scheint es jetzt schon am Höhepunkt angekommen, was für eine Stimmung. Hier hat jetzt sogar Eddie seinen Spaß, denn er erscheint beim Song auf der Bühne.
Geiler Sound, geiles Licht und 5 Frauen in einer Spiellaune das sich die "alten Herren" vom Original da mal eine Scheibe von abschneiden können. Mit "hallowed by thy Name" und "Run tot he Hill" ging ein Konzert zu Ende an dessen Ende nicht nur die Fans vor Glückseligkeit in den Kölner Abendhimmel torkelten auch die Mädels dürften überrascht gewesen sein, was für eine geile Stimmung Sie verbreitet haben.
Bilder zum Konzert hier:
Setlist:
1.       Invaders
2.       2  Minutes to Midnight
3.       Die with your Boots on
4.       Wasted Years
5.       22 Acacia Avenue
6.       The Trooper
7.       Wrathchild
8.       Powerslave
9.       The Number oft he Beast
10.   The Clansman
11.   Murders in the Rue Morgue
12.   Phantom of the Opera
13.   Heaven can Wait
—————————————————
14.   Hallowed be thy Name
15.   Run tot he Hills
16.   Outro: Always look on the Bright Side of Life