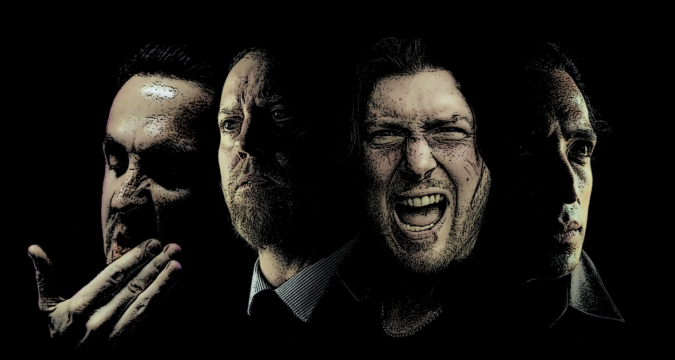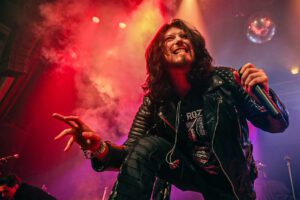 KORE ROZZIK haben heute ihr filmisches neues Musikvideo zur Single "Vengeance Is Not Enough" vorgestellt. Die Single ist eine Anspielung auf das Debütalbum der Band Vengeance Overdrive und wird am Freitag, den 10. Dezember über The Label Group veröffentlicht. "Wir haben scherzhaft gesagt, dass Vengeance nicht genug ist, also ist es eine Art Fake-Fortsetzung", sagt die Band. "Es ist die Brücke zwischen dem ersten Album und dem, was als nächstes kommt."
Es ist eine Geschichte von Macht, Rache und Geld. Die Band beschloss, diesmal einen anderen Weg zu gehen, indem sie Actionfilmcharaktere anstelle eines Standard-Band-Performance-Videos spielte. Kore machte alle seine Stunts zusammen mit seinem langjährigen Freund Karlo Vice, der jetzt in der unabhängigen Wrestling-Szene im Nordosten (Create A Pro Wrestling) ringt. Kore fügt hinzu: "Ich war schon immer ein Wrestling-Fan und hatte das Vergnügen, Freunde bei den Indies und der WWE zu haben, daher war es großartig, dieses Mal etwas Lustiges und Körperliches vor der Kamera zu machen.
Unsere letzten Videos waren Horror-basiert und das war mehr Actionfilm basiert. James Bond trifft WWE." Das Video wurde von dem hochgelobten Tom Flynn inszeniert und mitkonspiriert, der mehrere Videos mit Größen wie Lamb of God, Moon Tooth und Body Count gedreht hat, um nur einige zu nennen. Die Single wurde von Kores langjährigem Aufnahmeteam Anthony Lopardo (Westfall Studios) produziert und zeigt Ray Marte (Moontooth) als Schlagzeuger und Mischer. Kore Rozzik ist aus dem Untergrund aufgestiegen, um der Rock-Community die frische Luft zu geben, die sie dringend braucht. Fans haben die Live-Show beschrieben als "Organized Chaos" und "ein wahres High-Energy-Rock-and-Roll-Erlebnis".
Kore Rozzik – Vengeance Is Not Enough (Official Music Video) – YouTube
Ihre Live-Sets auf Tour haben ihnen den Ruf eingebracht: Ein Live-Act, den man nicht verpassen sollte. Abwechslung ist der Schlüssel zum Kore Rozzik-Sound, der klassische Metal-Vibes mit einem modernen Touch enthält, denken Sie an Alice Cooper und Motionless in White in einem Mixer. Nach Jahren der Organisation eigener Events und der Unterstützung nationaler Acts in New York City.-Die Band brach schließlich aus und begann 2017, Festivals und DIY-Touren mit Größen wie Bunny The Bear und anderen zu spielen.
Nach der Veröffentlichung ihres ersten offiziellen Musikvideos "Mistress" gewann die Band immer mehr Fans und gleichzeitig Neinsager. Viele hielten das Video aufgrund seines Horrors für umstritten und deuteten auf gewalttätige Untertöne hin. Trotzdem wurde die Band bei Cleopatra Records unter Vertrag genommen und veröffentlichte ihr Debütalbum Rache-Overdrive. Ein mutiger Schritt für einen neuen Act, Vengeance Overdrive war ein detaillierter Konzeptalbum mit verbundenen Songs und Sketchen rund um den Charakter von Kore Rozzik alias The Bastard Child Of NYC.
Die Platte traf bei vielen Classic-Metal-Fans einen Nerv, da sie die Geschichte eines missverstandenen Musikers erzählte, der einfach nur ein Rockstar werden wollte. Mit den Themen Verleumdung, Mobbing, Horror und Okkultismus ist es bei vielen Fans zu einem Kultklassiker geworden. Als die Platte die Metal-Charts erreichte, startete die Band ihr erstes Mainstream-Nationaltour zur Unterstützung des ebenfalls umstrittenen Aushängeschilds OTEP.
Die Band wurde gut aufgenommen und tourte danach so oft sie konnte, um das Album zu unterstützen. 2019 landete die Band eine Tour als direkter Support für die weltweit bekannte Gitarristin Nita Strauss (Alice Cooper). Die Band war wirklich angekommen, als Fans und Tourkollegen Kore und der Band ihr Gütesiegel verliehen.
Die Tour erhielt Nacht für Nacht begeisterte Kritiken und erweiterte Rozziks neue Fangemeinde weiter, verfasste die "Kore Locos". Mit den Folgen der Covid-Pandemie ist die Band wieder in der Studio, das der neuen Musik den letzten Schliff gibt. Kore wird 2022 weitere Singles mit einer Collage aus Headliner- und unterstützenden Läufen veröffentlichen.