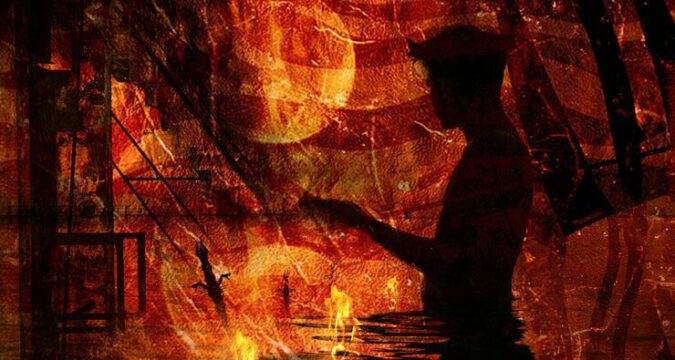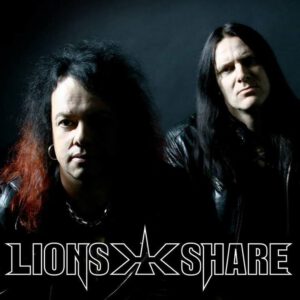 LION'S SHARE
"Baptized In Blood" heißt die neue Single von LION'S SHARE, die heute veröffentlicht wird. Die schwedische Heavy Metal-Band präsentiert damit einen weiteren neuen Song, der sich dieses Mal als Hommage an RONNIE JAMES DIO versteht. Auch dieser Titel wurde vom Duo Lars Chriss and Nils Patrik Johansson komponiert und von Lars Chriss produziert sowie von Mike Lind gemastert. Das Artwork stammt vom Blekkmark Design StudioHier geht es direkt zum Video "Baptized In Blood", welches von Niklas Nieminen (The Man With The Hat) produziert wurde:
LION'S SHARE-Gitarrist Lars Chriss kommentiert: "Als Ronnie James Dio 2010 so traurig verstarb, wurden wir in dem Herbst als Hausband mit Gästen von AMON AMARTH, YNGWIE MALMSTEEN'S RISING FORCE, KING DIAMOND etc. für SWEDEN ROCK's RONNIE JAMES DIO TRIBUTE angeheuert. Wir probten wochenlang Songs aus seinem großartigen Katalog von BLACK SABBATH, DIO und RAINBOW und ließen uns inspirieren, diesen Song zu schreiben, der später zu "Baptized In Blood" wurde, als Hommage an unseren Lieblingssänger aller Zeiten. Im November und Dezember 1999 hatten LION'S SHARE das Vergnügen, für DIO, MOTÖRHEAD und MANOWAR auf der MONSTERS OF THE MILLENNIUM-Tour aufzutreten, also kannte ich ihn ziemlich gut und sein Tod hat uns alle sehr hart getroffen."
LION'S SHARE-Sänger Nils Patrik Johansson fügt hinzu: "Natürlich haben wir bei dieser Show einen ziemlich guten Job gemacht, denn ein paar Wochen später rief uns der Bühnenmanager an und fragte, ob wir die Backing-Band für DIO und BLACK SABBATH-Schlagzeuger Vinny Appice in seiner Drum Clinic in Stockholm sein wollten. Es war sehr cool, mit einer solchen Legende zu spielen und ich erinnere mich, dass Vinny uns BLACK SABBATH Junior nannte, was natürlich ein riesiges Kompliment war."
Nils Patrik Johansson – vocals
Lars Chriss – guitar
Andy Loos – bass
Nils Fredrik Johansson – drums
Kay Backlund – keyboards
Hier geht es zum Lyric-Video "Under Attack":
Wenn man über schwedische Heavy Metal Bands spricht, ist zunächst von HAMMERFALL die Rede. Aber gerade LION'S SHARE, bereits 1987 gegründet, haben den Sound des schwedischen Schwermetalls entscheidend mit beeinflusst. Sechs Alben hat die Band um Gründer Lars Chriss bereits veröffentlicht, das letzte Werk "Dark Hours" stammt aus dem Jahr 2009.
Nun ist der Löwe erwacht. Im letzten Jahr erschien eine neue EP, ebenso wurde der komplette Bandkatalog digital re-released. Jedes ihrer Alben kann zudem mit hochkarätigen Gästen aufwarten. Zu nennen wären hier unter anderem KISS, MEGADETH, KING DIAMOND. Auch was die Produktionen angeht, setzte man von jeher auf Qualität und verpflichtete Top-Produzenten wie Jens Bogren (AMON AMARTH, ARCH ENEMY, KREATOR) oder auch Ronni Lahti (ROXETTE, EUROPE, GLENN HUGHES).
Die Reise soll nun weitergehen, die Band will dort anknüpfen, wo man einst Fußstapfen hinterließ. Unter anderem absolvierte man erfolgreiche Tourneen mit SAXON, ICED EARTH und vielen anderen Stars der Heavy Metal Szene.
Ob TESTAMENT oder HELLOWEEN, die Kollegen der Szene sind voll des Lobes und daher ist es nur konsequent, LION'S SHARE wieder zu neuen Erfolgen zu führen. So wird zum Beispiel in Kürze ein brandneuer Song veröffentlicht, weitere Informationen dazu folgen demnächst.
Die Zeit ist reif! Das Duo Chriss / Johansson und NauntownMusic sind bereit für den nächsten Schritt, LION'S SHARE zu neuem Glanz zu verhelfen.