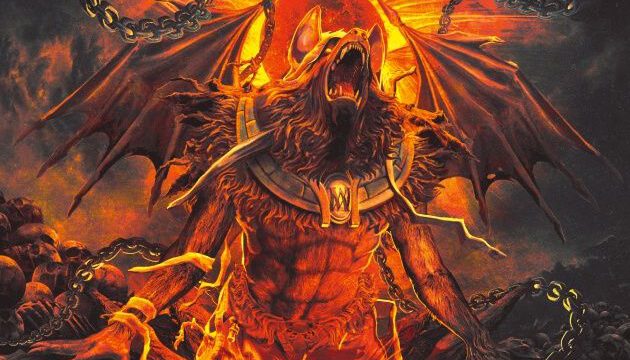 "Armageddon" ab dem 3. Dezember auf AFM Records erhältlich!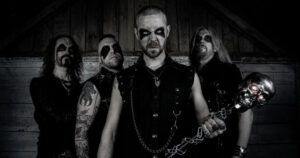 3 Jahre nach dem von Fans und Kritikern gefeierten Longplayers, "Purgatorio", veröffentlichen die Göteborger von MANIMAL am 03.12.2021 ihr brandneues Studio Album, Armageddon, auf AFM Records. Heute stellt die Band einen weiteren Song, "Chains Of Fury", samt Lyric Video aus ihrer glühend heissen Schmiede vor!
Bei aller Traditionsverbundenheit welche die Band pflegt, stand ihr 2018-er Album "Purgatorio" für modernen und zukunftsweisenden Power Metal, der vor Spielfreude, ausnahmslosem Talent und Ideenreichtum nur so strotzte. Mit Armageddon werden die Schweden ihre außergewöhnlichen Qualitäten erneut unter Beweis stellen, welche sowohl Oldschool sowie Fans des modernen Heavy und Power Metal Sounds mehr als gefallen dürften! Wie man es von einer Band erwartet, die speziell Judas Priest, King Diamond und Queensrÿche als Haupteinflüsse ihres Sounds nennt, ist auch die neue Scheibe ein energiereicher und geradliniger Verweis auf die Musik, die vor 20 Jahren zur Gründung von MANIMAL geführt hat.
Seit ihrem 2009-er Debütalbum, The Darkest Room, haben sich MANIMAL unverkennbar weiterentwickelt. Ihr Songwriting ist homogener, stärker und mutiger geworden, zudem haben sich die Musiker nicht nur technisch gesteigert sondern sind als Einheit zusammen gewachsen. Mit Armageddon werden MANIMAL dies nicht nur unter Beweis stellen, sondern ihr wohl stärkstes Album in 20 Jahren Band- Bestehen veröffentlichen!
Nach den ersten Single- Auskopplungen zu "Forged In Metal", "The Inevitable End", dem epischen Album Titel Track sowie erst kürzlich "Burn In Hell", folgt nun ein weiterer Nachschlag.
"I think this one stands out a bit from the rest of the songs on the album." Erklärt Sänger Samuel Nyman. "It has this grinding, almost hypnotizing groove and it's probably one of the heaviest tracks we've ever released. And the message it brings is clear – break loose from your chains of fury!
Once again we've been working with the much talented Andy Pilkington of Very Metal Art to visualize the song and I think he has really managed to capture the very core of the song this time as well."
Den neuen Lyric Video Clip zu "Chains Of Fury" seht ihr ab sofort hier:
MANIMAL – Chains Of Fury (2021) // Official Music Video // AFM Records – YouTube
Initiiert wurde das Songwriting für Armageddon erneut von Stenroos, der von seinen Bandmitgliedern als musikalischer Mastermind geschätzt wird. In seiner Person liegt eines der Erfolgs- Geheimnisse des facettenreichen MANIMAL-Sounds, denn Stenroos hört alle Arten von Musik und lässt so eine bunte Palette an Einflüssen in seine Kompositionen einfließen. Von einer reinen Power Metal Band sind MANIMAL weit entfernt. "Wir sind deutlich mehr als nur Power Metal." erzählt uns Sänger Samuel Nyman. "Mit dem ersten Album hat uns die Plattenfirma damals zwar dieser Kategorie zugeordnet, ein für uns durchaus nachvollziehbarer Schritt, um der Öffentlichkeit einen vage Anhaltspunkt für unsere Musik zu geben. Aber aus meiner Sicht stehen eher Bands wie Helloween, Gamma Ray oder Stratovarius für den typischen Power Metal. In ihrer Musik findet man mehr Uptempo-Songs, mehr Harmoniegesänge. Natürlich gibt es auch bei Manimal einzelne Elemente dieser Stilrichtung, aber dabei bleibt es nicht. Wir haben weit mehr im Köcher, und ich denke, dass unser neues Album das perfekte Beispiel dafür ist."
"Ich bin sehr stolz darauf, dass wir erneut gemeinsam ein weiteres großartiges Album geschaffen haben." fügt Henrik Stenroos hinzu. "Es war eine Teamleistung. Wir alle vier haben so viel Seele und Mühe in alles gesteckt, vom Songwriting bis zur Aufnahme, mit dem Ergebnis eines durchweg fantastisch und heavy klingenden Albums ohne auch nur einen einzigen Lückenfüller. Fans unserer früheren Werke werden nicht enttäuscht sein."
Armageddon wurde von MANIMAL Bassist Kenny Boufadene in seinem Studio Meltdown in Schweden gemixt, und erscheint mit neu bekanntgegebenen Veröffentlichkeitsdatum nun am 3. Dezember 2021 als LP, CD und Digitalen Formaten auf AFM Records. Vorbestellungen sind HIER möglich.
Armageddon Tracklist:
01. Burn In Hell
02. Armageddon
03. Slaves Of Babylon
04. Forged In Metal
05. Chains Of Fury
06. Evil Soul
07. Path To The Unknown
08. Master Of Pain
09. Insanity
10. The Inevitable End