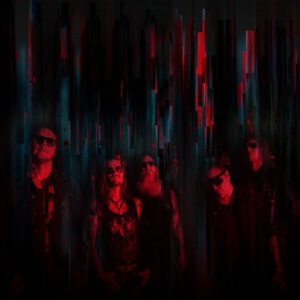 MERCURY CIRCLE, das brandneue Projekt von ICONCRASH's und SWALLOW THE SUN's, sowie zweimalig für den finnischen Grammy nominierten, Jaani Peuhu, veröffentlichen am 14. August ihr mit Spannung erwartetes Debüt via Noble Demon und The Vinyl Division. Heute präsentiert die Band aus Helsinki, Finnland ihr brandneues Musikvideo zu "The Beauty Of Agony", welches einen vielversprechenden Vorgeschmack auf "The Dawn of Vitriol" bietet.
Dunkler Metal, durchdrungen von kraftvollen Synthesizer- / Elektrowellen und Doom – MERCURY CIRCLE kreieren ein vielschichtiges Hörerlebnis atmosphärischer und düsterer Klänge. Wahrlich ein eigenes Genre, welches die Aufmerksamkeit der Zuhörer auf sich zieht und gleichzeitig eine ganz eigene Art des "New Doom" etabliert.
Finnische Melancholie der Spitzenklasse, cineastisch und mitreißend inszeniert – Das brandneue Musikvideo zu "The Beauty Of Agony" kann hier gestreamt werden:
Jaani Peuhu über das Lied: "Dies war einer der ersten Songs, den ich für MC geschrieben habe, daher dachten wir, es wäre auch eine gute Einführung in die Welt von Mercury Circle. Eigentlich waren die allerersten Lieder näher am "Funeral Doom", aber bei diesem Lied machte ich einen Schritt zurück und begann, bei der Instrumentierung und dem Arrangement meinem Herzen zu folgen. Am Ende verband ich Elemente aus 80er Jahre Goth und Weltmusik mit Doom-Einflüssen. Ich erinnere mich, wie nervös ich mich wegen dieser Mischung fühlte, was für mich jedoch immer ein Zeichen ist, dass ich etwas richtig mache. Ich möchte, dass diese Band frisch und originell klingt und ihren eigenen Sound anstrebt. Das ist New Doom."
"The Dawn of Vitriol" erscheint am 14. August via Noble Demon (Digital) und The Vinyl Division (Vinyl + Digipack CD) und kann
HIER
vorbestellt werden.
MERCURY CIRCLE sind:
Jaani Peuhu – Vocals, Guitars, Synths (Iconcrash, Swallow the Sun, Hallatar)
Jussi Hämäläinen – Guitars, Synths, Backing vocals (Hanging Garden, The Chant)
Juppe Sutela. – Guitars (To/Die/For)
Ande Kiiski – Bass (Sleep of Monsters, Rytmihäiriö)
Juuso Raatikainen- Drums (Swallow the Sun)
Tracklist:
01. Oil Of Vitriol
02. The Beauty Of Agony
03. Black Flags
04. The Last Fall
05. New Dawn