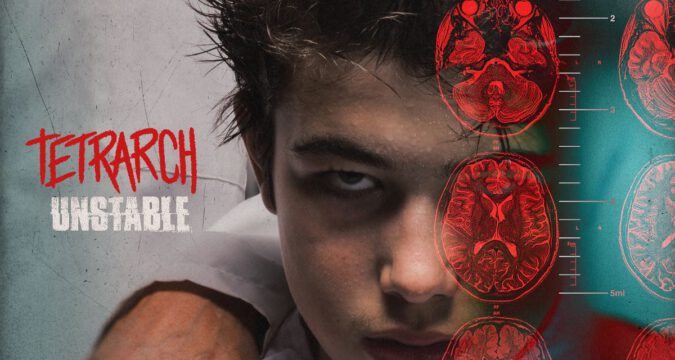 New Album, Unstable, out this Friday, April 30 via Napalm Records
Pre-Order HERE
TETRARCH are about to have their breakout moment."
– REVOLVER (USA) –
"The dynamic is consistently high, the hooks are spot on. The material is without exception sleekly composed and effectively set in scene…"
– METAL HAMMER (GER) –
"…an explosive result, made 100% effective by countless massive riffs and other catchy melodies, thought out and shaped to enter our heads in no time."
– ROCK HARD (FR) –
"One of the revelation records of the year, marking an important turning point for the whole crossover
and nu metal scene"
– RRAZORR (IT) –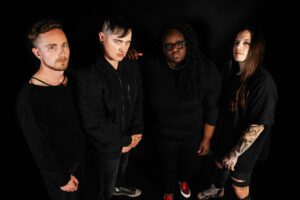 Diesen Freitag, den 30. April, findet die mit Spannung erwartete Veröffentlichung von Unstable statt, der bahnbrechenden zweiten Veröffentlichung der in Los Angeles ansässigen Breakout-Metal-Stars TETRARCH! Zur Feier setzt die Band ihre drei großen Singles "I'm Not Right", "You Never Listen" und "Negative Noise" mit ihrer vierten und letzten Single vor dem Album "Addicted" fort. Das wirklich massive, kribbelnde Unterfangen zeigt die fesselnde, nachdenkliche und introspektive Seite von TETRARCH und rundet eine dynamische Gruppe von Hits ab. Frontmann und Gitarrist Josh Fore sagt: "'Addicted' ist ein Lied über das Konsumieren von etwas im Leben, das für das äußere Auge schädlich oder gefährlich erscheinen kann. Auch wenn sich unsere Welt von uns weg ins Chaos dreht, zieht uns etwas zu unseren Obsessionen. 'Jetzt kann ich sehe, dass der Witz auf mir liegt 'ist dieser Moment des Selbstbewusstseins: dass wir nicht entkommen können, wer wir sind und dass wir in unserer eigenen Sucht stecken. "
Watch the brand new visualizer for "Addicted" HERE:
Unstable wurde von der Band und Dave Otero (Cattle Decapitation, Allegaeon, Khemmis) produziert und folgt dem Breakout-Debüt der Band Freak (2017). Das neue Album ist nicht nur ein natürlicher Schritt nach vorne für TETRARCH, sondern auch ein großer Sprung nach vorne – eine noch konzentriertere Anstrengung, die helle Schnörkel, groovende Low-End- und hochfliegende Refrains kombiniert. Instabil verschwendet keine Zeit damit, sich mit der unvergesslichen ersten Single "I´m Not Right" zu entzünden. Der Track ist eine Hommage an die Größen des Genres und wird von den unheimlichen Leads des bahnbrechenden Leadgitarristen Diamond Rowe angehoben. Radio-fähige, lyrisch relevante Tracks wie die Anti-Mobbing-Hymne für die Ewigkeit "Sick Of You" und die Stärkung von "You Never Listen" zeigen TETRARCHs kräftige Fortschritte und unvergessliche Refrains. Die schwersten Angebote von Unstable beweisen den dynamischen Angriff der Band auf verschiedene Heavy-Styles, am bemerkenswertesten auf dem durchsetzungsfähigen halsbrecherischen Brenner "Negative Noise" – einem Track, der mit Rowes mächtigem Axtangriff die Köpfe der größten Riffer des Metals drehen wird – und auf dem melodisch chilligen "Take A Look Inside ", das die kraftvolle Rhythmussektion des Bassisten Ryan Lerner und des Schlagzeugers Ruben Limas hervorhebt. Das Album erkundet eine brütende, introspektive Seite der Band auf dem herausragenden, melodischen "Addicted" und dem näheren Track "Trust Me", der eine übernatürliche Atmosphäre einströmt. Unstable liefert 10 Treffer von purer Potenz und unbestreitbarem Talent.
Der Leadgitarrist Diamond Rowe sagt über das Album: "Das Album hat ein übergeordnetes Thema: Selbstreflexion und wirkliches Betrachten der Beziehungen oder Teile von dir / deinem Leben, die du nicht magst, und Herauskommen aus diesen Situationen. Es ist ein angstvoller Rekord. Musikalisch waren wir nicht schüchtern zu zeigen, dass wir uns weigern, als Künstler eingepfercht zu werden, und ich denke, wir haben es wirklich geschafft, der Welt die Art von Band zu zeigen, die wir sein wollen. Freak hat großartige Arbeit für uns geleistet und uns gezeigt, dass die Musik, die wir machten, etwas war, das die Leute hören wollten, und das gab uns das Vertrauen, dieses Biest eines Albums zu schreiben und aufzunehmen. "
Unstable tracklisting:
1) I'm Not Right
2) Negative Noise
3) Unstable
4) You Never Listen
5) Sick Of You
6) Take A Look Inside
7) Stitch Me Up
8) Addicted
9) Pushed Down
10) Trust Me
Unstable will be available in the following formats:–
– 1 CD Digipack + patch
– 1 CD Digipack + Shirt Bundle
– 1 LP Vinyl Gatefold Black
– 1 LP Vinyl Gatefold green transparent
– 1 LP Gatefold Die-Hard Edition Vinyl (Various Colors Splatter) + Patch + Artprint (Napalm
Mailorder – limitiert auf 200 Stück weltweit)
– Digital Album
Heftige Individualität und eine furchtlose Umarmung des Außenstehenden stehen im Mittelpunkt von TETRARCH. Die unermüdliche harte Arbeit und die unermüdliche Entschlossenheit der Band haben sie zu einer der aufstrebenden Top-Bands in der Heavy-Musik gemacht und die Aufmerksamkeit der großen Medien wie Pollstar (Titel-Erwähnung), Billboard, Revolver, Alternative Press, Guitar World und Guitar auf sich gezogen Spieler, Premier Gitarre, Kerrang! und Metal Hammer, in denen viele Leadgitarristen Diamond Rowe die erste afroamerikanische Leadgitarristin aus dem Heavy-Metal-Genre waren. TETRARCH wurde in Spotify-Wiedergabelisten wie Kickass Metal, Rock Hard, New Blood (Cover vorgestellt) und Metal Tracks vorgestellt und wurde auch von Apple Music und seinen Benutzern hervorragend unterstützt, die auf mehreren zusätzlichen Wiedergabelisten erscheinen. Nachdem TETRARCH auf großen Festivals wie Epicenter und Exit 111 aufgetreten ist, wird es nach seinem Wiederaufleben mit neuer Beharrlichkeit und dem Geist des mächtigen Nonkonformisten, der sie seit dem ersten Tag angetrieben hat, wieder in die große Tourenszene zurückkehren.