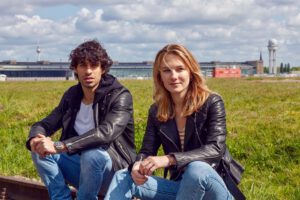 MOLLY'S PECK – Das sind Julia Selbherr (Deutschland) und Guilherme Castelhano (Brasilien). Zwei ausgebildete Musiker, die aus zwei völlig verschiedenen Musikstilen und Teilen der Welt kommen, finden die perfekte Mischung aus Soul und Blues und erleben die aufregendste Zeit ihres Lebens.
"…von Los Angeles über Valencia nach Berlin. Wir leben für die Musik und haben endlich die Chance unseren Traum gemeinsam zu verwirklichen…"
'Der authentische blue-eyed Soul von MOLLY'S PECK bringt einen liebevollen und erfrischenden Stil in die Musikindustrie und begeistert das Publikum mit starkem Gesang und expressiven Gitarrenlinien. Ihre Songs behandeln Themen sowie politische Blindheit, den Willen für die wahre Liebe zu kämpfen und auch ganz simple Dinge sowie einfach das Leben zu genießen.
Die Musik spiegelt die musikalische und persönliche Reise des deutsch-brasilianischen Paares wieder, die sie in den letzten fünf Jahren geprägt hat. Ihre Mission ist es, ihre Musik mit Jedem zu teilen und sich dabei selbst treu zu bleiben.
Nun ist die erste Singleauskopplung "Ray Of Light" aus ihrem neuen Album "Hope You Don't Mind" (VÖ 05. Juni 2020) veröffentlicht und es gibt dazu natürlich auch ein Lyric Video, hier zu sehen…
Video Premiere "Ray Of Light": https://youtu.be/eE1kUg5wEvo
Die Idee ihres nunmehr zweiten Albums "Hope You Don't Mind" ist es, Musik mit den Erinnerungen an eine wichtige Zeit in ihrer Vergangenheit zu verbinden. Da sie das Glück hatten, unglaublich gute und bekannte Musiker zu treffen, und so viele inspirierende Musikszenen zu sehen, wollten sie diese Zeiten wieder aufgreifen und die Bandbreite der Einflüsse, Kulturen und Gefühle einfangen, die sie erlebten. Dabei konnten sie gleichzeitig den eigenen Sound von Molly's Peck Musik heute weiterentwickeln. Das Album enthält besondere Auftritte von John Avila (Oingo Boingo), Sammy Avila (Walter Trout, Philip Sayce) und Izzy Gordon und wird am 05. Juni 2020 veröffentlicht.
Music:
https://www.youtube.com/channel/UCNfFt4C7v2fPYeoZwTMG6OA
https://open.spotify.com/artist/6LP8UK2dIXf2JDHbl6QNih
https://www.deezer.com/en/artist/13411325
Mehr Infos unter:
www.mollyspeckmusic.com
https://www.facebook.com/mollyspeckmusic/
https://www.instagram.com/mollyspeckmusic/