Ein Meisterliches Live Werk wurde uns da angekündigt, was man vom Namen her auch wirklich vermuten konnte. Nun ist es da und ich war doch ein wenig enttäuscht. Nicht von den Songs die man zu hören bekam sondern, von der Aufnahme selber. DIO spielte hier auf CD 1 seine komplette "Holy Diver" Scheibe live und in Farbe, aber was man zu hören bekam war nicht Dolle. Ich hatte den Anschein das DIO an diesem Tag wohl nicht seinen besten hatte, denn die Stimme klang am Anfang nicht so wie man es von Ihm gewohnt war. Auch war das Publikum nicht so zu hören, wie man es von einer Live Aufnahme gewohnt ist, woran das wohl lag?
Egal für echte DIO Fans ist dieses Doppelalbum auf jeden Fall ein Muss, gibt es nicht nur die gesamte "Holy Diver" Scheibe, nein es gab auch Stücke aus guten alten RAINBOW Tagen wie z.B. "Tarot Women", "Gates of Babylon" oder das legendäre "Long live Rock´n Roll" oder aus BLACK SABBATH Zeiten Song wie "Heaven & Hell" und "Sign of the Southern Cross".
Auch aus der DIO Zeit gab es dann noch Songs wie "One more Night in the City" oder das famose "We Rock".
Fazit: Dieses Doppelalbum ist für alle DIO Fans ein Muss, denn von DIO kann man nie genug Musik im Schrank stehen haben und sich immer wieder in die guten alten Zeiten zurückversetzten, obwohl nichts über ein Live Konzert von DIO ging.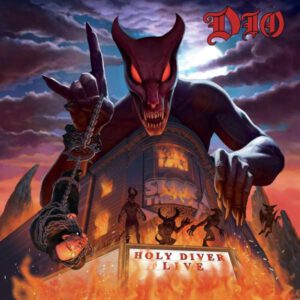 Titeltrack:
Disk 1 von 2
Introduction
Stand Up and Shout
Holy Diver
Gypsy
Drum Solo
Caught in the Middle
Don't Talk to Strangers
Straight Through the Heart
Invisible
Rainbow in the Dark
Shame on the Night
Guitar Solo
Shame on the Night (Ending)
Disk 2 von 2
Introduction
Tarot Woman
Sign of the Southern Cross
One More Night In the City
Gates of Babylon (Intro)
Heaven and Hell
Man on the Sliver Mountain
Catch the Rainbow
Long Live Rock and Roll
Encore Ronnie thanks his fans
We Rock