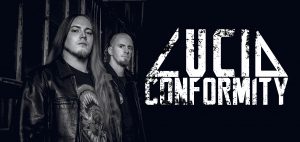 Wer viel im Bereich Heavy Metal und da speziell im Bereich Death Metal, Metalcore und Trash Metal unterwegs ist kennt die Szene wie aus dem eff eff. So haben sich auch die beiden Musiker Dale und Tom, im Jahre 2017 zusammen getan um ein Studioprojekt zu erstellen. Ihre Ehemaligen Bands konnten durch Rezies in diversen Magazinen so auf sich Aufmerksam machen und die beiden lernten daraus. All ihre Einflüsse aus der Szene wollten und haben sie zusammen getan und kommen nun am 01.05.2020 mit Ihrem ersten Album "Architects of Madness" auf den Markt.
Über das gesamte Album erstrecken sich brutale Riffs, hämmernde Drums und ein klirrender Rhythmus der mit guturalem Gesang abgerundet wird. Mit "Spoils of the Bloodthirthy" startet das 7 Songs starkes Album, seine Reise. Hier hört man gleich die Härte und die Kraft die in den beiden steckt, aber auch immer wieder das Abgleiten in ruhigere Passagen, die untermalt werden mit klangvollen Soloriffs. Auch das folgende Stück "Monolithic War Machine" zeigt von der ersten Sekunde an mit welcher Härte die Jungs unterwegs sind. Dazu passt die Stimme von Sänger Dale, der das Ganze zu einer runden Sache macht. Mehr den Metalcore Sound findet man im Song "Age of Abhorrance", der durch den Gesang von Dale mehr in die Metalcore Schiene gedrückt wird, was dem ganzen kein Abbruch tut. Trotz oder wegen dem zwischenzeitlichen guturalen Gesang gibt es dem ganzen noch eine gewisse Note die auch diesen Song zu einem gelungenen Stück werden läst. "Man Made Messiah" ist ein Song der aus meiner Sicht nicht so ganz dazu passt, weil er hier den Gesang von Dale, growlend gutural mit dem Gesang von Tom "normal" kombiniert und vereint. Wenn man beide Stimmen zusammen hört meint man das irgendwo die Tonspur verschoben wurde da es sich wie zeitversetzt anhört. Mit "Architects of Madness", dem gleichnamigen Titeltrack kommt wieder Schwung in die Bude und das ganze zieht wieder ein wenig an, bevor mit "World Eater" ein etwas langsameres Stück, wenn man da so von langsameren Stück sprechen kann, gespielt wird. Mit "Life Stealer" holen Lucid Conformity dann noch mal zum rundumschlag aus und zeigen bzw. lassen noch mal hören was sie so alles drauf haben.
Alles in allem kann man sagen das es ein gutes erstes Album der Engländer ist, die mit ihrer Härte und den eindringlichen Riffs zeigen, was sie in den ganzen Jahren aus der Szene immer so mitgenommen haben. Ich bin gespannt ob wir die Jungs hier in Deutschland mal live sehen werden, denn dann reißen Sie ja Wände ein. Von unserer Redaktion gibt es für das Album 7,5 von 10 Punkten.
Track Listing:
Spoils of the Bloodthirsthy
Monolithic War Machine
Age of Abhorrence
Man Made Messiah
Architects of Madness
World Eater
Life Stealer