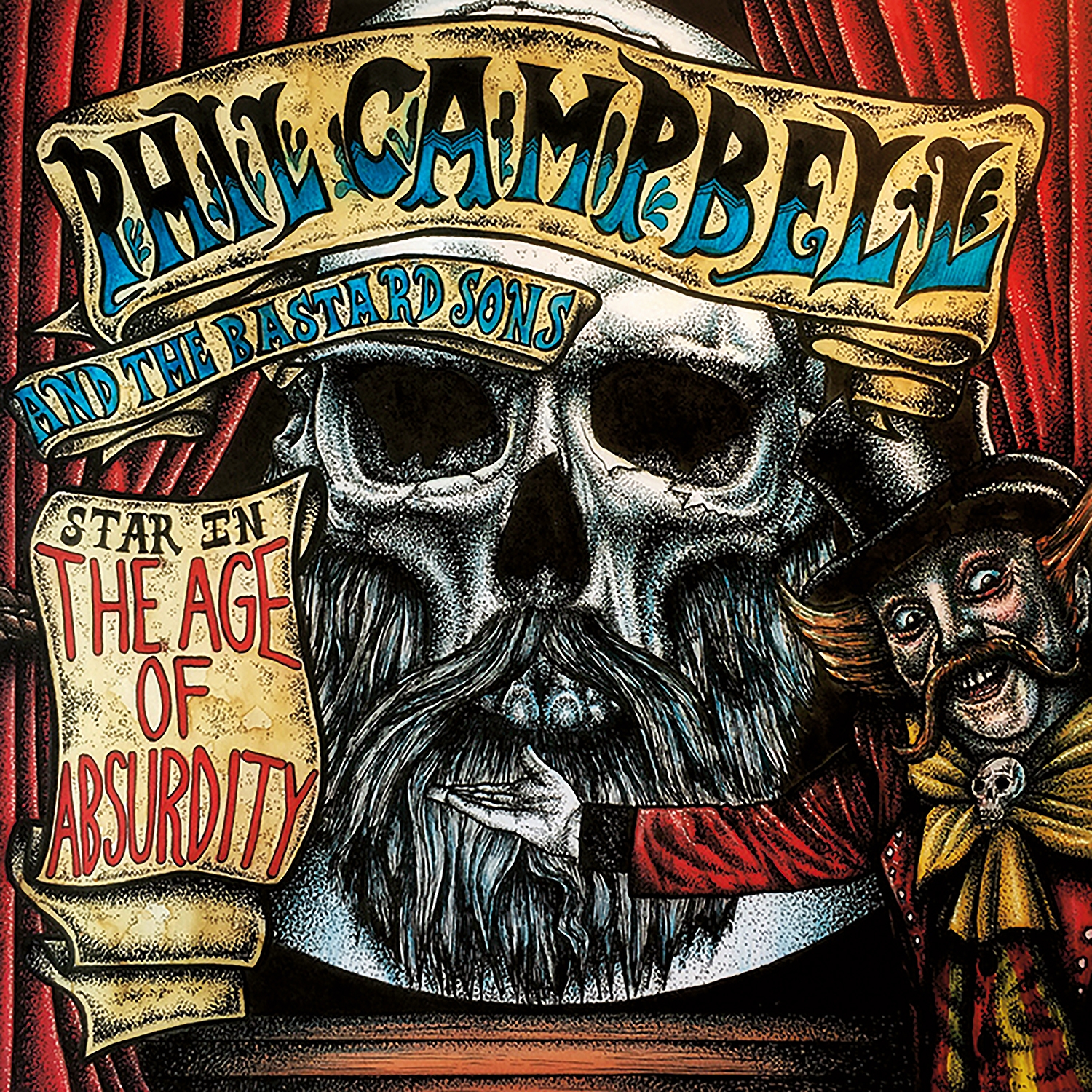 PHIL CAMPBELL AND THE BASTARD SONS bildet sich aus MOTÖRHEAD-Gitarristen Phil Campbell mit seinen Söhnen Todd, Dane und Tyla sowie dem Sänger Neil Starr.
Die Geburtsstunde von PHIL CAMPBELL AND THE BASTARD SONS war im August 2016 beim legendären Wacken Festival in Deutschland. Seitdem hat die Band eine selbstbetitelte EP veröffentlicht und bereits zahlreiche Headlineshows und Festivals in ganz Europa gespielt. Außerdem begleiteten sie auf 2 separaten Touren im November/Dezember 2016 SAXON und im Juni 2017 GUNS N 'ROSES, wo die Band vor Hunderttausenden Fans in einigen der größten Stadien Europas auftrat!
Neben einigen anderen Festivalshows auf dem Hellfest, dem Sweden Rock, dem Download Festival in Spanien und anderen, verbrachte die Band den Rest des Sommers 2017 damit, ihr Debütalbum aufzunehmen. Unter dem Titel »The Age Of Absurdity« wurde das Album in den Rockfield Studios und den Longwave Studios in Wales aufgenommen und von Romesh Dodangoda produziert und gemischt. Zum Mastering wurde die Platte dann an die renommierten Abbey Road Studios in London übergeben.
Das Album enthält elf Songs und einen Bonustrack und wird am 26. Januar 2018 via Nuclear Blast veröffentlicht. Die erste Single 'Ringleader' haut gleich voll auf den Putz und präsentiert genau die Art von einem treibenden und heavy Riff, das man von Phil Campbell erwartet! Der Bonustrack auf dem Album ist ein Cover des HAWKWIND-Tracks 'Silver Machine'. Für diesen engagierte die Band sogar die Gitarren und Vocals von Dave Brock (HAWKWIND).
Phil Campbell kommentiert: "Ich freue mich sehr unseren Fans nun bald unsere Debüt-Platte präsentieren zu können. Jeder Teil des Albumprozesses fand in Wales statt, vom Schreiben der Songs über die Aufnahmen bis hin zum Artwork!"
Phil Campbell And The Bastard Sons
The Age Of Absurdity
Genre: Hard Rock
Label: Nuclear Blast Records
VÖ-Termin: 26.01.2018
Tracklist:
1. Ringleader 4:04
2. Freak Show 3:41
3. Skin and Bones 3:49
4. Gypsy Kiss 2:22
5. Welcome To Hell 3:06
6. Dark Days 4:44
7. Dropping The Needle 1:50
8. Step Into The Fire 3:32
9. Get On Your Knees 3:28
10. High Rule 3:55
11. Into The Dark 6:37