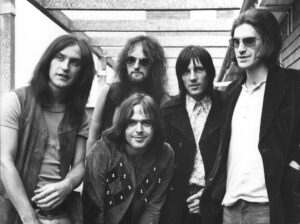 Irgendwie haben wir doch alle unsere Leichen im Keller, oder? Eine von meinen ist der Fakt, dass ich aus nicht wirklich nachvollziehbaren Gründen ewig lange Zeit The Kinks überhaupt nicht auf meinem musikalischen Plan hatte. Aber es ist ja glücklicherweise nie zu spät und so haben sich mittlerweile auch im Hause des Rezensenten immerhin eine Handvoll Scheiben der Combo um die Brüder Ray und Dave Davies angesammelt.
"Man soll die Feste feiern, wie sie fallen!"  dachten sich damals, im Jahr 1970 wohl auch The Kinks, deren langjähriger Plattendeal mit Pye Records kurz vor dem Auslaufen war. Somit konnte die Band in neue Verhandlungen um bessere Konditionen und mehr künstlerische Freiheit eintreten. Zum Abschluss spendierten sie ihrem Noch-Label eine fette Hitplatte, die aber auch nicht darum verlegen war, mal eine nüchterne Bestandsaufnahme durchzuführen sowie deutliche Kritik am Musik-Business im Allgemeinen zu üben.
Allgemeinhin ist zu lesen, dass "Lola Versus Powerman And The Moneygoround, Part I" ein satirischer Blick auf das direkte Umfeld der Band war. Aber in diesen Texten steckt auch jede Menge am eigenen Leib erlebte, bittere Wahrheit. Es geht hier in erster Linie um die durch die Tour/Album/Tour-Maschinerie entstehende Isolation bezüglich Freunden und Familie ("Strangers"), Abhängigkeiten von Dritten wie etwa Gewerkschaften ("Get Back In Line"), die miese Abzockerei der Geschäftsleute im Business, die sich entweder einen Dreck um die Musik kümmern ("Denmark Street") oder sich die Moneten einsacken und den Musiker nahezu mittellos zurücklassen ("The Moneygoround").
Aber auch aus persönlicher Sicht wurde hier tief gegraben. Da kann beispielsweise noch so viel Zeugs in irgendwelchen Büchern stehen, ich bin nach wie vor davon überzeugt, dass die Inspiration zu "Lola" von nichts anderem kam bzw. nichts anderes war, als (von) Ray Davies' Versuch damit klarzukommen, dass sein Bruder Dave in der damaligen Zeit eine homosexuelle Affäre mit einem anderen (sehr bekannten) Musiker hatte.
Das andere sehr präsente Thema der Scheibe ist eine wohl tief empfundene Desillusion ("Long Way From Home"), Orientierungslosigkeit ("This Time Tomorrow") und Müdigkeit, der Wunsch einfach alles stehen und liegen zu lassen, was am treffendsten mit dem zweiten Hit der Scheibe ("Apeman") und auch "Got To Be Free" ausgedrückt wurde. Und das alles verpackt in hammergeile Songs, über die ich aber gar nicht mehr so viel schreiben möchte, denn das hat unser Ulli in seinem Review bereits ganz vortrefflich getan.
Hingewiesen werden muss aber auf die fünf Bonus Tracks, die das Album speziell mit den beiden Outtakes "This Time tomorrow" und "Lola" ganz hervorragend abrunden.
Wer diese Scheibe bisher noch nicht in der Sammlung hat, sollte hier unbedingt zuschlagen. Für alle anderen dürfte sich ein Blick auf die Bonus Tracks lohnen, die – addiert man den großartigen Sound dieser neuen Ausgabe – sich durchaus lohnen könnten. Das Gesamtpaket ist jedenfalls eine ganz dicke Empfehlung!
Titeltrack:
CD:
01:The Contenders
02:Strangers
03:Denmark Street
04:Get Back In Line
05:Lola
06:Top Of The Pops
07:The Moneygoround
08:This Time Tomorrow
09:A Long Way From Home
10:Rats
11:Apeman
12:Powerman
13:Got To Be Free
14:Anytime [Bonus Track]
15:The Good Life [Bonus Track]
16:Apeman (alternate version) [Bonus Track]
17:This Time Tomorrow (alternative version) [Bonus Track]
18:Lola (alternate version) [Bonus Track]