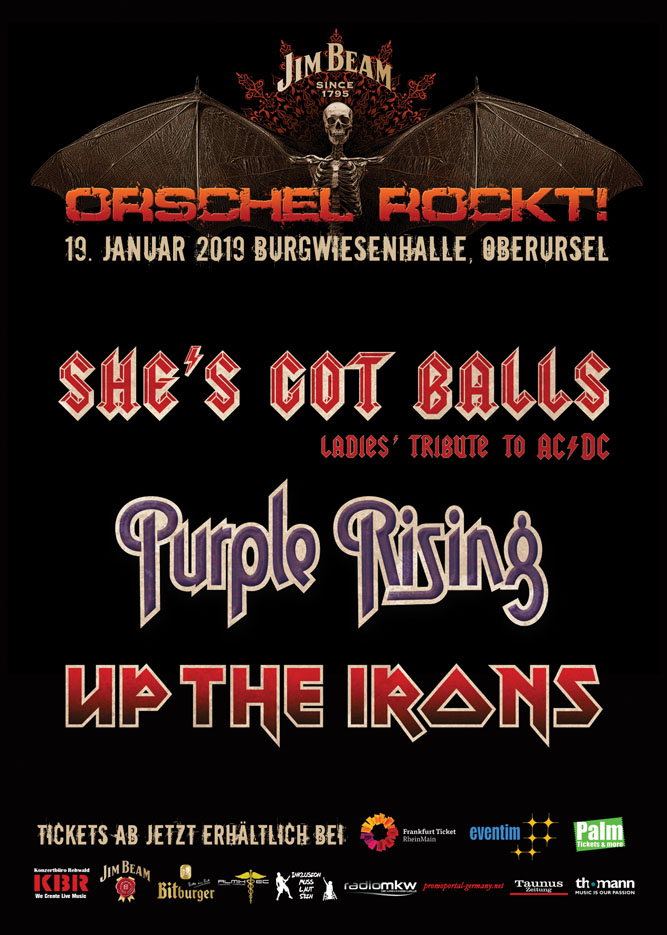 Up The Irons (Iron Maiden Tribute)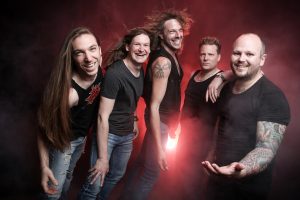 Purple Rising (Deep Purple Tribute)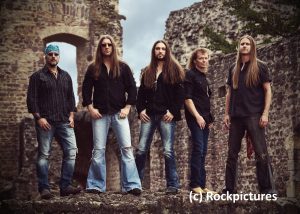 She´s Got Balls (AC/DC Tribute)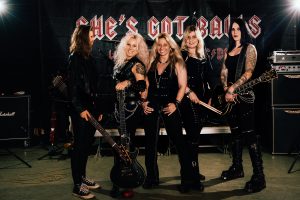 Oberursel feiert am Samstag, den 19. Januar 2019, in der Burgwiesenhalle in Oberursel, die Heroen der Rockmusik. Hierzu haben einige von Europas besten Tribute Bands der jeweiligen Originalen zugesagt.
Ein Hauch der legendären Monsters Of Rock Festivals der 80er / 90er Jahre
Wenn am 19. Januar 2019 die Klänge der Kultbands Iron Maiden, Deep Purple und AC/DC aus den Boxen in der Burgwiesenhalle in Oberursel ertönen, wird der Geist der legendären Monsters Of Rock Festivals der 80er und frühen 90er Jahre durch das erstmalig stattfindende Orschel rockt! schweben und wird bei teilen des Publikums so manche Erinnerungen an vergangene Tage hervorrufen.
Das vom Bad Homburger Konzertbüro Rehwald organisierte Festival wird hierbei Tribute Bands begrüßen, welche national, wie internationale zur Crème de la Crème ihres jeweiligen Genres gehören. So werden Up The Irons aus den Niederlanden, welche 2015 und 2016 vor jeweils über 25000 Menschen beim belgischen Graspop Metal Meeting auftreten durften, ein besonderes Set spielen, welches sich der Frühphase der N.W.O.B.H.M. Pioniere Iron Maiden widmet und Songs beinhaltet, die lange nicht mehr von den Originalen live zu hören waren.
Als lokaler Vertreter wird Deutschlands bekannteste Deep Purple Tribute Band Purple Rising die Klassiker "Purples" virtuos und ganz im Stil der 70er wiedergeben. Wilde Duelle zwischen Gitarrist Reik Muhs und Tastenmann Andreas König sind garantiert. Der charismatische und stimmgewaltige Frontmann Patrick Sühl wird gekonnt den Spagat zwischen sämtlichen Deep Purple Sängern spielendleicht meistern. Purple Rising  verstehen es jedes Konzert zu einem einzigartigen Erlebnis zu machen!   
Name ist Programm 
Als Headliner wird Europas beste AC/DC Tribute Band She´s Got Balls mit exklusiv weiblichem Line-Up und dem unverwechselbar authentischen AC/DC-Sound die Burgwiesenhalle "rocken". Die fünf Musikerinnen der Extraklasse touren seit mehreren Jahren durch Europa und erfreuen sich wachsender Beliebtheit. Konzerte vor mehreren 1000 Fans sind hierbei keine Seltenheit. Sängerin Iris Boanta mit ihrer einmaligen und unverwechselbaren Rockröhre, wurde 2013 vom Deutschen Rock- und Pop-Musikerverband zur "Besten Deutschen Metalsängerin" gekürt. Perfekt abgerundet wird der AC/DC-Sound durch die brillante Leadgitarristin Lady Catman, die es wie kaum eine andere versteht, mit authentischen Soli die Herzen der Angus Young Fans höher schlagen zu lassen.
Facts:
Orschel rockt!
Samstag, den 19. Januar 2019
Burgwiesenhalle, Oberursel
Einlass: 18:00 Uhr
Beginn: 19:00 Uhr
Tickets: Frankfurt Ticket, Eventim, angeschlossene Vorverkaufsstellen
Preis: 25,70 €
Running Order:
Ø  19:00 Uhr           Up The Irons [90 Minuten]*
Ø  20:50 Uhr           Purple Rising [90 Minuten]*
Ø  22:40 Uhr           She´s Got Balls [110 Minuten]*