Wie schon im letzten Jahr ist die Persistance Tour auch dieses Jahr wieder im Schlachthof in Wiesbaden und das diesjährige Line-Up macht richtig Bock drauf dies zu sehen und zu hören. Sie ist dieses Jahr mit 
SICK OF IT ALL, IGNITE, WALLS OF JERICHO, MUNICIPAL WASTE, BOOZE AND GLORY, SIBERIAN MEAT GRINDER und TAKE OFFENSE am Start.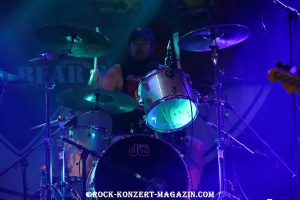 Eine schwungvolle Eröffnung bescherten uns die aus den USA stammenden TAKE OFFENSE. Kraftvoll mit Härte und Leidenschaft brachten Sie die noch nicht gut gefüllte Halle zum Mittanzen. Schade denn dieser Gig hätte mehr Fans verdient gehabt. 
Nun gab es aus Russland Trash Metal von SIBERIAN MEAT GRINDER. Obwohl sie sich selber der Punk und Hardcore Szene zu ordnen ist das was Sie den Fans aus Hirn drücken knackig und gewaltig. Nun sind die Fans schon mal näher an die Bühne gegangen und der ein oder andere lies auch den Kopf kreisen.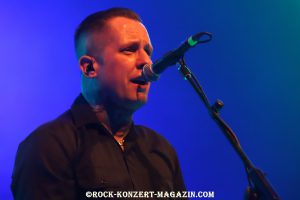 Mit der aus London stammenden Band BOOZE & GLORY ging es weiter an diesem Abend. Punk-Rock der guten alten Schule Häuten Sie den Fans um die Ohren, die gleich vom ersten Song an mittanzten und sangen was das Zeug hielt. Dafür wurden Sie am Ende auch gebührend gefeiert. 
Jetzt kam mein erster Highlight an diesem Abend. Mit WALLS OF JERICHO und Frontfrau Candace Kucsulain. Was hat die Frau für eine Power und eine Stimme. Ständig in Bewegung und mit viel Kraft und Energie gab es Songs wie "Forever Militant" oder "Fight the good Fight" zum Besten.  Um kamen auch die ersten Crowed Surfer im Graben an und Candace versuchte jeden ab zu klatschen. Die Stimmung war riesig und Candace bedankte sich artig bei den Fans zum Abschluss. 
Eigentlich so ein wenig aus der Art geschlagen kamen MUNICIPAL WASTE daher, die jetzt an der Reihe waren. Alle Bands an diesem Abend, mit "moderner Kurzhaar Frisur" ausgestattet, haben MUNICIPAL WASTE mächtig was auf dem Kopf. Was dabei herauskam war eine Knaller Performance die die Stimmung in der Halle noch weiter an heizte.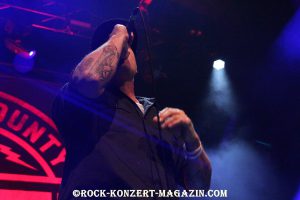 IGNITE die schon 2015 und als Headliner 2016 dabei waren heizen Fans jetzt noch mal ordentlich ein. Die sind immer noch so in Stimmung dass es schon fast keinen Song bedarf. Sänger Zoltan Téglás merkte an das Sie nicht viel Zeit haben und daher nicht so viel reden sollen, räumte aber der Organisation SEA SHEPARD ein paar Minuten ein um sich vor zu stellen. Kaum war dies geschehen ging es auch mit Volldampf weiter und nach einer dreiviertel Stunde war es dann Zeit den Platz auf der Bühne für SICK OF IT ALL zu räumen. 
Muss man zu SICK OF IT ALL noch viel sagen? Ich glaube nicht. Von der ersten bis zur letzten Minute war Stimmung in der proppenvollen Halle. Die Fans wurden nicht müde obwohl es schon 23:30 Uhr die Band aber auch nicht war und so die Jungs die Bühne wie kein zweites Mal beackerten. Mit mehr als zufriedenen Gesichtern gingen die Fans dann nach Hause als sich SICK OF IT ALL um 00:00 Uhr von Ihnen verabschiedeten. 
Was bleibt zu sagen nach so einer geknüppelten Tour? Von der ersten bis zur letzten Band war Stimmung in der Halle und man ist gespannt auf das kommende Jahr wenn es wieder heißt EMP Persistance Tour 2020. 
Take Ovense:
Sibirean Meat Grinder:
Booze & Glory:
Walls of Jericho:
Municipal Waste:
Ignite:
Sick of it All: