Am 29.05.2020 erscheint das neue Album "Constellation" von Stargazery via Pure Steel Record. Wir haben die Zeit genutzt um mit Gitarrist Pete Ahonen über die Band und das neue Album zu sprechen.
Das Interview in Englisch findet ihr weiter unten.
Hallo Pete, vielen Dank das Du Dir die Zeit nimmst um die Fragen für unsere Leser zu beantworten. Bevor wir starten die alles entscheidende Frage, Wie geht es euch?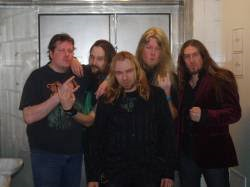 Pete: Hallo Thomas! Alles in allem geht es uns gut in unserer Familie. Ich hoffe bei Dir ist es auch so! Harte Zeiten sicherlich!
RKM: Ich möchte gerne einen kleinen Streifzug durch die Jahre von Stargazery machen und dann über das neue Album "Constellation", welches am 29.05.2020 via Pure Steel Records erscheint sprechen.
Pete: Ihr habt euch 2005 gegründet, habt 2007 eure erste Single rausgebracht, das erste Album 2011, das zweite Album 2015 und 2020 nun das neue Album. Wieso habt ihr so große Abstände zwischen den Veröffentlichungen.
Pete: Nun, ich war auch etwas beschäftigt mit unseren anderen Bands und einigen schwierigen Zeiten in meinem privaten Leben. Auch mussten wir auf die anderen warten um ihre Rollen usw. zu spielen. Die Zeit verging wie im Flug und bei mir kamen noch 3 Kinder (2015, 2018 und 2019) hinzu.
RKM: Waren die Besetzungswechsel in der Band mit ein Grund für die langen Zeiten zwischen den Alben?
Pete: Absolut! Es ist nicht so einfach, die richtigen Musiker zu finden, die zur Band und zur "Familie" passen. Jetzt scheinen wir die richtige Kombination gefunden zu haben und der Geist in der Band ist sehr gut.
RKM: Aus eurer Sicht (Band) gesehen, was kannst Du uns über das neue Album sagen?
Pete: Ich habe vor ein paar Jahren angefangen Songs zu schreiben aber da wir auf dem Weg einige Mitglieder verloren haben und einige Gigs gemacht haben, haben sich die Aufnahmen etwas verzögert. Ich hatte auch ein bisschen eine Schreibblockade, hatte so viel zu sagen, aber ich konnte sie nicht in Worte fassen. Das Album "Constellation" hats o viele verschiedene Arten von Songs und ich denke, es ist das bisher vielseitigste Album, aber es klingt immer noch sehr nach Stargzery. Wunderschöne und emotionale Ballade, sehr epische Tracks, schnelle Songs usw. Wir haben die Aufnahmen in unserem eigenen kleinen Studio gemacht und mit unserem Schlagzeuger Iikka das Ganze entwickelt, bearbeitet usw. Kimmo Perämäki hat das Album gemischt und gemastert und wieder hat Felipe Franco das Artwork gemacht.
RKM: Das erste Album "Eye of the Sky" und das zweite Album "Stars Aligned" haben viel Lob von der Presse erhalten. Wie glaubst Du wie wird die Kritik oder das Lob für das neue Album ausfallen?
Pete: Ich habe nur wenige Reszesionen gesehen und sie sind fantastisch Ich denke, dieses Album wird dem Weg der vorherigen folgen, die meisten Rezesionen sind großartig, aber natürlich sind wir nicht hier, um alle zufrieden zu stellen.
RKM: Unverkennbar sind die Einflüsse von RAINBOW und BLACK SABBATH auf euren Alben. Ist die Gefahr nicht groß als kleiner Ableger von den Bands tituliert zu werden?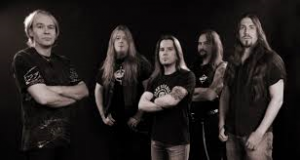 Pete: Ich glaube nicht, dass dies hier der Fall ist. Wenn Leute unsere Musik hören, hören sie viele verschiedenen Stile, nicht nur Rainbow und Black Sabbath. Auf dem neuen Album könnten sie hier einige Einflüsse von Foreigner, Toto und Savatage usw. finden. Es ist eine Zusammenstellung von Einflüssen wie die vorherigen.
RKM: Das Album besticht durch Bombastischen Keyboard geladenen Melodic Metal und den außergewöhnlichen Gesang von Sänger Jari Tiura, also vom Stil her wie auf den anderen beiden Alben auch. War das so gewollt?
Pete: Ich bin eine Art Songwriter, der wirklich nicht analysiert oder überlegt, was er schreiben soll. Ich nehme einfach die Gitarre und fange an zu jammen und Songs kommen dabei heraus Offensichtlich gibt es eine Art "Wissen" in meinem Kopf, dass dieser Song zu dieser Band passt und so weiter, aber ich setze mich wirklich nicht hin und beginne Stargazery zu schreiben oder was auch immer für ein Lied. Aber ja zu deiner Frage, es war das, was ich wollte "bombastischer Keyboard geladener Melodic Metal und der außergewöhnliche Gesang von Sänger Jari Tiura…"
RKM: Hast Du einen Favoriten auf dem Album? wenn ja welcher ist es?
Pete: Diese Frage ist immer schwierig, da die Songs wie meine Babys sind. Wie kannst Du da einen auswählen. Ich liebe sie alle und bin sehr stolz auf dieses Album, das wir gemacht haben.
RKM: Wer ist bei euch für das Song schreiben verantwortlich, oder ist es eine Gemeinschaftsproduktion?
Pete: Ich habe alle Songs, texte und Melodien für dieses Album geschrieben, aber offensichtlich hat jeder seinen Hand Abdruck darauf gelegt, also ist es alles in allem Bandaufwand.
RKM: Wie können wir uns die Arbeit im Studio vorstellen?
Pete: Wie gesagt, wir haben dieses kleine Homestudio und es beginnt damit, dass ich Gitarrentracks aufnehme, sogenannte "Demo" oder wenn es gut kjlingt, bleiben die Tracks auf dem Album. Normalerweise spiele ich die Tracks so, dass sie bleiben, vielleicht auch weil ich zu faul bin die mehrmals auf zu nehmen. (laucht). Dann fangen wir an, mit Iikka über das Schlagzeug zu denken. Ich habe einige Ideen im Kopf für´s Schlagzeug und Iikka testet sie. Wenn sie funktionieren, gut, aber wenn nicht, versucht er etwas anderes. Dann der Bass und die Keyboards. Manchmal habe ich Ideen für Keyboards und wir testen sie mit Pasi, du kennst Riffs und so. Wie z. B. "Dark Side of the Moon", "Raise the Flag" usw. Sind die Keyboard-Riffs aus meinem Kopf. Nach den Grundtiteln kommt Jari vorbei und wir nehmen den Gesang auf, normalerweise am Wochenende. Normalerweise nehmen wir (mit Pasi) die Soli zuletzt auf. Pasi hat einige außergewöhnliche Keyboard-Soli auf dem Album gemacht und Iikkas Schlagzeug ist unglaublich.
RKM: Zurzeit können wir euch wegen der Corona Pandemi nicht live sehen, wird das danach in absehbarer Zeit der Fall sein?
Pete: Harte Zeiten im Moment für alle ☹. Wir hoffen, dass wir in gewissem Maße ja touren können. Wir alle lieben es, live zu spielen!
RKM: Wie sehen die nächsten Pläne für die Zukunft aus?
Pete: Noch mehr Alben und live Shows. Wir werden nicht aufhören, denn wir haben noch viel mahr zusagen.
RKM: Zum Abschluss des Interviews hast Du nun die Möglichkeit mit eigenen Worten an eure Fans zu wenden.
Pete: Ein großes Danke schön an alle für ihre Unterstützung im laufe der Jahre und wir hoffen, dass Sie das neue Album genauso lieben werden wie wir. Dies sind auch schwierige Zeiten im Musikgeschäft. Kauft also bitte Platten um eure lokalen Plattenläden zu unterstützen.
RKM: Vielen Dank für die offenen Worte. Ich wünsche euch alles Gute und viel Glück weiterhin.
Pete: Vielen Dank Thomas für das tolle Interview! Bleib gesund und bleib Metal / Cheers Pete
Now in English:
RKM: Hello Pete, thank you for taking the time to answer the questions for our readers. Bevor we start the Interview, the all-important question is, how are you?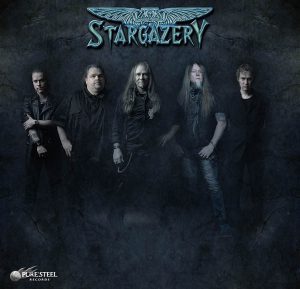 Pete: Hi Thomas! All in all it's ok here in the family. I hope you are too! Tough times for sure !
RKM: I would like to take a stroll through the years of Stargazery with you and then talk about the new album "Constellation" witch will released an 29th May 2020 via Pure Steel Records.
RKM: You founded the Band 2005, released the first Single in 2007, the first album in 2011, the second album in 2015 and now 2020 the new album. Why do you have so much time between the releases?
Pete: Well, I was also somewhat busy with our other bands and some difficult times in my personal life. . Also we need to wait others to play their parts etc, time just flew 🙂 I did have 3 kids too 2015, 2018 and 2019 😀
RKM: Where the Line-up changes in the Band one of the reasons for the long time between the albums?
Pete: Absolutely! To find right players that suits to the band and the to the "family" is not that easy. Now it looks like we've found the right combination and the spirit is very good within the band.
RKM: From your point (Band) of view, what can you tell us about the new album?
Pete: I started to write songs few years ago, but as we lost some members along the way + did some gigs the recordings kind of delayed. I did suffer a bit of a writersblock too, so much to say say, but I couldn't put them in words. Musicwise album has so many different types of songs and I think it's the most versatile album so far, but it still sounds very much like Stargazery. Beautiful & emotional ballad, very epic tracks, fast songs etc. We did the recordings in our own little studio and with our drummer Ilkka we engineered , edited etc the whole thing. Kimmo Perämäki mixed and mastered the album and once again Felipe Franco did the artwork.
RKM: With your first album "Eye on the Sky" and the second album "Stars Aligned" you received a lot of praise from the press. What do you think, how will the criticism or the praise for the new album turn out?
Pete: I've seen only few reviews and they are amazing 🙂 I think this album will follow the path of the previous ones, most of the reviews are great, but of course we are not here to please everyone 🙂
RKM: The influences of RAINBOW and BLACK SABBATH on your albums are unmistakable. Isn´t there a bis danger of being labeled as a small offshoot b the Bands?
Pete: I don't think it is the case here. When people hear our music they will hear lots of different styles, not just Rainbow & Black Sabbath. On the new album you might here some influences from Foreigner, Toto, Savatage etc. It's a compilation of influences like the previous ones.
RKM: The album captivates with bombastic keyboard loaded melodic metal and the exceptional vocals of singer Jari Tiura, in terms of style as on the other two albums. Was that what you wanted?
Pete: I'm a type of songwriter that really don't analyze or think what to write. I just pick up the guitar and start jamming and songs come out 🙂 Obviously there are somekind of "knowing" in my head that this song suits to this band and so on, but I really don't sit down and start to write Stargazery or whatever song. But yes to your question, it was what I wanted " bombastic keyboard loaded melodic metal and the exceptional vocals of singer Jari Tiura…" 🙂
RKM: Do you have a favorite on this album? If yes which one?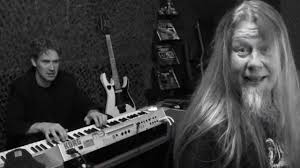 Pete: This question is always tough as the songs are like my babies, how can you choose one 😀 I do love them all and I am very proud of this album we did!
RKM: Who is responsible for the song writing for you, or is it a joint production?
Pete: I wrote all the songs, lyrics and melodies for this new album, but obviously everyone put their handprint on it so all in all it is band effort.
RKM: How can we imagine working in the Studio?
Pete: As said we have this little homestudio and it starts by me recording guitar tracks, "demo" or if it sounds good tracks will stay on the album. I usually tend to play the tracks in a way that they will stay, maybe I'm too lazy to record them more than one hahahaha 🙂 Then we start thinking drums with Ilkka. I have some ideas for drums and Ilkka tests them. If they work, good, but if not he tries something different. Then the bass and keyboards. Sometimes I have ideas for keyboards and we test them with Pasi, you know riffs and stuff. Like for example Dark Side Of The Moon, Raise The Flag etc the keyboard riffs are from my head. After basic tracks Jari comes over and we record the vocals, usually within the weekend. Usually we (with Pasi) record the solos last. Pasi did some exceptional keyboard solos on the album as well as Ilkka's drumming is amazing!
RKM: Now we cannot see you live because the Corona Pandemi. Will that be the case after this time?
Pete: Tough times for everyone 🙁 We hope we are able to tour at some extent yes. We all love playing live!
RKM: How do you see your future?
Pete: More records and live shows. We are not going to stop, we have lots more to say 🙂
RKM: At the end of the interview, you have the chance to reach your fans with your own words.
Pete: Huge huge thank you for your support over the years and we do hope you'll love the new album as much as we do <3 These are difficult times in music business too so, please buy the records and support your local record stores 🙂
RKM: I thank you for the open words and wish you all the best and good luck for the future.
Pete: Thank you Thomas for this great interview! Stay safe and stay metal \m/ Cheers – Pete-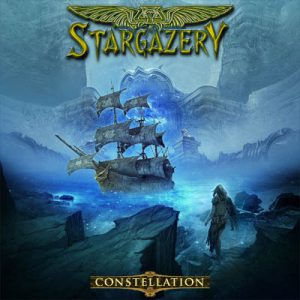 TRACKLIST:
1. Sinners In Shadows
2. War Torn
3. Self–Proclaimed King
4. Ripple The Water
5. I Found Angels
6. Constellation
7. Caught In The Crossfire
8. Dark Side Of The Moon
9. In My Blood
10. Raise The Flag
Total Playing Time: 44:40 min
LINE-UP:
Jari Tiura – vocals
Pete Ahonen – guitars
Marko Pukkila  – bass
Pasi Hiltula – keyboards
Illka Leskelä – drums