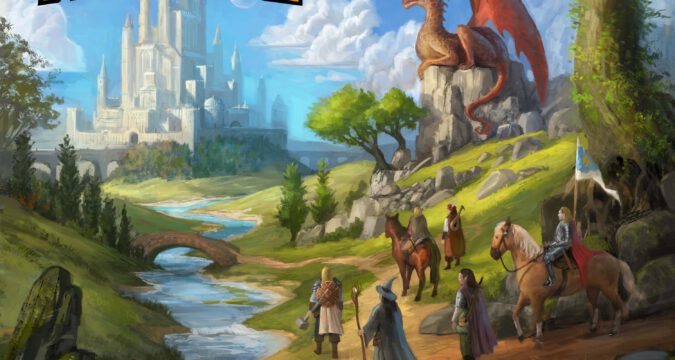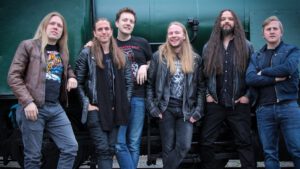 Unbewohnte Landstreifen, Vulkane, eisiger Wind und die allumfassende Dunkelheit der mitunter längsten Winter dieses Planeten: Es verwundert nicht, dass sich die meisten isländischen Metalbands in eher finsteren musikalischen Gefilden aufhalten. Wer vermag bei solch einer Umgebung auch schon an Geschichten tapferer Krieger und mystischer Kreaturen denken? Tatsächlich konnte auf Island bis 2017 von Power Metal nur geträumt werden, ehe sich ein dessen Hauptstadt Reykjavík entstammendes Sextett ein Herz fasste und aufmachte, seine frohen Weisen in die Welt hinauszutragen und alle eines Besseren zu belehren: Zwischen all jenen Düstersternen ist diese Band unbestritten die Mitternachtssonne.
Nach seiner kürzlichen Gründung freut sich Atomic Fire Records, heute die Untervertragnahme der isländischen Power-Metal-Newcomer POWER PALADIN bekanntgeben zu dürfen. Deren neun Tracks umfassendes Debütwerk namens »With The Magic Of Windfyre Steel« wird in diesem Rahmen am 07. Januar 2022 auf die Welt losgelassen werden.
Die Truppe lässt dazu Folgendes verlauten: "Seid gegrüßt, werte Reisende und Abenteurer! Nach langer Suche haben wir endlich eine passende Herberge für unseren Erstling gefunden. Wir freuen uns riesig darüber, einen Vertrag mit Atomic Fire Records geschlossen zu haben! Doch damit nicht genug: Obendrein haben wir eine mysteriöse Box samt besonderem Inhalt – einer magischen Scheibe, die 'Kraven The Hunter' persönlich enthält – übergeben bekommen! Über den unten erwähnten Link könnt Ihr direkt Euren eigenen »Kraven« vorbestellen."
Atomic Fire Records-Geschäftsführer/-Labelmanager Markus Wosgien fügt hinzu: "Pfeilschnelle Gitarren und donnerndes Schlagzeug, hoher Gesang und mystische Erzählungen: Diese Band bietet schlicht alles, um Power-Metal-Fans, die sich natürlich auch in unseren Reihen wiederfinden, zu verzücken. Daher sind wir umso glücklicher, POWER PALADIN als einen der ersten Acts in unserem breitgefächerten Roster willkommen heißen zu können. Möge unsere gemeinsame Geschichte von Ruhm geprägt sein!"
Zur Feier des Tages präsentieren die Isländer ein von Glen Mountford Media erschaffenes Band-Playthrough-Video zur ersten Single, einem überaus rasanten Ritt, der den Titel 'Righteous Fury' trägt.
"Diese Geschichte handelt von einer Abordnung alter und gerechter Paladine, die auszieht, um das größte aller Übel aus ihren Gefilden zu vertreiben. Mit diesem schnellen, furiosen Song, der ein von der Dreimacht selbst dargebotenes Solo mit sich bringt, möchten wir uns vor diversen Speed-Metal-Klassikern verneigen", erläutern POWER PALADIN.
Seht Euch das Video hier auf YouTube an: https://www.youtube.com/watch?v=O4ymDKZ2MTI.
Bestellt die verschiedenen Albumformate (CD-Digipak, schwarzes und farbiges Vinyl) sowie die orangene 7″-Vinylsingle 'Kraven The Hunter' (VÖ: 10. Dezember 2021) vor, merkt »With The Magic Of Windfyre Steel« auf Eurer favorisierten Streamingplattform vor oder sichert es Euch schon jetzt digital, um 'Righteous Fury' sofort zu erhalten: https://music.atomicfire-records.com/windfyre.
»With The Magic Of Windfyre Steel« – Tracklist:
01. Kraven The Hunter
02. Righteous Fury
03. Evermore
04. Dark Crystal
05. Way Of Kings
06. Ride The Distant Storm
07. Creatures Of The Night
08. Into The Forbidden Forest
09. There Can Be Only One
»Kraven The Hunter« (orangene 7″-Vinylsingle) – Tracklist:
A-Seite: Kraven The Hunter (Single Edit)
B-Seite: Creatures Of The Night (Single Edit)
Von der Band selbst aufgenommen und produziert sowie von Haukur Hannes' Mix- (Mastertape Studios; u.a. AUÐN, DYNFARI) und Frank de Jongs Masterkünsten (Hal5 Studio; u.a. BLEEDING GODS) veredelt, sind die musikalischen Helden POWER PALADINs auf »With The Magic Of Windfyre Steel« unverkennbar. "IRON MAIDEN, DIO, HELLOWEEN: Die Liste der 80er-Jahre-Bands, die uns beeinflussen, ist definitiv nicht von der Hand zu weisen, obgleich wir deutlich enger mit der zweiten Power Metal-Welle verbandelt sind, da wir vor allem mit Bands wie EDGUY, RHAPSODY und HAMMERFALL aufgewachsen sind", führt der Sechser aus. Hinzu kommt sein Faible für Fantasyspiele und -bücher von Autoren wie Brandon Sanderson und Joe Abercrombie, das sich nicht nur in POWER PALADINs Texten, sondern zudem in James Childs (Astral Clock Tower Studios) abenteuerlichem Artwork widerspiegelt.