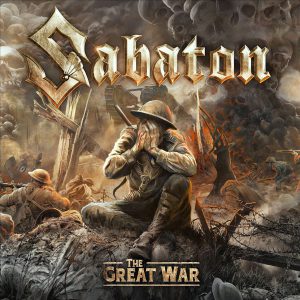 Das brandneue SABATON Studioalbum "The Great War" erscheint am 19. Juli 2019.
Heute veröffentlicht die Band ihre zweite Singleauskopplung, namens "The Red Baron".
Seht das Lyric-Video hier: https://youtu.be/3PXzgXBRM_k
"Bei einen Konzeptalbum über den ersten Weltkrieg, darf die Geschichte über Manfred von Richthofen, alias "The Red Baron" nicht fehlen. Und da wir unsere Ziele ebenfalls höher denn je gesteckt haben, freuen wir uns darauf euch allen heute die entsprechende Single aus unserem kommenden Album zu präsentieren", erklärt Pär Sundstöm.
Holt euch "The Red Baron" digital hier: http://nblast.de/SabatonTheRedBaron
Hört den Song in der NB New Releases Playlist: http://nblast.de/SpotifyNewReleases / http://nblast.de/AppleMusicNewReleases
Seht ebenfalls:
Album Trailer #1: https://www.youtube.com/watch?v=YZL8aG9PXtM
'Fields Of Verdun' (official video): https://youtu.be/xP8G-LwWNn0
Holt euch den Song digital hier: http://nblast.de/SabatonFieldsOfVerdun
Bassist Pär Sundström kommentiert: "Wir haben 'Fields of Verdun' als erste Single ausgesucht, weil wir glauben, dass es das Album perfekt repräsentieren würde, ein typischer SABATON Metal Song, den wir in Zukunft definitiv auch Live spielen werden. Die Geschichte der Schlacht von Verdun ist ebenfalls repräsentativ für das gesamte Album, da sie alle Elemente enthält, die "The Great War" ausmachen.
Verdun ist ein so wichtiger Teil des Ersten Weltkrieges, dass wir beschlossen haben, die erste Präsentation des Albums dort stattfinden zu lassen und Journalisten von überall auf der Welt einzuladen; nicht nur um das Album anzuhören, sondern auch, um die Geschichte dahinter zu verstehen.
Der Song ist die erste Single vom kommenden Album, obwohl wir kürzlich erst 'Bismarck' veröffentlicht haben, aber dieses Lied gehört nicht zum Album.
Wir haben uns entschieden, 'Bismarck' abseits des Albums zu schreiben, da die Geschichte nicht im Zusammenhang mit dem Ersten Weltkrieg steht und auch gesondert vom Album aufgenommen wurde. Die Bedeutung dieses Songs ist ein Tribut an alle Fans, die über die Jahre zu unserer Musik beigetragen haben, indem sie uns Ideen für Songs geliefert haben; das ist echt toll, bitte macht weiter so!"
Der mittlerweile neunte Longplayer des Quintetts, der pünktlich im Jahr ihres 20. Bandjubiläums erscheint, wird, wie der Titel "The Great War" schon verrät, ein Konzeptalbum voller Geschichten aus dem Ersten Weltkrieg sein und kann in den folgenden Formaten vorbestellt werden:
CD-Digi (History Edition) inkl. gesprochen Parts und Intros zu jedem Song
CD (Album Edition)
2CD Earbook (Album + History Edition)
180g LP in various colors (History Edition)
180g LP in various colours (Album Edition)
3CD/3LP Box (The Great Box Edition) includes: Earbook incl. "The Soundtrack To The Great War" CD,  regular, History & Soundtrack LPs [180g, green], one out of 11 Great War propaganda posters [chosen at random], postcards, emblem, poem on sheet) – limited to 1000
"The Great War" Trackliste:
01. The Future Of Warfare
02. Seven Pillars Of Wisdom
03. 82nd All The Way
04. The Attack Of The Dead Men
05. Devil Dogs
06. The Red Baron
07. Great War
08. A Ghost In The Trenches
09. Fields Of Verdun
10. The End Of The War To End All Wars
11. In Flanders Fields
Bestellt das Album hier vor: http://www.sabaton.net/thegreatwar
"The Great War" wird am 19. Juli weltweit über Nuclear Blast Records erhältlich sein.
Die Band hat die Studioaufnahmen exakt 100 Jahre nach Ende des Ersten Weltkrieges (11.11.1918) begonnen und sich dann drei Monate zurückgezogen, um die Songs in den Black Lounge Studios zusammen mit ihrem Produzenten Jonas Kjellgren fertig zu stellen. Gemastert wurde das Album von Maor Appelbaum und das martialische Artwork stammt erneut aus der Feder von Peter Sallaí.
"Es ist natürlich nicht das erste Mal, dass wir über die Geschichten aus jener Zeitepoche singen, aber diesmal hatten wir das Gefühl, dass der Moment gekommen war, um ein komplettes Konzeptalbum darüber zu erschaffen", kommentiert die Band.
Parallel zu den Studioaufnahmen haben die Schweden außerdem an dem bereits angekündigten Sabaton History Channel gearbeitet, der eine einzigartige Kollaboration zwischen der Band selbst und den Multimedia Historikern Indy Neidell und Timeghost darstellt, die die Macht der sozialen Medien nutzt, um die zahlreichen Geschichten über Kriege, Schlachten und Helden hinter SABATONs Songs zu erzählen. Abonniert den Channel hier: https://www.youtube.com/channel/UCaG4CBbZih6nLzD08bTBGfw
"Dies ist das mächtigste Album, das wir bisher aufgenommen haben", verkündet Pär Sundström. "Es gibt so viel Tiefe und spannende Geschichten rund um die Songs, die wir noch nie zuvor hatten.
Also macht Euch bereit für viele Überraschungen, da wir neue Dinge ausprobiert haben und außerdem zu einem Konzept zurückgegangen sind, von dem wir wissen, dass viele von Euch es lieben.
"The Great War" wurde gemeinsam mit dem Sabaton History Channel ins Leben gerufen, um 2019 zum aufregendsten Jahr in unserer 20-jährigen Geschichte zu machen."
Viele weitere Live-Shows werden in Kürze angekündigt, doch schon jetzt könnt Ihr SABATON auf diesen Festivals sehen – darunter auch wie jedes Jahr auf dem bandeigenen SABATON OPEN AIR in ihrer Heimatstadt Falun:
SABATON live 2019 – Tickets gibt es hier: https://www.sabaton.net/tour/
15.06. CH       Interlaken – Greenfield Festival
20.06. F          Clisson – Knotfest meets Hellfest
23.06. B          Dessel – Graspop Metal Meeting *SOLD OUT*
26.06. PL        Krakow – Mystic Festival
28.06. E          Madrid – Download Festival
25.07. FIN       Kuopio – Kuopiorock
01.08. D          Wacken – Wacken Open Air *SOLD OUT*
09.08. UK        Derby – Bloodstock Open Air
17.08. S          Falun – Sabaton Open Air
23.08. D          Sulingen – Reload Festival
»The Great Tour« – North America 2019
w/ HAMMERFALL
04.10.  USA     Ft. Lauderdale, FL – Revolution Live
05.10.  USA     St. Petersburg, FL – Janus Landing
06.10.  USA     Atlanta, GA – Center Stage
08.10.  USA     Dallas, TX – House of Blues
10.10.  USA     Phoenix, AZ – The Van Buren
11.10.  USA     Los Angeles, CA – The Wiltern
12.10.  USA     San Francisco, CA – The Regency Ballroom
14.10.  USA     Portland, OR – The Roseland Ballroom
15.10.  USA     Seattle, WA – Showbox SoDo
16.10.  CDN     Vancouver, BC – Vogue Theatre
18.10.  CDN     Edmonton, AB – Union Hall
19.10.  CDN     Calgary, AB – The Palace Theatre
21.10.  USA     Salt Lake City, UT – The Complex
23.10.  USA     Denver, CO – Ogden Theatre
25.10.  USA     Minneapolis, MN – Skyway Theatre
26.10.  USA     Chicago, IL – The Vic Theatre
27.10.  USA     Cleveland, OH – Agora Ballroom
29.10.  CDN     Toronto, ON – The Danforth Music Hall
30.10.  CDN     Montréal, QC – Mtelus
01.11.  USA     Worcester, MA – Palladium
02.11.  USA     New York, NY – PlayStation Theater
03.11.  USA     Silver Spring, MD – The Fillmore
01.12.  S          Stockholm – Sabaton Cruise *SOLD OUT*
2020:
»The Great Tour« – Russia 2020
06.03.    RUS       Yuzhno-Sakhalinsk – Stolitsa
07.03.    RUS       Vladivostok – Craft
08.03.    RUS       Khabarovsk – Velicano Club
10.03.    RUS       Irkutsk – Wild Horse
11.03.    RUS       Novosibirsk – Dkzh
13.03.    RUS       Moscow – Stadium Live
14.03.    RUS       St. Petersburg – A2 Green Concert
16.03.    RUS       Omsk – Angar
17.03.    RUS       Tyumen – Baikonur
19.03.    RUS       Yekaterinburg – Tele-Club
21.03.    RUS       Ufa – Ogni Ufy
22.03.    RUS       Samara – Zvezda
24.03.    RUS       Volgograd – DKT
26.03.    RUS       Nizhny Novgorod – Milo Concert Hall
28.03.    RUS       Voronezh – Palazzo
29.03.    RUS       Rostov-on-Don – Arena Don
31.03.    RUS       Krasnodar – Arena Hall
02.04.    BY          Minsk – Prime Hall