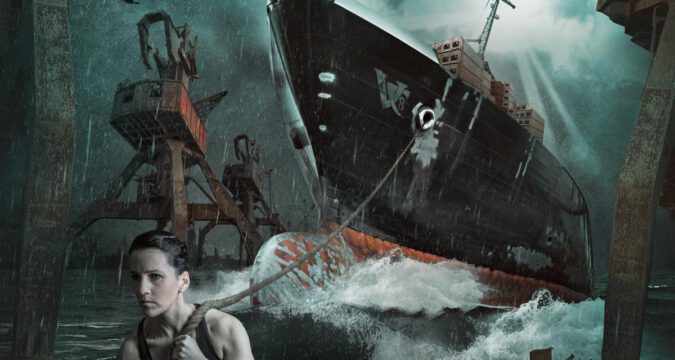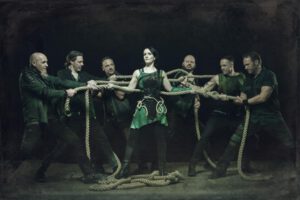 To The Power Of Eight erscheint am 4. Juni 2021 via Napalm Records, JETZT vorbestellen!
Wenn die volle Vocal-Power lauter röhrt als jede Gitarre, dann können nur VAN CANTO ihre Stimmbänder im Spiel haben! Die legendären deutschen A-Cappella-Metal-Meister kehren mit furioser, energiegeladener Rakkatakka-Kraft zurück und veröffentlichen am 4. Juni 2021 ihr achtes Studioalbum, To The Power Of Eight, via Napalm Records.
Mit einem beeindruckenden Teaser, der visuell an das ausgefeilte Artwork des neuen Albums angelehnt ist, holen VAN CANTO ihre Fans zu einer abenteuerlichen Reise ab und geleiten sie unmittelbar in das facettenreiche Spektrum eines einmaligen Klangkosmos, wie ihn nur VAN CANTO mit stimmlicher Raffinesse kreieren können! Diese instrumentale Interpretation der Heavy-Metal-Ausnahmekünstler setzt jedes Mitglied gekonnt in Szene und zeigt zugleich, wie stark die Band als Einheit harmoniert.
VAN CANTO dazu:
"Der Teaser stellt das eher getragene, epische Intro unseres neuen Albums vor und soll die Vorfreude auf all das schüren, was den Hörer auf insgesamt zwölf Tracks erwartet: Acht eigene Nummern und vier Coverversionen (Iron Maiden, Amon Amarth, Queen und AC/DC). Von Ballade bis ordentlich Doublebass ist alles dabei!"
Seit 2006 befeuern VAN CANTO die Metal-Welt mit ihrer unnachahmlichen, berauschenden Sangeskunst und haben damit zugleich ihrem ganz eigenen Genre den Weg geebnet. Seither liefern die Donnerstimmen stets neue, musikalische Überraschungen ab und beweisen, dass Metal auch ohne dröhnende Riffs verdammt heavy sein kann! Im Zuge ihres letzten Albums, Trust In Rust, hat die deutsche Ausnahme-Combo das Lineup überarbeitet und umfasst seitdem sieben Mitglieder. Für To The Power Of Eight haben VAN CANTO alte Bande neu geknüpft und sich wieder mit Philip Dennis "Sly" Schunke zusammengetan, der bereits auf den ersten sechs Alben als Leadsänger tätig war.
Nun is Sly, neben Inga Scharf und Hagen Hirschmann, auf allen zwölf Tracks als dritter Sänger und Special Guest zu hören. Ganz ohne Frage wurde dieses unvergleichliche Album den drei Stimmen direkt auf den Leib geschrieben. So verkörpert To The Power Of Eight ein ganz besonderes Gefühl der Zusammengehörigkeit und präsentiert VAN CANTO in unbestreitbarer Höchstform!
VAN CANTO zum neuen Album:
"Nach 15 Jahren Bandgeschichte mit To the Power of Eight ein Album präsentieren zu können, bei dem sich drei Leadsänger die Mikrophone in die Hand geben, macht uns unheimlich stolz. Durch Corona hatten wir ungefragt viel Zeit und Ruhe und haben alle Energie in die Kompositionen, die Arrangements und die Produktion gesteckt. So wurden dann auch aus dem geplanten einen Song mit Sly als Gast zwölf Songs mit drei Leadsängern. Wenn wir auf die Frage 'Wie klingt eigentlich VAN CANTO?' ein Album als Antwort nennen dürften, würden wir To the Power of Eight nehmen."
Von eigenen, das Gaspedal bis zum Anschlag durchdrückenden Tracks, wie dem aufbrausenden "Dead By The Night", dem heroischen "Heads Up High" oder der herzerwärmenden Mid-Tempo-Nummer "Turn Back Time", bis hin zu hymnischen Heavy-Metal-Covern wie Amon Amarths "Raise Your Horns", Iron Maidens "Run To The Hills" oder AC/DCs "Thunderstruck": Den Künstlern gelingt es stets mühelos, jedem Stück einen individuellen Stempel in unverkennbarer VAN CANTO-Manier zu verpassen.
To The Power Of Eight steht für viele Jahre Bandgeschichte und ein erfahrenes Kollektiv, dass mehrere Top-50-Platzierungen in den deutschen Albumcharts vorweisen kann und zahlreiche Shows rund um den Globus und auf Festivals wie 70k Tons Of Metal, Wacken und Masters of Rock gespielt hat. Gleichzeitig offenbart das achte Werk aber nach wie vor eine Truppe innovativer Visionäre des A-Cappella-Metal, die weit davon entfernt ist, sich auf dem bisher Erreichten auszuruhen.
To The Power Of Eight tracklist:
1. To the Power of Eight
2. Dead by the Night
3. Faith Focus Finish
4. Falling Down
5. Heads Up High
6. Raise Your Horns
7. Turn Back Time
8. Run to the Hills
9. Hardrock Padlock
10. Thunderstruck
11. From the End
12. I Want It All