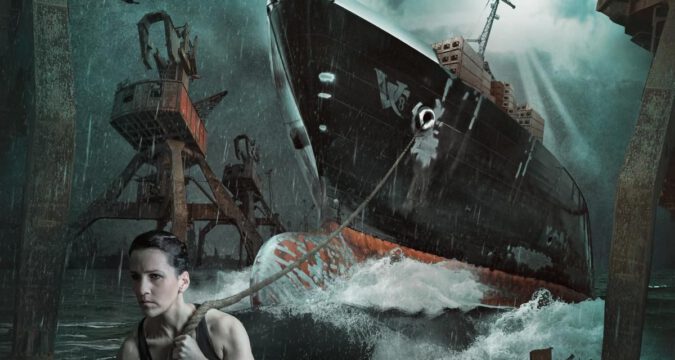 Sichere dir JETZT dein Exemplar vom aktuellen Studioalbum, To The Power Of Eight
"Ein stimmungsvolles, innovatives Kunstwerk für die Dauerschleife."
(Metal Hammer, GER)
"VAN CANTO klingen besser denn je und immer noch überraschend."
(Sonic Seducer, GER)
"Das macht richtig Laune."
(Stormbringer, AT)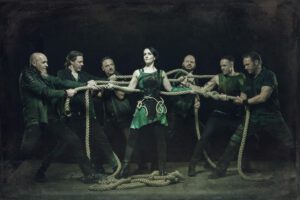 Vor wenigen Tagen haben die deutschen Donnerstimmen VAN CANTO ihr sage und schreibe achtes Studioalbum, To The Power Of Eight, entfesselt! Jetzt legen die Pioniere des A-Cappella-Metal direkt nach und veröffentlichen daraus die zackige Hymne "Dead by the Night", inklusive eines mitreißenden und stimmungsvollen Lyric-Videos.
VAN CANTO zu "Dead by the Night":
"'Dead by the Night' ist der eigentliche Opener des Albums nach dem eher soundtrackartigen Intro 'To the Power of Eight'. Wir wollten hier direkt am Anfang mal alles zeigen, was mit drei Leadsängern so möglich ist, und herausgekommen ist ein Uptempo-Power-Metal-Song mit Rakkatakka-Riffs, großen Melodiebögen und auch viel Alarm im Background-Chor. Das alles mit einem sehr positiven Text, der eigentlich nichts anderes sagt, als sich über das Jetzt zu freuen – es kann schließlich morgen (oder in der nächsten Nacht?) schon alles vorbei sein."
Schau dir das Lyric-Video zu "Dead by the Night" HIER an:
VAN CANTO – Dead By The Night (Official Lyric Video) | Napalm Records – YouTube
Wenn die volle Vocal-Power lauter röhrt als jede Gitarre, dann können nur VAN CANTO ihre Stimmbänder im Spiel haben! Die legendäre Formation kehrt mit ihrem achten Studioalbum, To The Power Of Eight zurück und demonstriert einmal mehr eindrucksvoll, dass Metal auch a cappella verdammt heavy sein kann.
Bekannt für ihre eingängigen Hits sowie unverwechselbaren Interpretationen verschiedenster Szene-Klassiker, bleiben VAN CANTO ihrer Linie auch auf Album Nummer Acht treu, das mit vier brandheißen Cover-Versionen und acht eigenen, mitreißenden Band-Hymnen triumphiert! Für To The Power Of Eight haben VAN CANTO alte Bande neu geknüpft und sich wieder mit Philip Dennis "Sly" Schunke zusammengetan, der bereits auf den ersten sechs Alben als Leadsänger tätig war.
VAN CANTO zum neuen Album:
"Nach 15 Jahren Bandgeschichte mit To The Power Of Eight ein Album präsentieren zu können, bei dem sich drei Leadsänger die Mikrophone in die Hand geben, macht uns unheimlich stolz. Durch Corona hatten wir ungefragt viel Zeit und Ruhe und haben alle Energie in die Kompositionen, die Arrangements und die Produktion gesteckt. So wurden dann auch aus dem geplanten einen Song mit Sly als Gast zwölf Songs mit drei Leadsängern. Wenn wir auf die Frage "Wie klingt eigentlich VAN CANTO?" ein Album als Antwort nennen dürften, würden wir To The Power Of Eight nehmen."
Seit 2006 befeuern VAN CANTO die Metal-Welt mit ihrer unnachahmlichen, berauschenden Sangeskunst und haben damit zugleich ihrem ganz eigenen Genre den Weg geebnet. To The Power Of Eight steht für viele Jahre Bandgeschichte und ein erfahrenes Kollektiv, dass mehrere Top-50-Platzierungen in den deutschen Albumcharts vorweisen kann und zahlreiche Shows rund um den Globus und auf Festivals wie 70k Tons Of Metal, Wacken und Masters of Rock gespielt hat. Von eigenen, das Gaspedal bis zum Anschlag durchdrückenden Tracks, wie dem energiegeladenen "Faith Focus Finish", dem heroischen "Heads Up High" oder der herzerwärmenden Mid-Tempo-Nummer "Turn Back Time", bis hin zu hymnischen Heavy-Metal-Covern wie Amon Amarths "Raise Your Horns", Iron Maidens "Run to the Hills" oder AC/DCs "Thunderstruck": Den Künstlern gelingt es stets mühelos, jedem Stück einen individuellen Stempel in unverkennbarer VAN CANTO-Manier zu verpassen.
To The Power Of Eight tracklist:
1. To the Power of Eight
2. Dead by the Night
3. Faith Focus Finish
4. Falling Down
5. Heads Up High
6. Raise Your Horns
7. Turn Back Time
8. Run to the Hills
9. Hardrock Padlock
10. Thunderstruck
11. From the End
12. I Want It All