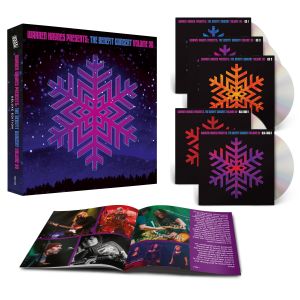 Warren Haynes kündigt The Benefit Concert Volume 20 an.
Zum 30. Jubiläum des jährlichen Christmas Jam spendiert Warren Haynes eine großartige musikalische Zusammenstellung auf CD, DVD, Blu-ray und Vinyl.
Die Aufnahmen stammen vom 07. und 08. Dezember 2018 aus Asheville, North Carolina und zeigen u.a. Auftritte von Dave Grohl, Eric Church, Joe Bonamassa, Jim James, Gov't Mule und Grace Potter.
Gov't Mule Frontmann Warren Hayens veröffentlicht am 8. Dezember 2023 sein Benefit Konzert aus dem Jahr 2018. Gleichzeitig war es das 30. jährige Jubiläum, welches mit Auftritten vieler Gäste wie Dave Grohl, Eric Church, Joe Bonamassa, Jim James, Gov't Mule, Grace Potter und Mike Gordon begangen wurde.
Die Auftritte sind geprägt von gegenseitigen Respekt unter den Künstlern und einigen spontaner Kollaborationen.
Darunter findet man Juwelen wie das hypnotische 'Gold Dust Woman', das ursprünglich von Fleetwood Mac stammt und nun in einer mitreißenden Zusammenarbeit mit Warren Haynes, der vielseitigen Grace Potter und Jim James zu hören ist. Fans der Foo Fighters werden begeistert sein von Dave Grohls und Haynes' akustischen Jam-lastigen Interpretationen der großen Hits "Times Like These" und "Everlong" sowie der einzigen Live-Aufnahme von Grohls epischem Instrumentalstück "Play", das an diesem Abend auf sein 45-minütiges Live-Debüt kam. Fans der Country-Musik werden sich an Eric Churchs stimmungsvollen Darbietungen von "Ain't Wastin' Time No More" von den Allman Brothers und seinem eigenen Hit "Record Year" erfreuen. Und das elektrisierende "Spanish Boots" zeigt die unvergleichlichen Gitarrenkünste von Joe Bonamassa.
Weitere Künstler auf dem Set sind Marco Benevento, Jamey Johnson, Edwin McCain, Kevn Kinney, Tyler Ramsey, Scott Murawski und Ron Holloway, sowie Machan Taylor, Mini Carlsson, Mike Barnes und Ray Sisk, die mit Gov't Mule oder Warren Haynes aufgetreten sind. The Benefit Concert Volume 20 wird auf vier verschiedenen Doppel-Vinyls (in verschiedenen Farben: lila, orange, blau, rot), einem 2-CD + DVD-Set und einem 3-CD + 2 Blu-ray-Set erhältlich sein, sowie in einem reinen Digitalformat.
Im Dezember 1988 rief Warren Haynes das ins Leben, was in seiner Heimatstadt Asheville, North Carolina, zu einer liebgewonnenen Tradition werden sollte. Trotz des Namens ging es beim "Christmas Jam" weniger um festliche Melodien als vielmehr darum, lokale Musiker zu versammeln, um die Feiertage zu feiern und der Gemeinde etwas zurückzugeben. Mehr als 30 Jahre später hat sich diese bescheidene Veranstaltung zu einem landesweit anerkannten Spektakel entwickelt, bei dem über 2,8 Millionen Dollar für Asheville Area Habitat for Humanity und den Bau von über 50 Häusern in der Region gesammelt wurden. Als Einwohner von Asheville ist es ermutigend zu sehen, welche Fortschritte Asheville in diesen drei Jahrzehnten gemacht hat", sagt Haynes. In vielerlei Hinsicht spiegelt Christmas Jam den lebendigen Geist dieser Stadt wider".
The Benefit Concert Volume 20 ist nicht nur ein Zeugnis für den beständigen Geist der Christmas Jams. Über all die Jahre hinweg sind es die improvisierte Zusammenarbeit, das unerschütterliche Engagement aller Beteiligten und die Einheit in der Musik, die dieses Vermächtnis ausmachen.
"Obwohl der Christmas Jam, das Hauptereignis, traditionell nur an einem Abend stattfindet, gab es drei Anlässe, bei denen wir das Bedürfnis hatten, zwei Abende daraus zu machen – das 20-jährige, das 25-jährige und das 30-jährige Jubiläum, die jeweils mit einem außergewöhnlichen Line-up aufwarten konnten", fügt Haynes hinzu. "Die Auftritte, die in diesem Paket vertreten sind, stammen vom 30-jährigen Jubiläum im Jahr 2018, das an sich schon ein Meilenstein für 'the Jam' war. Seine Bedeutung wird jedoch durch die Tatsache verstärkt, dass wir im darauffolgenden Jahr eine wohlverdiente Pause einlegen würden, mit der festen Absicht, im Jahr 2020 wieder zur Tagesordnung überzugehen, nicht wissend, dass 2020 die COVID-19-Pandemie ausbrechen würde, die nicht nur die Musikbranche, sondern die ganze Welt betraff. Glücklicherweise konnten wir die Veranstaltung 2022 mit einem erstklassigen Line-up wieder aufnehmen und werden sie dieses Jahr mit einem weiteren denkwürdigen Event fortsetzen. Es ist ein tolles Gefühl, wieder dabei zu sein."
Warren Haynes ist ein Eckpfeiler der amerikanischen Musiklandschaft und wird als einer der beeindruckendsten Gitarristen und Sänger unserer Zeit gepriesen. Zu seiner erfolgreichen Karriere gehören seine Auftritte mit der Allman Brothers Band und The Dead sowie als Gründungsmitglied von Gov't Mule. Das von Haynes und Stefani Scamardo produzierte Benefizkonzert Volume 20 ist mehr als nur eine Sammlung von Songs; es ist ein Zeugnis für die Kraft von Musik und Gemeinschaft. Von der künstlerischen Leitung und dem Design von Phil Yarnall bis hin zu den atemberaubenden Fotografien von Jay Blakesberg und Dino Perrucci wurde jede Facette dieser Veröffentlichung sorgfältig ausgearbeitet.
Der 23. Christmas Jam findet dieses Jahr am 09. Dezember statt.
Warren Haynes Presents: The Benefit Concert Volume 20 – Track Listing
Vinyl Volume 1 (2LP Purple)
A1. Greenpoint (Marco Benevento)
A2. Pepper (Marco Benevento)
A3. In Color (Jamey Johnson)
A4. I Think I'll Just Stay Here And Drink (Jamey Johnson)
B1. Medicine (Grace Potter & The Nocturnals)
B2. The Lion The Beast The Beat (Grace Potter & The Nocturnals)
B3. A New Life (Jim James)
B4. State Of The Art (A.E.I.O.U.) (Jim James)
C1. Sweet Emotion (Mike Gordon)
C2. Pendulum (Mike Gordon)
C3. Record Year (Eric Church)
C4. Ain't Wastin' Time No More (Eric Church)
D1. Spanish Boots (Joe Bonamassa)
D2. SWLABR (Joe Bonamassa)
D3. Tea For One > I Can't Quit You Baby (Joe Bonamassa)
Vinyl Volume 2 (2LP Orange)
A1. Play pt 1 (Dave Grohl)
B1. Play pt 2 (Dave Grohl)
C1. Thorazine Shuffle (Gov't Mule)
C2. Million Miles From Yesterday (Gov't Mule feat. Machan Taylor & Mini Carlsson)
C3. Dreams & Songs (Gov't Mule feat. Machan Taylor & Mini Carlsson)
D1. Revolution Come Revolution Go (Gov't Mule)
D2. Rockin' In The Free World > Machine Gun > Rockin' In The Free World (Gov' Mule feat. Dave Grohl)
Vinyl Volume 3 (2LP Blue)
A1. Just Before The Bullets Fly (Warren Haynes)
A2. One (Warren Haynes)
A3. Paris (Ooh La La) (Grace Potter & The Nocturnals feat. Ron Holloway)
B1. I've Seen A Love (Edwin McCain)
B2. Ray Ray's Juke Joint (Jamey Johnson)
B3. Victim (Mike Gordon)
B4. Smoke A Little Smoke (Eric Church)
B5. The Weight (Eric Church)
C1. Here In Spirit (Jim James)
C2. Red Baron (Gov't Mule feat. Ron Holloway & Mike Barnes)
C3. Soulshine (Warren Haynes)
D1. Us And Them (Gov't Mule feat. Jim James)
D2. Any Colour You Like (Gov't Mule)
D3. Welcome To The Machine (Gov't Mule)
Vinyl Volume 4 (2LP Red)
A1. Glory Road (Warren Haynes feat. Ray Sisk)
A2. I'm Telling You (Planet of the Abts)
A3. Underground Umbrella (Kevn Kinney, Jamey Johnson & Christmas Jam Band)
A4. Straight To Hell (Kevn Kinney, Jamey Johnson & Christmas Jam Band)
B1. 1000 Black Birds (Tyler Ramsey)
B2. The Nightbird (Tyler Ramsey)
B3. If Heartaches Were Nickels (Warren Haynes & Joe Bonamassa)
B4. Crazy Sometimes (Mike Gordon & Scott Murawski)
C1. Captured (Warren Haynes & Jim James)
C2. Gold Dust Woman (Warren Haynes, Jim James & Grace Potter)
C3. Times Like These (Dave Grohl & Warren Haynes)
C4. Everlong (Dave Grohl)
D1. Time > Breathe (Reprise) (Gov't Mule)
D2. Money (Gov't Mule)
D3. Comfortably Numb (Gov't Mule)
2CD + DVD
CD 1:
1. Greenpoint (Marco Benevento)
2. Pepper (Marco Benevento)
3. Ray Ray's Juke Joint (Jamey Johnson)
4. In Color (Jamey Johnson)
5. The Lion The Beast The Beat (Grace Potter & The Nocturnals)
6. Good Times Bad Times > Paris (Ooh La La) (Grace Potter & The Nocturnals feat. Ron Holloway)
7. Sweet Emotion (Mike Gordon)
8. Pendulum (Mike Gordon)
9. A New Life (Jim James)
10. State Of The Art (A.E.I.O.U.) (Jim James)
11. Record Year (Eric Church)
12. Ain't Wastin' Time No More (Eric Church)
13. The Weight (Eric Church)
CD 2:
1. Spanish Boots (Joe Bonamassa)
2. Tea For One > I Can't Quit You Baby (Joe Bonamassa)
3. Play (Dave Grohl)
4. Revolution Come Revolution Go (Gov't Mule)
5. Million Miles From Yesterday (Gov't Mule feat. Machan Taylor & Mini Carlsson)
6. Rockin' In The Free World > Machine Gun > Rockin' In The Free World (Gov' Mule feat. Dave Grohl)
DVD:
1. Greenpoint (Marco Benevento)
2. Ray Ray's Juke Joint (Jamey Johnson)
3. In Color (Jamey Johnson)
4. Medicine (Grace Potter & The Nocturnals)
5. The Lion The Beast The Beat (Grace Potter & The Nocturnals)
6. Sweet Emotion (Mike Gordon)
7. Pendulum (Mike Gordon)
8. A New Life (Jim James)
9. State Of The Art (A.E.I.O.U.) (Jim James)
10. Record Year (Eric Church)
11. Ain't Wastin' Time No More (Eric Church)
12. Spanish Boots (Joe Bonamassa)
13. SWLABR (Joe Bonamassa)
14. Play (Dave Grohl)
15. Revolution Come Revolution Go (Gov't Mule)
16. Million Miles From Yesterday (Gov't Mule feat. Machan Taylor & Mini Carlsson)
3CD + 2 Blu-ray
CD 1:
1. Greenpoint (Marco Benevento)
2. Pepper (Marco Benevento)
3. Ray Ray's Juke Joint (Jamey Johnson)
4. In Color (Jamey Johnson)
5. The Lion The Beast The Beat (Grace Potter & The Nocturnals)
6. Good Times Bad Times > Paris (Ooh La La) (Grace Potter & The Nocturnals feat. Ron Holloway)
7. Sweet Emotion (Mike Gordon)
8. Pendulum (Mike Gordon)
9. A New Life (Jim James)
10. State Of The Art (A.E.I.O.U.) (Jim James)
11. Record Year (Eric Church)
12. Ain't Wastin' Time No More (Eric Church)
13. The Weight (Eric Church)
CD 2:
1. Spanish Boots (Joe Bonamassa)
2. Tea For One > I Can't Quit You Baby (Joe Bonamassa)
3. Play (Dave Grohl)
4. Revolution Come Revolution Go (Gov't Mule)
5. Million Miles From Yesterday (Gov't Mule feat. Machan Taylor & Mini Carlsson)
6. Rockin' In The Free World > Machine Gun > Rockin' In The Free World (Gov' Mule feat. Dave Grohl)
CD 3:
1. Captured (Warren Haynes & Jim James)
2. Gold Dust Woman (Warren Haynes, Jim James & Grace Potter)
3. Underground Umbrella (Kevn Kinney, Jamey Johnson & Christmas Jam Band)
4. Honeysuckle Blue (Kevn Kinney, Jamey Johnson & Christmas Jam Band)
5. 1000 Black Birds (Tyler Ramsey)
6. I've Seen A Love (Edwin McCain)
7. I'm Telling You (Planet of the Abts)
8. Times Like These (Dave Grohl & Warren Haynes)
9. Everlong (Dave Grohl)
10. Us And Them (Gov't Mule feat. Jim James)
11. Any Colour You Like (Gov't Mule)
12. Comfortably Numb (Gov't Mule)
Blu-ray 1:
1. Just Before The Bullets Fly (Warren Haynes)
2. One (Warren Haynes)
3. Soulshine (Warren Haynes)
4. Greenpoint (Marco Benevento)
5. Pepper (Marco Benevento)
6. Ray Ray's Juke Joint (Jamey Johnson)
7. In Color (Jamey Johnson)
8. I Think I'll Just Stay Here And Drink (Jamey Johnson)
9. Medicine (Grace Potter & The Nocturnals)
10. The Lion The Beast The Beat (Grace Potter & The Nocturnals)
11. Good Times Bad Times > Paris (Ooh La La) (Grace Potter & The Nocturnals feat. Ron Holloway)
12. Victim (Mike Gordon)
13. Sweet Emotion (Mike Gordon)
14. Pendulum (Mike Gordon)
15. Here In Spirit (Jim James)
16. A New Life (Jim James)
17. State Of The Art (A.E.I.O.U.) (Jim James)
18. Record Year (Eric Church)
19. Smoke A Little Smoke (Eric Church)
20. Ain't Wastin' Time No More (Eric Church)
21. The Weight (Eric Church)
22. Glory Road (Warren Haynes feat. Ray Sisk)
23. Spanish Boots (Joe Bonamassa)
24. SWLABR (Joe Bonamassa)
25. Tea For One > I Can't Quit You Baby (Joe Bonamassa)
26. Play (Dave Grohl)
27. Thorazine Shuffle (Gov't Mule)
28. Revolution Come Revolution Go (Gov't Mule)
29. Million Miles From Yesterday (Gov't Mule feat. Machan Taylor & Mini Carlsson)
30. Dreams & Songs (Gov't Mule feat. Machan Taylor & Mini Carlsson)
31. Red Baron (Gov't Mule feat. Ron Holloway & Mike Barnes)
32. Rockin' In The Free World > Machine Gun > Rockin' In The Free World (Gov' Mule feat. Dave Grohl)
Blu-ray 2:
1. If Heartaches Were Nickels (Warren Haynes & Joe Bonamassa)
2. 1000 Black Birds (Tyler Ramsey)
3. 1000 Black Birds (Tyler Ramsey)
4. Underground Umbrella (Kevn Kinney, Jamey Johnson & Christmas Jam Band)
5. Straight To Hell (Kevn Kinney, Jamey Johnson & Christmas Jam Band)
6. Captured (Warren Haynes & Jim James)
7. Gold Dust Woman (Warren Haynes, Jim James & Grace Potter)
8. Crazy Sometimes (Mike Gordon & Scott Murawski)
9. I've Seen A Love (Edwin McCain)
10. I'm Telling You (Planet of the Abts)
11. Times Like These (Dave Grohl & Warren Haynes)
12. Everlong (Dave Grohl)
13. Time > Breathe (Reprise) (Gov't Mule)
14. Money (Gov't Mule)
15. Us And Them (Gov't Mule feat. Jim James)
16. Any Colour You Like (Gov't Mule)
17. Welcome To The Machine (Gov't Mule)
18. Comfortably Numb (Gov't Mule)
Digital Release
1. Greenpoint (Marco Benevento)
2. Pepper (Marco Benevento)
3. Ray Ray's Juke Joint (Jamey Johnson)
4. In Color (Jamey Johnson)
5. The Lion The Beast The Beat (Grace Potter & The Nocturnals)
6. Good Times Bad Times > Paris (Ooh La La) (Grace Potter & The Nocturnals feat. Ron Holloway)
7. Sweet Emotion (Mike Gordon)
8. Pendulum (Mike Gordon)
9. A New Life (Jim James)
10. State Of The Art (A.E.I.O.U.) (Jim James)
11. Record Year (Eric Church)
12. Ain't Wastin' Time No More (Eric Church)
13. The Weight (Eric Church)
14. Spanish Boots (Joe Bonamassa)
15. Tea For One > I Can't Quit You Baby (Joe Bonamassa)
16. Play (Dave Grohl)
17. Revolution Come Revolution Go (Gov't Mule)
18. Million Miles From Yesterday (Gov't Mule feat. Machan Taylor & Mini Carlsson)
19. Rockin' In The Free World > Machine Gun > Rockin' In The Free World (Gov' Mule feat. Dave Grohl)
20. Captured (Warren Haynes & Jim James)
21. Gold Dust Woman (Warren Haynes, Jim James & Grace Potter)
22. Underground Umbrella (Kevn Kinney, Jamey Johnson & Christmas Jam Band)
23. Honeysuckle Blue (Kevn Kinney, Jamey Johnson & Christmas Jam Band)
24. 1000 Black Birds (Tyler Ramsey)
25. I've Seen A Love (Edwin McCain)
26. I'm Telling You (Planet of the Abts)
27. Times Like These (Dave Grohl & Warren Haynes)
28. Everlong (Dave Grohl)
29. Us And Them (Gov't Mule feat. Jim James)
30. Any Colour You Like (Gov't Mule)
31. Comfortably Numb (Gov't Mule)