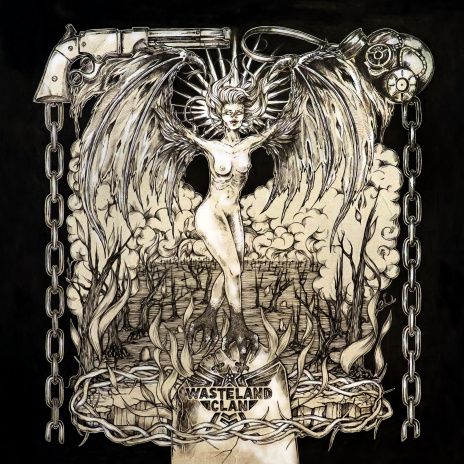 Am 21. April 2023 erscheint über Massacre Records das Debüt Album der Post-Apokalyptischen Metal Band WASTELAND CLAN –  wie der Titel es bereits verrät, The End Of Time läutet das Ende der Zeit ein. Für Front-Dämonin Lilith Fox, Mashl J. (alias der Messias) und ihre drei Propheten Rayzon, Zach Volcanic und Smoky 616 ist es auf The End Of Time an der Zeit, sich ihrer "Bestimmung zu stellen, die Welt zu erlösen" und mit ihrem langerwarteten Debüt ihre Fan-Gemeinde zu vergrößern.
Alles, was nach einer Apokalypse übriggeblieben ist, soll auf dieser Platte vereint sein: Hass und Angst, aber auch Hoffnung, brutale und markerschütternde Drums und betörende Chöre, Geschichten über den Tod, aber auch Führung für die Verlorenen und Ungläubigen. "Die 10 Songs sind jeweils einem der "Neuen 10 Gebote" des WASTELAND CLANs zugeordnet", erklärte die Band erst kürzlich.
Heute erschien eine brandneue Single, "Rising Storm", das Video zum Song läuft ab sofort hier: WASTELAND CLAN – Rising Storm (Official Video) – YouTube
""Rising Storm" ist unser Klagelied, eine Erinnerung an all jene, die vor uns gegangen sind.", so die Band. "Wir begegnen hier einem dunklen Sturm der Trauer und Hoffnungslosigkeit mit starkem Glauben. Wir, die wir tun, was wir tun. Wir tragen die Botschaft in die Welt hinaus. Die Botschaft derer, die in uns weiterleben. Der Tod ist also die wahre Lüge und die Angst vor dem Tod eine Farce. Lang lebe der Clan!"
The End Of Time wurde von WASTELAND CLAN produziert, und von Oliver Schmidt im Sirius Sound Lab gemischt und gemastert. Das Album erscheint als CD Digipak, limitierter Vinyl LP sowie Digitalen Formaten am 21. April 2023 über Massacre Records, Vorbestellungen sind HIER möglich! Das Album Artwork entsprang der Vision von Sängerin Lilith Fox.
The End Of Time Tracklist:
1. The End Of Time
2. Dark Matter
3. Go To Hell
4. Who I Am
5. Revenge
6. Fight Fire With Fire
7. Rising Storm
8. Gods Of War
9. Messiah
10. Emptiness