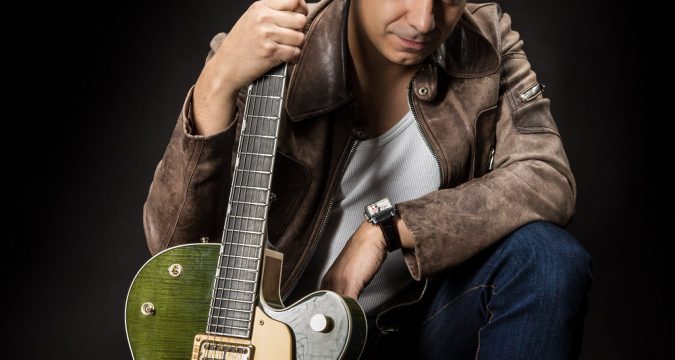 Einen wie ihn, gibt es in Deutschland wohl kein zweites Mal: Adriano Batolba, Gitarrist, Sänger und Komponist, gilt nicht nur hierzulande als Ausnahmetalent in Sachen Rockabilly und Rock'n'Roll. Als Initiator, Sechsaitenberserker, Musical Director und auch Produzent von Dick Brave & The Backbeats hagelte es Preise, Gold und Platin. Peter Kraus, verrockt-verrolltes Teenidol schmachtender Backfische im Wirtschaftswunder-Deutschland zwischen Bravo-Starschnitt, Nierentisch-Romantik und Zehn-Plattenwechsler, heuerte Batolba schon vor Jahren als Sologitarrist für sein Tourensemble. Stilistisch artverwandte Kollegen wie Boppin B. und The Baseballs griffen gerne auf seine Expertise zurück. In der von Moderator Stefan Raab angeführten All-Star-Big-Band, die 2011 das Opening des Eurovision Song Contest in Düsseldorf mit einer granatenscharfen Rockabilly-Version von Lenas Vorjahresgewinnertitel " Satellite" bestritt, durfte Batolba nicht fehlen. Beim 130-jährigen Jubiläum 2013 der untrennbar mit Rockabilly und Rock'n'Roll verbundenen Trade Mark Gretsch Guitars in Deutschland fungierte er als Endorser. Nur der Vollständigkeit halber: Adriano Batolba war auch Wok-Weltmeister.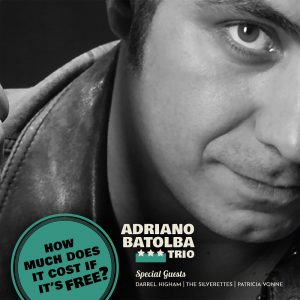 Mit seinem 2009 aus der Taufe gehobenen Adriano Batolba Orchestra veröffentlichte er auf dem hauseigenem Label ToBaGo Records die Alben "Live'n'Loud" (2013) und "Thirteen Renegades" (2016). Für sein aktuelles Projekt Adriano Batolba Trio erprobt er auf dem neuen Album "How Much Does It Cost, If It's Free?" (VÖ 09.08.2019) eine neue Variante: Konzentriert auf Stimme, Gretsch- Gitarre, Kontrabass und Schlagzeug reduzieren sich Erfahrungen und Entwicklungen der vergangenen Jahre hier aufs Wesentliche. Im Gespann mit dem schon bei Dick Brave And The Backbeats bewährten Falko Burkert am Kontrabass, sowie Bernie Weichinger am Schlagzeug, ein Kumpel, mit dem Batolba schon zu Studienzeiten in den Clubs von Amsterdam rockte, fand ein kraftvolles Triumvirat zusammen. Mehr als sechs Dekaden nachdem sich in den USA aus Blues, Jazz, Hillbilly, Boogie Woogie, Jump Blues, Rhythm'n'Blues, Doo Wop, Gospel, Country und Western Swing der Rock'n'Roll entwickelte, demonstriert das Adriano Batolba Trio wie zeitlos frisch dieses Genre noch immer zu klingen vermag. 
Ein Video Interview/ EPK mit ersten musikalischen Eindrücken zum neuen Album "How Much Does It Cost, If It's Free?" gibt es hier: https://youtu.be/6-mpjzVKbF0
Ohne die Hauptmarker Rockabilly und Rock'n'Roll aus den Augen zu verlieren, gratwandert das Dutzend Eigenkompositionen zwischen stilistischer Unversehrtheit und die Genregrenzen überschreitenden Liebäugeleien. Für die durchweg stringente Produktion von Pomez diLorenzo (u.a. Sasha, Cosmo Klein, Ben, Der Wolf, Sammy Deluxe) wurden hochkarätige Gäste gewonnen: Aus der texanischen Austin-San-Antonio-Szene stammt Patricia Vonne, Schwester von Kultregisseur Robert Rodriguez, ehemaliges Mitglied von Tito & Tarantula und auch als Schauspielerin (u.a. "Desperado", "Spy Kids", "Sin City") zugange. Eine Koryphäe in Sachen Rhythm'n'Blues mit bis dato sieben Soloalben, klangveredelt Vonne "Habanera Baby" mit einem Hauch Latin und Tex-Mex. Darrel Higham, britische Rockabilly-Legende (u.a. Kat-Men, The Enforcers, Bob & The Bearcats, Imelda May, Chrissie Hynde, Jeff Beck, Rocky Burnette, Shakin' Stevens), versetzt "Your Last Mistake" mit seinen unnachahmlichen Gitarrenkünsten. Das All-Girl-Trio The Silverettes unterfüttert das politische Statement "How I Roll" mit passioniertem Gospel-Chor. "Forever On My Mind" zeigt countryeske Züge, "Love Means Trouble" reminisziert die großartige US-Psychobilly-Ikone The Cramps und in "Fame" arbeiten ABT augenzwinkernd ihre ruhmreiche Vergangenheit in Dick Brave And The Backbeats auf. Zwei Coverversionen ergänzen die runde Kollektion: Johnny Rivers' Golden Oldie "Secret Agent Man" zitiert das legendäre James-Bond-Thema, der Sun-Records-Klassiker "Just Because" mit Hillybilly-Wurzeln, hebt im Turbo-Tempo ab.
"How Much Does It Cost, If It's Free?" wurde produziert gemeinsam mit Pomez diLorenzo – dem Mann hinter Erfolgskünstlern wie Samy Deluxe, Sasha, Cosmo Klein oder der Wolf – und Live aufgenommen von Kai Lee in den ABAB sowie den Diva Soft Studios Dortmund.
Tracklist Adriano BaTolba Trio – How Much Does It Cost If It's Free ?
01. Last One On My List 3:00 (BaTolba/diLorenzo)
02. Jaqueline 2:28 (Burkert/BaTolba)     
03. Love Means Trouble 3:02 (BaTolba/DiLorenzo)
04. Troublemaker 2:47 (BaTolba/diLorenzo)
05. Your Last Mistake 3:46 -feat Darrel Higham (BaTolba/diLorenzo/Burkert) 
06. Fame 2:48 (Burkert/BaTolba)
07. Just Because 2:30 (Sheldon)
08. Hell Yeah ! 4:34 (BaTolba/diLorenzo/Burkert)
09. How I Roll 2:31 – feat. The Silverettes       (BaTolba/diLorenzo)
12. Been There – Done That 2:33 (Falko Burkert)
11. Habanera Baby 3:49 – feat Patricia Vonne (BaTolba/diLorenzo/Burkert)
12. Cotton In The Barn 2:55 (BaTolba/diLorenzo)
13. Forever On My Mind 3:08 (BaTolba/diLorenzo/Burkert)
14. Secret Agent Man 3:34 (P.F.Sloan/Steve Barri)
Aktuelle Live Dates:
29.06.19 – Extraschicht/ Duisburg
05.07.19 – Firebirds Festival/ Trebsen
08.08.19 – SoL Kulturbar – CD Release – Mülheim – tbc
17.08.19 – Gala Backbeat/ Berlin
22.08.19 – Soundgarten Sauerlandpark/ Hemer
23.08.19- Haus am Wald/ Bremen