Wir verschieben das ACFMF auf Mai 2022!
Klar ist: Eure Karten sind bis zu dem ACFMF gültig, welches stattfindet!
Wie ihr euch sicher denken könnt, haben wir uns diese Entscheidung nicht leicht gemacht,
aber alles andere ist unrealistisch und mit (zu) viel Aufwand –bei bleibender Ungewissheit- verbunden. DANKE für euer Verständnis!
Wir haben noch ein paar Tickets für das ACFMF 2022.
Schreibt einfach eine E-Mail (headquarter@acfm.info) und die Sache läuft.
Termin ACFMF 2022: 06.05.22+07.05.22.
Alles weitere dann die Tage auf unseren Kanälen.
#DIEWIESEMUSSGRÜNSEIN    #OHNEMETALMACHTESKEINENSPASS
Wir hoffen nun stark, dass das Ironhammer Festival (Sa. 11.09.2021) statt finden kann!
Event ACFMF 2022 auf Facebook: https://www.facebook.com/events/379153429295401/
(Ladet bitte paar Leute ein. Danke.)
Weitere Infos folgen! DANKE für euer Vertrauen und eure Unterstützung!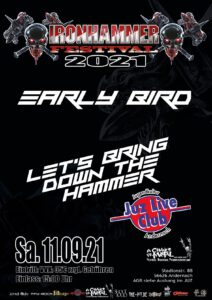 IRONHAMMER FESTIVAL Sa. 11.09.2021:
Es gibt zurzeit noch eine kleine Anzahl an "Early Bird- Tickets" für das IRONHAMMER FESTIVAL.
Wir denken, dass wir in den nächsten Wochen das Billing veröffentlichen werden.
Auch bei diesem Festival erarbeiten wir zur Zeit viele Optionen, um den Hammer ein weiteres Mal mit euch kreisen zu lassen!
Event IHF 2021 auf Facebook: https://www.facebook.com/events/978246189188554/
(Ladet bitte paar Leute ein. Danke.)
Shows im JUZ Live Club / Andernach:
Stand Heute ist es nicht absehbar, wann und wie es konkret mit den Club- Shows weiter gehen kann.
Wir befinden und dauerhaft im Austausch mit den Bands und deren Ansprechpartner*innen.
Auch hier arbeiten alle Akteure Hand in Hand.
Wir werden uns über die ACFM- Kanäle melden, sobald was spruchreif ist.
ACFM- Records:
Für alle aufstrebenden Bands haben wir "ACFM- wants you" initiiert.
Eine Vorauswahl ist getroffen.
Ab dem 07.04.2021 könnt ihr auf der Facebook & Instagram- Seite von ACFM mit abstimmen.
Mit unserem Label haben wir für dieses Jahr noch paar schöne Kracher am Start!
Wir werden versuchen die Labelarbeit 2021 deutlich zu intensivieren.
Es wäre super, wenn ihr uns in der Richtung unterstützen würdet.
Alle bereits veröffentlichten Produktionen, aber auch die kommenden könnt ihr ganz "easy" per Mail bestellen.
Folgende Veröffentlichungen sind geplant (oder bereits 2021 gelaufen):
STEELPREACHER- "Back From Hell": Releasedate: 08.05.2021 
(Vorbestellung ab sofort möglich.) 
In Kürze dann auch im Fachhandel zu erwerben.
"Masters Of The Underground" 
Secutor, Dragonsfire, Steelpreacher: Live in Andernach- 
Auf allen Streamingplattformen als Audiodatei: Releasedate: 03.03.2021
Download & Streaming: https://www.feiyr.com/x/BR29T
Alle gelaufenen Releases findet ihr im ACFM- Shop bzw. unter ACFM- Records.