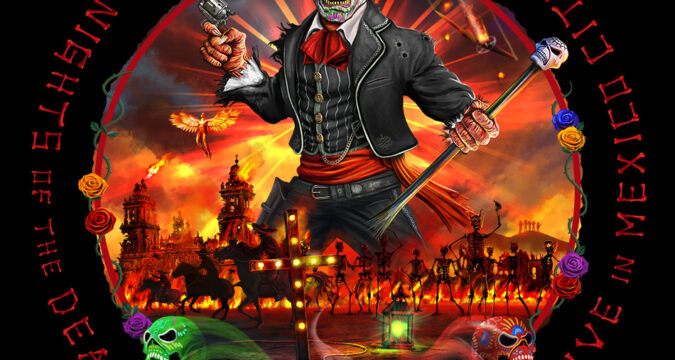 Ihren diesjährigen Abschluss der "Legacy Of The Beast"-Tour in Europa mussten Iron Maiden Corona-bedingt auf 2021 verschieben, doch die britischen Metal-Ikonen haben sich etwas Schönes einfallen lassen, um die Wartezeit zu überbrücken: Am 20. November erscheint ein neues Live-Doppelalbum, das den Titel "Nights Of The Dead – Legacy Of The Beast, Live in Mexico City" trägt und über 100 Minuten voller Iron-Maiden-Klassiker enthält. Das Material wurde während der drei ausverkauften Stadionkonzerte aufgenommen, die Iron Maiden im September 2019 spielten und setzt der "Legacy Of The Beast"-Welttournee ein Denkmal, die 2018 begann und kommenden Sommer in Europa zu Ende geht, darunter auch mit vier Konzerten in Deutschland (siehe unten).
Das Tracklisting lautet:
Churchill's Speech
Aces High
Where Eagles Dare
2 Minutes To Midnight
The Clansman
The Trooper
Revelations
For The Greater Good Of God
The Wicker Man
Sign Of The Cross
Flight Of Icarus
Fear Of The Dark
Iron Maiden
The Number Of The Beast
The Evil That Men Do
Hallowed Be Thy Name
Run To The Hills
Steve Harris, Gründer und Bassist von Iron Maiden, kommentiert: "Als der letzte Abschnitt unserer Legacy-Tour 2020 infolge der Covid-Pandemie abgesagt werden musste, war die ganze Band sehr enttäuscht und ernüchtert und wir wussten, dass es unseren Fans ähnlich geht. Wir hatten uns sehr darauf gefreut, die Show in noch mehr Länder zu bringen und obwohl wir in der Lage waren, den Großteil unserer eigenen Europa-Konzerte auf 2021 zu verlegen, dachten wir uns: hören wir doch mal die Aufnahmen unserer bisherigen Tour an und schauen, ob wir ein endgültiges Live-Album-Andenken erschaffen können, dass ein jeder an jedem Ort genießen kann. Ich bin mit den Ergebnissen sehr zufrieden, besonders, da die Setlist Songs enthält, die zuvor noch auf keiner Live-CD zu finden waren, beispielsweise 'For The Greater Good Of God', und andere ältere Songs wie 'Where Eagles Dare', 'Flight Of Icarus', 'The Clansman' und 'Sign Of The Cross', die seit vielen Jahren nicht mehr Teil unseres Live-Sets waren. Wir haben noch nie ein Live-Album aus Mexiko veröffentlicht und ich finde, diese Aufnahmen werden der Leidenschaft und Freude unserer mexikanischen Fans gerecht, die uns stets einen fantastischen Empfang bereiten, wann immer wir dort spielen."
Maiden-Manager Rod Smallwood fügt hinzu: "Sämtliche Konzerte der bisherigen Tour waren großartig und unsere Fans haben das ganze 'Legacy'-Spektakel mit den sorgsam thematisch gestalteten Bühnen, Requisiten und Vorhängen geliebt, ganz zu schweigen von ihrer mörderisch guten Setlist! Als unsere 2020er-Tour abgesagt wurde, erschien es nur logisch, ein Live-Album zusammenzustellen, und ich denke, dass Steve zusammen mit Co-Produzent Tony Newton die Essenz der 70.000 Zuschauer starken Menge an drei Abenden in Mexiko-Stadt perfekt eingefangen hat. Das Album ist sowohl als Feier dieser Tour gedacht, die schon fast zwei Millionen Fans gesehen haben, als auch ein Vorgeschmack auf, hoffentlich, die Zielgerade im kommenden Jahr für all jene, die bisher die Tour nicht erlebt haben."
Das Album wird in drei Formaten erscheinen: 
–           Digipack 2CD
–           Deluxe Hardcover-Buch 2CD
–           Dreifaches schwarzes Heavyweight Vinyl
–           Digital (Streaming und Download).
Und hier sind die deutschen Live-Termine von Iron Maiden in 2021: 
13.06.21. Berlin, Bürgerweide
26.06.21 Stuttgart, Mercedes-Benz-Arena
30.06.21 Berlin, Waldbühne
08.07.21 Köln, Rhein-Energie-Stadion