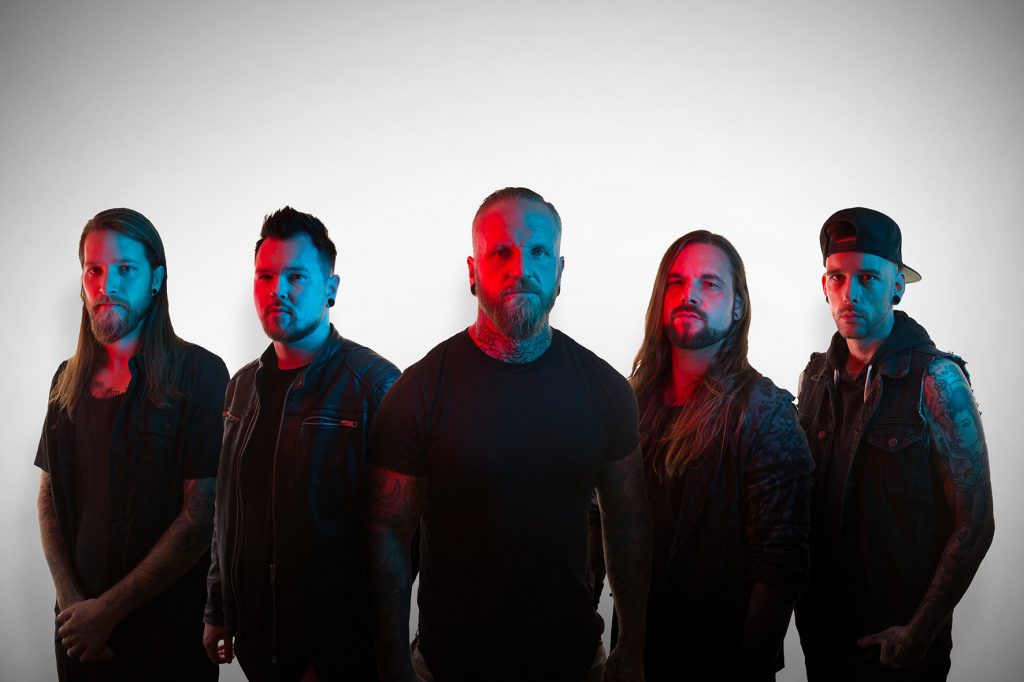 Die Metal Shooting Stars ANY GIVEN DAY aus dem Herzen des Ruhrgebiets veröffentlichen heute ihr brandneues und von den Kritikern stark gelobtes Album »Overpower«. Das Album ist ab sofort überall erhältlich! Zur feier sind die Jungs im April auf ihrer großen Album Release-Tour durch Deutschland unterwegs und haben zwei Signing-Sessions/Release-Partys für euch am 16.03. und 20.03 diesen Monat parat!

Als CD, Vinyl und limitiertes deluxe edition Boxset erhältlich!
Kauft euch das neue Album »Overpower« jetzt hier: https://AnyGivenDay.lnk.to/Overpower

"We couldn't be more proud of our new studio album. We've put all of our heart and energy in this record and we hope you will love it and feel it as we do!" – ANY GIVEN DAY


Pressestimmen:

"Harte Riffs und mitreißende Refrains" – metal.de

"…plakativ könnte man die Ruhrpöttler mit "Overpower" als deutsche Antwort auf Five Finger Death Punch bezeichnen, die ähnlich eingängig zu Werke gehen (…) – besonders die beiden Singles ´Loveless´ und ´Savior´ (der Chorus hat was von Evergrey) sind grandios. "Overpower" ist der nächste große Schritt!" – Marcus Schleutermann / Rock Hard

"Auch für den internationalen Wettbewerb bringt "Overpower" alles mit, was es braucht, um Hörer zu überzeugen und mitzureißen. Für den Moment treiben ANY GIVEN DAY ihren Modern-Metalcore-Ansatz auf die Spitze. Es bleibt abzuwarten, wie ihr weiterer Entwicklungspfad aussehen wird. Bis dahin: genießen!" – Arne / LEGACY

"… machen insgesamt mächtig Eindruck und manifestieren den steilen Aufstieg von ANY GIVEN DAY zu einem der ganz großen Acts im Metalcore." – Dieter Hübing / Sonic Seducer

"In diesen Tagen erscheint mit "Overpower" das dritte Album. Es verbindet brutale Aggression mit eindringlichen Melodien. Die Scheibe lebt von knallenden Gitarrenriffs, dem Blitz und Donner von Bass und Schlagzeug sowie der einzigartigen Stimme von Vokalist Dennis Diehl, der growlen und sauber singen kann. Der Mann von der Statur eines Obelix (ungelogen!) ist ein Riesentalent." – Henning Richter / SCHALL Magazin

"Fazit: Überwältigend. Overpower hat das Potential, die Replay-Taste zu überfordern." – Martina Wutscher / ORKUS!


Milton Keynes HEART OF A COWARD und TENSIDE aus München werden die Band auf ihren fünf Shows durch Deutschland begleiten! Zusätzlich haben die Jungs eine weitere Show in der Schweiz hinzugefügt.

»ANY GIVEN DAY Release Tour 2019«
Plus Special Guest HEART OF A COWARD, TENSIDE
29.03.2019 Aarau, Kiff (CH)
10.04.2019 Hamburg, Logo *SOLD OUT
11.04.2019 Berlin, Musik & Frieden
12.04.2019 Frankfurt, Das Bett 'SOLD OUT
13.04.2019 Oberhausen, Impericon Festival
14.04.2019 München, Backstage Halle

Tickets: http://geni.us/AnyGivenDayTour

Signing-Session/Release Partys an folgenden Tagen:
16.03.2019 – 18:00 Uhr:
EMP Leipzig
Brühl 10
04109 Leipzig

16.03.2019 – 23:00 Uhr
Morecore Party
Moritzbastei
Kurt-Masur-Platz 1
04109 Leipzig

20.03.2019 – 17:00 Uhr
EMP Essen
Limbecker Str. 6
45127 Essen


Mehr von »Overpower«:
'Lonewolf' offizielles Video: https://itunes.apple.com/us/video/lonewolf/id1453991363?l=de&ls=1
'Loveless' offizielles Video: https://youtu.be/2cpaHJY0rpE
'Savior' offizielles Video: https://youtu.be/Z1C4lrcQBZw

»Overpower« tracklist:
01. Start Over
02. Loveless
03. Savior
04. Taking Over Me
05. Lonewolf
06. Devil Inside
07. Sure To Fail
08. In Deafening Silence
09. Whatever It Takes
10. Fear
11. Never Surrender


Auch wenn sie aus Deutschland kommen, so leben ANY GIVEN DAY doch den amerikanischen Traum. 2012 gegründet, haben sie 2014 mit dem Debüt »My Longest Way Home« (#28 in den deutschen Album Charts) bereits für großes Aufsehen sorgen können und mit ihrem 2016er Album »Everlasting« (#14 in den Charts) gezeigt, dass sie mehr als nur ein Internet-Phänomen sind. Heute können ANY GIVEN DAY auf unzählige Tourneen und Shows auf Bühnen jedweder Größe mit Genre-Koryphäen wie CALIBAN, BURY TOMORROW, TRIVIUM oder SUICIDE SILENCE sowie euphorische Publikumsreaktionen und eine exponentiell angewachsene Gefolgschaft blicken, die die Band bei jeder sich bietenden Gelegenheit frenetisch feiert.

Auf »Overpower« haben ANY GIVEN DAY ihren einzigartigen Mix aus unaufhaltbarer Brutalität, eindringlichen Melodien und unglaublicher Catchiness perfektioniert. Umgeben von dem großartigen musikalischen Können seiner Bandkollegen, lehrt der einmalige Dennis Diehl (Sänger, Growls & Clean) mit seiner einzigartigen Stimme und epischen Gesangslinien jeden amerikanischen Radio-Rock-Sänger das Fürchten. Nehmt egal welchen Song des Albums und ihr bekommt walzende in-die-Schnauze-Modern-Metal-Gewalt mit epischen Spannungsbögen, die die Basis für die Klasse von »Overpower« bilden – und dabei immer eine aufbauende, positive Message bereithalten.

Die ersten beiden Singles, 'Savior' und 'Loveless' handeln nicht nur – auf ihre eigene, unverwechselbare Weise – davon, in sich zu gehen oder sich zu befreien; sie stehen auch ziemlich genau dafür, worum es auf »Overpower« in dessen Gänze geht; musikalisch wie auch lyrisch. So auch im außergewöhnlichen, heftigen und zugleich motivierenden Track 'Lonewolf': "Metaphorisch in der Gestalt des Wolfes dargestellt, geht es um einen Aussenseiter, der von der Gruppe ausgeschlossen wurde und sich alleine durchbeissen muss. Dieses Thema ist heutzutage leider keine Seltenheit, was uns dazu bewegte, es in einem Song anzusprechen."

Absolute musikalische Gewalt, echte Emotionen und eine einzigartige, frische Herangehensweise an harte moderne Musik sind es, was ANY GIVEN DAY ausmachen und was sie wie keine zweite Band können.

»Overpower« ist programmatisch. »Overpower« ist das perfekte Album.