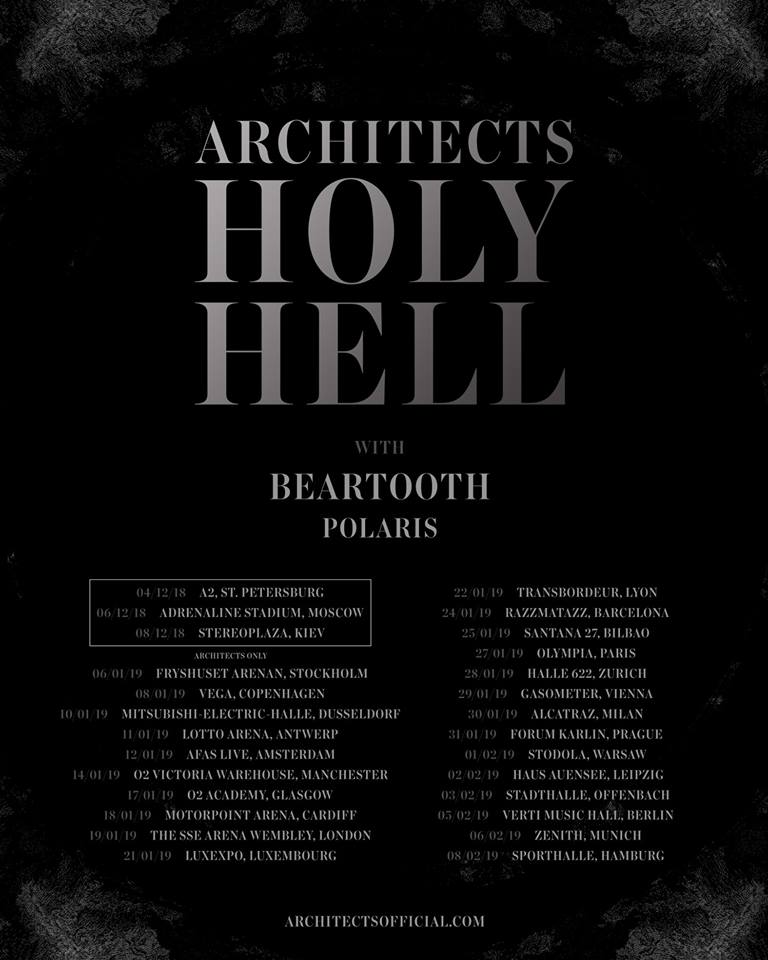 Architects kommen 2019 zurück auf Deutschland-Tour und haben ordentlich Verstärkung angekündigt: Bei den sechs Architects Deutschland-Konzerten sind Beartooth & Polaris als Support mit dabei.
Wenn du immer auf dem Laufenden bleiben möchtest, sobald neue Architects Konzerte in Deutschland angekündigt werden, melde dich für unseren Newsletter an:
Architects erfinden sich immer wieder neu. Die britische Metalcore-Band hat auf ihren Alben stilistisch bereits viel ausprobiert. Von Metalcore, über Methcore, bis hin zu Post-Hardcore und Progressive Metal begeistert die britische Band ihre Fans nun schon seit 2004. Auch vor mehreren Namenswechseln schreckte die experimentierfreudige Gruppe nicht zurück.
2007 veröffentlichte die Band "Ruin", das sich im Metalcore-Genre schnell etablierte. Es folgten die Alben "Hollow Crown" (2009), "The Here And Now" (2011) und "Daybreaker" (2012), welche es Architects erlaubten, ihren internationalen Bekanntheitsgrad zu steigern. Spätestens seit dem Album "Lost Forever // Lost Together" ist die Band weltweit erfolgreich. Das im März 2015 erschienene Werk sicherte Architects Plätze in den Top 40 Charts in Deutschland und in England sogar Platz 16.
Eine durch Crowdfunding finanzierte Architects Dokumentation wurde im Herbst 2015 veröffentlicht und erlaubte Fans intime Einblicke in das Tour-Leben von Frontman Matt Johnson und seinen Bandkollegen. 2016 erschien das mittlerweile siebte Album "All Our Gods Have Abandoned Us", das in Göteborg entstand und mit rhythmischer Experimentierfreudigkeit und einem düstereren und härteren Klang daherkam.
Zuletzt erschien 2016 ihr siebtes Album "All Our Gods Have Abandoned Us" und ist dabei das bislang erfolgreichste Werk der Band. Im Januar 2018 waren Architects auf Tour in Deutschland unterwegs, wo sie zusammen mit Special-Guest While She Sleeps einige Konzerte spielten. Architects Tickets sind bei Ticketmaster erhältlich.