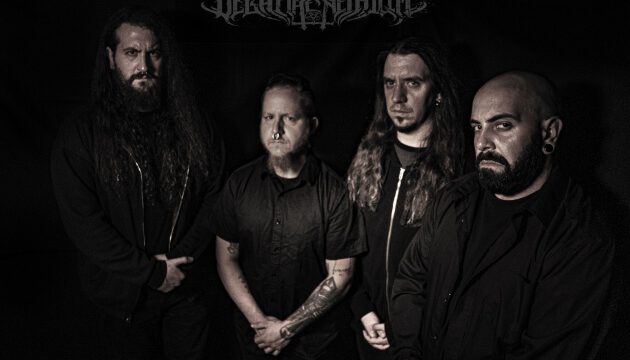 Die im südlichen New Hampshire, USA beheimateten Blackened Melodic Death Metaller BEGAT THE NEPHILIM haben ihr weltweites Signing bei Noble Demon bekannt gegeben und werden im Herbst 2021 ein neues Album veröffentlichen!
BEGAT THE NEPHILIM wurden 2012 gegründet und haben eine intensive und unverkennbare Laufbahn hingelegt, in der sie die Bühne mit bekannten Acts wie SOULFLY, SUICIDE SILENCE, NAPALM DEATH, SUFFOCATION, MORBID ANGEL oder vielen anderen teilten und an namhaften Touren/Festivals in den USA, wie Summer Slaughter und dem New England Metal and Hardcore Festival, teilnahmen. Mit ihrem drückenden und doch melodischen und technisch beeindruckenden Sound, sowie ihren frenetischen und chaotischen Live-Auftritten, hat die Band bereits vielerorts einen bleibenden Eindruck hinterlassen können und sich einen renommierten Namen in der Szene erspielt.
Das mit Spannung erwartete zweite Album von BEGAT THE NEPHILIM, mit dem Titel "II: The Grand Procession", erscheint am 29. Oktober via Noble Demon. Einen ersten, imposanten Einblick in die neue Platte gibt es mit dem Lyric-Video zu "Paupers Grave".
Begat The Nephilim – Paupers Grave (Official Lyric Video) Blackened Death Metal | Noble Demon – YouTube
"Dieser Song ist wahrscheinlich der politischste, den wir je schreiben werden, obwohl er von einem neutralen Standpunkt aus geschrieben wurde, so dass er mit den Augen jeder politischen Zugehörigkeit betrachtet werden kann, unabhängig davon, wo im Spektrum man sich befindet. Es scheint, dass die Linse, durch die die Menschen einander in letzter Zeit wahrnehmen, insbesondere politische "Gegner", oft von Verachtung bis hin zu Hass für einander reicht; und es gibt nur selten die Möglichkeit, einen Mittelweg oder Kompromiss zu finden", erklärt die Band.
"II: The Grand Procession" erscheint am 29. Oktober und kann HIER gepresaved werden.
BEGAT THE NEPHILIM auf Tour mit 

DEICIDE, KATAKLYSM, INTERNAL BLEEDING

:
08/05 Orphium – Tampa, FL
08/06 Abbey – Orlando, FL
08/07 Masquerade (Hell) Atlanta, GA
08/09 Scout Bar – Houston, TX
08/10 Come and Take it Live – Austin, TX
08/11 Trees – Dallas, TX
08/12 Sunshine Theater – Albuquerque, NM
08/13 Nile Theater – Mesa, AZ
08/14 1720 – Los Angeles, CA
08/15 Brick by Brick – San Diego, CA Goldfield
08/16 Trading Post – Roseville, CA
08/18 Mesa Theater – Grand Junction, CO
08/19 Metro Music Hall – Salt Lake City, UT
08/20 Marquis Theater – Denver, CO
08/21 The Riot Room – Kansas City, MO
08/22 Reggie's – Chicago, IL
08/23 The Sanctuary – Detroit, MI
08/24 The Crafthouse – Pittsburgh, PA
08/25 Dingbatz – Clifton, NJ
08/26 Jewel Nightclub – Manchester, NH
08/27 Brooklyn Monarch – Brooklyn, NY
08/28 Baltimore Soundstage – Baltimore, MD
08/29 Ground Zero – Spartanburg, SC