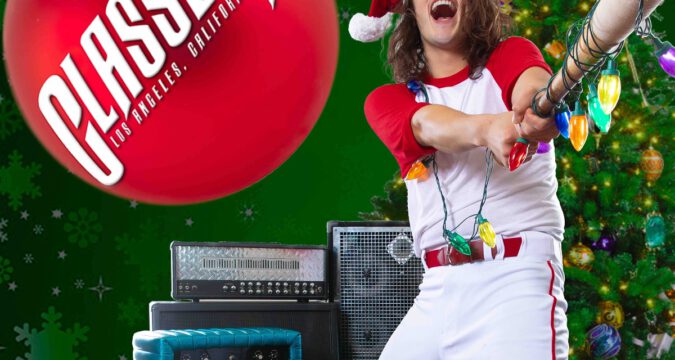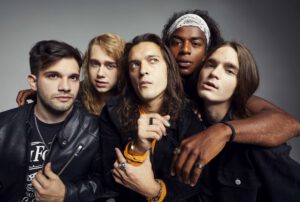 Classless Act werden Mötley Crüe und Def Leppard auf ihrer 2022 US Stadion Tour begleiten
Debüt Album kommt im nächsten Jahr 
"CLASSLESS ACT stands ready to carve out a legacy of its own." – Blabbermouth
Classless Act bescheren euch heute mit ihre Coverversion von "It's The Most Wonderful Time Of The Year" über Better Noise Music eine rockige (Vor-) Weihnachtszeit. Das Musikvideo zum Song wurde vom Film Bad Santa inspiriert. Ihre Version des Weihnachtsklassikers bleibt ihren klassischen Rockwurzeln treu und bringt Abwechslung in die Weihnachts-Playlist. Um in rockige Weihnachtsstimmung zu kommen, könnt ihr "It's The Most Wonderful Time Of The Year" HIER streamen und auf allen digitalen Plattformen herunterladen.
Leadsänger Derek Day über den neuen Song: "The boys and I all love AC/DC.  We all love Queen. And we all love Christmas.  And what happens at 3 in the morning on a Saturday when we put them all in a blender…along with a few other key ingredients? Voilà!"
Die Band versprüht auch im offiziellen Musikvideo zu "It's The Most Wonderful Time Of The Year" eine unbeschwerte Stimmung. Unter der Regie von John Orphan und mit Jeff Hilliard in der Hauptrolle folgt das Video einem alkoholisierten Weihnachtsmann, der versucht, sich an die schmutzigen Details der vergangenen Nacht zu erinnern, die in einem Kampf mit einem anderen Weihnachtsmann gipfelte.
Die Branche ist begeistert von der aufstrebenden Karriere von Classless Act. Hollywood Life über die Debütsingle der Band: ""Rock is having a moment in 2021, and one of the groups leading the sound's resurgence is Los Angeles' Classless Act, who just made their first impression by kicking down the door to your earbuds with their debut single, "Give It To Me.""  Das Musik Video gibt es HIER zu sehen. Die Band wird nächstes Jahr zusammen mit Mötley Crüeund Def Leppard auf ihrer Stadiontournee durch Nordamerika unterwegs sein. Doch das ist noch nicht alles! Classless Fans können sich 2022 ein vollgepacktes Jahr freuen, denn das Debütalbum der Band wird ebenfalls im nächsten Jahr erwartet. Weitere Infos gibt es hier: https://classlessact.com/
ÜBER CLASSLESS ACT
Für ihre im Sommer 2021 veröffentlichte Debütsingle "Give It To Me", wurden Classless Act sofort für die Fähigkeit gelobt, sowohl frisch als auch zeitlos zu klingen. Loudwire nahm den Song in seine Spotify-Playlist "Weekly Wire" auf und bezeichnete ihn als eine der Top-Neuerscheinungen des Sommers. Auch andere renommierte Magazine wie das SPIN Magazine zeigten schon früh ihre Unterstützung. Es war eine passende öffentliche Einführung für eine Band, die verkörpert, was es bedeutet moderne Rockstars zu sein.
Gegründet wurden Classless Act, die aus Derek Day (Gesang), Dane Pieper (Gitarre), Griffin Tucker (Gitarre), Franco Gravante (Bass) und Chuck McKissock (Schlagzeug) bestehen, im Jahr 2018, nachdem sie sich durch ihre Liebe und Leidenschaft zur Musik virtuell verbunden hatten. Inspiriert von klassischen Rock Acts der 70er und Alt Rock Gruppen der 90er Jahre haben sie sich nun in Los Angeles zusammengefunden, mit der Mission, der nächste große generationsbestimmende Act zu werden. Ihre Musik erinnert an die Merkmale früherer Generationen – hymnische Rhythmen, schreddernde Gitarren, beflügelnder Gesang – aber sie bahnt sich ihren Weg in die Zukunft mit cleveren Arrangements, scharfsinnigen musikalischen Skills und gekonntem Songwriting.
Die Band hat sich in der Branche bereits einen Namen gemacht und war mit Weltklasse-Produzenten wie Bob Rock, Michael Beinhorn und Joe Chiccarrelli im Studio, die bereits an Hits für Bands wie The Red Hot Chili Peppers, Metallica, Soundgarden und The White Stripes beteiligt waren. Die Band hat vor kurzem einen Vertrag mit Better Noise Music (Mediabase und Billboard's #1 Rock Label für 2020) unterschrieben. Ihr Debütalbum wird 2022 erwartet, wenn sie unter anderem Mötley Crüe und Def Leppard auf ihrer Nordamerika Sommer Stadion Tour begleiten werden.