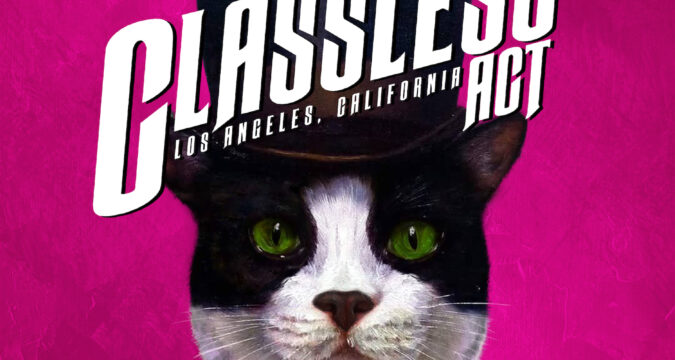 "CLASSLESS ACT stands ready to carve out a legacy of its own." – Blabbermouth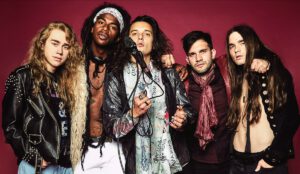 Classless Act werden bereits für ihren einzigartigen Stil und ihre Entwicklungsgeschichte gefeiert. Heute hat die aus Los Angeles stammende Band ihre mit Spannung erwartete Debüt Single "Give It To Me" über Better Noise Music veröffentlicht. Der Track wurde vom legendären Produzenten Joe Chicarelli, der bereits mit einer Vielzahl von Musikikonen wie U2, Elton John, White Stripes und The Killers zusammengearbeitet hat, produziert und gemixt. Mit seinen verspielten Lyrics und dem ansteckenden, modernen Glam-Rock Sound ist "Give It To Me" nicht nur perfekt für jede Sommer-Playlist, sondern auch eine passende erste Singleveröffentlichung für eine Band, die ihren eigenen Weg geht und gleichzeitig viele klassische Rock-Einflüssen verkörpert. "Give It To Me" ist ab sofort auf allen digitalen Plattformen erhältlich.
Gegründet wurden Classless Act, die aus Derek Day (Gesang), Dane Pieper (Gitarre), Griffin Tucker (Gitarre), Franco Gravante (Bass) und Chuck McKissock (Schlagzeug) bestehen, im Jahr 2019 über Social Media. Anstelle von alten Methoden zur Bandgründung aus der Blütezeit der Rockmusik – durch Stellenanzeigen und Konzert Bekanntschaften – baute die Band stattdessen eine Freundschaft auf, die hauptsächlich aus DMs und anderem digitalen Austausch via Instagram und TikTok bestand. Diese Verbindung wurde vertieft, während sie in ihrer Heimatstadt Los Angeles an neuer Musik arbeiteten. Ihre gemeinsame künstlerische Vision führte dazu, dass sie einen Deal mit Better Noise Music (Zur Zeit Billboard's #1 Rocklabel), unterzeichneten, um ihre Musik einem breiten und internationalen Publikum zu präsentieren. Eine Debüt EP ist für Herbst 2021 in Planung. Die Band wird zudem im nächsten Jahr Mötley Crüe und Def Leppard auf ihrer US Stadion Tournee als Support begleiten.
Leadsänger Derek Day über die Veröffentlichung der Debüt Single: "Es ist ein wahr gewordener Traum für Classless Act ein Teil der Better Noise Familie zu sein. Und die Jungs und ich haben wirklich hart daran gearbeitet, euch etwas zu geben, zu dem ihr ordentlich mit euren Hintern wackeln könnt. Jetzt, wo der Sommer da ist, ist die Zeit reif für ein paar Gitarren, etwas Bass und Schlagzeug und ganz viel von mir selbst. Los geht's!"
Die Band verkörpert die unbeschwerte Stimmung des Songs auch im offiziellen Musikvideo zu "Give It To Me", das heute zusammen mit der Veröffentlichung des Songs Premiere feiert. Das Video wurde von Travis Shinn gedreht und zeigt die einzigartige Fähigkeit der Band, ihre fünf verschiedenen Persönlichkeiten zu nutzen, um ein unwiderstehliches Musikerlebnis zu schaffen.
Was Classless Act besonders auszeichnet, ist ihr Zusammenhalt als Band, obwohl jedes Mitglied aus einem ganz anderen Lebensbereich stammt. Diese einzigartige Vision, eingebettet in ein vielfältiges Selbstverständnis, ist auf ihrer kommenden Debüt EP unüberhörbar. In jedem Song kann man ihr Talent und ihre Ehrlichkeit hören, ebenso wie den Respekt den sie voreinander als Künstler haben und der ihnen Raum gibt, Musik zu machen, die zeitlos ist. Verbunden durch die einzigartigen Möglichkeiten des digitalen Zeitalters, der gemeinsam geschaffenen Kunst und den großartigen Live Shows, ist das Ergebnis ein unverwechselbarer Sound, der dazu bestimmt ist, von der Welt gehört zu werden.
Classless Act – Give It To Me (Official Music Video) – YouTube